Has the internet has turned modern day society into seekers of instant gratification? With a world of knowledge at our fingertips, becoming a self-proclaimed expert on any topic seems little harder than using Google and a few well-sourced Wikipedia articles. But what does this mean for our news sources, the companies that have tired laboriously in the past to bring us the the next big scoop and breaking-story?
Well CNN and NBC are still around (let's not credit Fox by calling it a news source) but the internet has seen the spawning of a new kind of news source, the quick-to-report internet sensations of Buzzfeed and Kotaku.
Scrolling down your news feed, you've doubtless seen posts titled '23 things about rain' or 'Girl jumps into a pool, what happens next will surprise you!'. With a heavy metaphorical (literal) eye roll I almost never give these hack-job stories a second glance, but many people do, and even I in have fallen victim to the charms of a post labeled '10 cats in boxes'.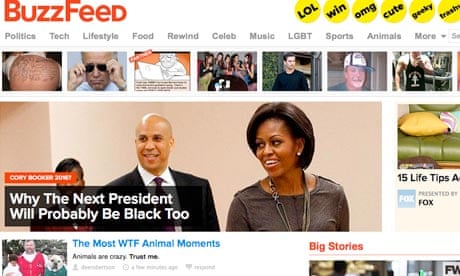 It seems hard to give websites that post things like this thought or credit when it comes to informing their audience about actual news stories about issues going on in the world today. But while sites like Buzzfeed and Kotaku might lack the hard-hitting depth that say, The New Yorker might have, they also have a huge audience. Though their hard hitting news stories may be few and far between, the entertaining little 'gif-based' articles keep readers entertained in the downtime.
Many people don't want to be faced with the depressing reality of the news world all the time. Between bombings, gun violence, bullying, and other horrible acts we see flashed across our news screens, it makes sense that people would rather read about lighthearted nonsense for a few moments.
That doesn't mean however that Buzzfeed is all cats and bagel-related articles. Buzzfeed hired Ben Smith of Politico back in 2012 to try and improve the credibility and tone of the website. The move was met with confusion, but also eager anticipation for the potential improvement of Buzzfeed's credible future as a news source. Fast forward a few years later, and Buzzfeed still lacks the factual punch of many of its competitors, but it has a distinct advantage. Popularity.
Recent articles cover the current controversy over Apple CEO's Tim Cook's coming out, and responses to it. Buzzfeed has improved its arsenal of covering relevant news stories, from the ISIS crisis to following political movements (Ben Smith's direct influence here folks), Buzzfeed is branching out into more intensive reporting. Buzzfeed has an awesome power, they have the ability to inform the cat-loving masses by choosing to make articles on important issues available to their readers. People who came just to take quizzes to find out which Disney princess they are might see an article relating to the recent Ebola outbreak, and perhaps out of sheer curiosity, click the link and learn more about it. This way, someone who had no interest in watching regular news might learn more about what's going on in the world today.
However browsing through their Tech and Business sections reveal more nonsensical 'fluff' pieces than actual hard-hitting reliable articles. Perhaps Buzzfeed needs to look into hiring more professional writers in the Tech fields and Business worlds.
Buzzfeed is currently ranked the 111th most popular website in the world, and according to alexa.com's site analysis, the visitors to the website are primarily college students or people who've received a college degree. It also claims that people spend up to 5 minutes on the website at a time. Which may not seem like a huge deal, but in a culture where people are constantly jumping between facebook, tumblr, twitter and more, 5 minutes of time is a significant portion of attention being directed towards a site.
We see something similar with Kotaku, a website under the Kinja news aggregator and owned by Gawker Media. In the past 3 years Kotaku has become an internet hubbub among fan culture aficionados. This website has similar rankings to Buzzfeed, though it's at 925th place instead of in the 100's. Breaking the top 1000 of the internet, especially taking into account Kotaku's specific coverage of anything gamer-related, as opposed to Buzzfeed reporting on anything under the sun, is still an impressive achievement. Kotaku follows a similar approach to news that Buzzfeed does, with a slew of nonsensical posts (Kevin Spacey photoshopped into various game art is a personal favorite) mixed in with pertinent news stories.
Though in the past, credible game industry reporting was attributed to websites like IGN and Gamasutra, Kotaku is coming into its own. Recently the website scored an exclusive interview with the director behind the long awaited Final Fantasy 15 project, Hajime Tabata. Kotaku's popularity has also afforded them pre-release looks at new games and new technology like the Oculus Rift.
In an interview with Buzzfeed's Ben Smith, he claimed "I think scoops give you credibility." This seems to be the case with Kotaku, as their popularity rises it has given them access to scoops that further increase the validity of their reporting.
Media publications such as Time, the New Yorker and Game Informer are relevant and prominent news sources, but in a society that idolizes instant gratification and cat gifs, Buzzfeed and Kotaku are increasing in relevance. While Buzzfeed and Kotaku may lack the heavy factually-based articles that many other traditional news sources may have, they've succeeded in capturing people's attention, an increasingly difficult thing in our rapidly expanding internet culture. They do this by breaking up the important issues with light-hearted stories that keep people laughing and coming back for more.