The first reaction when I realized that metacritic was about to kick the crap out of Beyond:Two Souls was like: "Couldn`t Sony afford the usual bribes?"
I mean, in all the Big AAA releases of this year the critics were almost immediately getting in line to praise the transcendental epiphany that was The Last Of Us, Bioshock:Infinite, Great Car Robbery 4++ and the market flocked like sheep on their way to the slaughterhouse.
Not so in the case of Beyond. The Anti-Beyond-Trend was building up for months, you could read the signs if you followed the negative resonance in the press, the boards and the events.
When the first negative review rolled in, many comments were full of schadenfreude that this happened, there were dozens of people that didn`t get tired to inform the reader that this article was enough reason for them to cancel their pre-orders, and they all did see that coming.
At this time it is almost sure that Beyond2S will be a commercial & critical failure. This might be enough to get Quantic Dream , the studio behind Beyond, into serious financial trouble. And a triumph for all gamers/critics/gamedevelopers that would like to have their hobby/industry a zone where they expell the ones who are misbehaving.
And in some regards they have every reason to feel threatened/insulted by Quantic Dream and especially its public face David Cage.
Cage made some claims that were ridiculous, the most infamous of them that Gameovers are Gamedesign-failures . What the heck was he thinking? It comes across as a delusion like that one director which "jokingly" claimed to be a Nazi and recommended the "Final Solution" for [Movie] Journalists.
David Cage deserves everybit of the shitsorm he has to deal with from the Games-Community. As the public face of his company he should have known better than to tell us about his obsessions about Oscar nominated actresses, shower scenes and whatnot.
But Beyond deserves nothing of this discredit. If you sign up for a Quantic Dream game, you know what to expect. If you hate the guy that made the game, just admit that you are pissed about how he has this weird theory that narrative games have to suck the hollywooden dick to be taken serious. Don`t let it cloud your judgement. A game like "Beyond" is something special, worth playing.
If you must have your daily dose of rant, at least be funny about it.
Beyond is a great game, if you are willing to go the extra mile out of your comfort zone.
If you own a PS3 and already played The Last Of Us, this one could be the echo of the swan song of this console generation for you.
Kudos to all the developers and artists of quantic dream and especially Caroline Wolfson (who played young Jodie Holmes), a team that did an excellent job and tends to be forgotten in all the Hype that surrounds this badly marketed Starvehicle.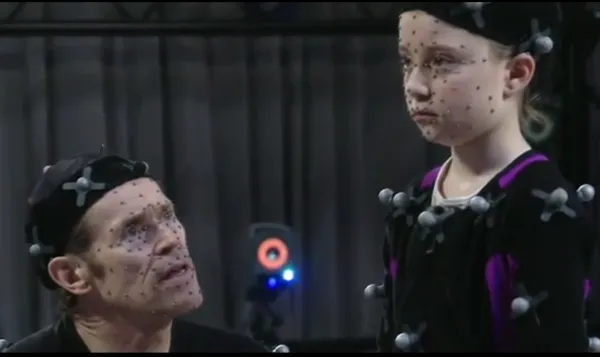 Hopefully next time the Oversharer in Quantic Dream`s Oval Office will talk less and concentrate on his job: to make unique games. Beyond2S shows that he has not lost his touch.