So DragonBox Algebra has been around two years as paid apps on iOS and Android. It earned rave reviews, and was cited in example by educators, scientists, and even game designers, the White House and the Norwegian prime minister.
This is more than we dared hope for our first game, but even this kind of interest from all over the world only translated to a little over 250k paid downloads (counting here both our DragonBox Algebra 5+ and DragonBox Algebra 12+ versions, on both Android and iOS). This volume of sale is barely enough to scrape by, as we're trying to produce one new game per year.
THE NUMBERS SO FAR
Here's a breakdown of how the 250k downloads evolved from May 2012 to August 2014. We got our biggest increase when we released DragonBox Algebra 12+ in May 2013, with the 5+ version benefiting from this surge as well. Part of the other big increases came from articles in the likes of the USA Today, Forbes, Wired, and the New York Times.

This kind of media interest is great, but PR and launches are all pretty standard matters, not that they're easy in any way, but we're not straying very far from the beaten path when doing this kind of marketing. Much more interestingly, we got decent press coverage for our Algebra Challenges, which are a mix of a MOOC and e-sports (we call them MILEs for Massive Interactive Learning Events). In these events we give interested schools one week of free access to a modified version of DragonBox Algebra, which we co-developed with the Center for Game Science at the University of Washington. The impact of these events, and the scientific proof they provide of the sheer learning efficiency of DragonBox Algebra, accounts for the higher level of sales between May 2013 and 2014, before sales and downloads start to go down.
So in spring 2014, our sales are declining, but we've got DragonBox Elements coming out, and it launched in July. We actually think this game is just as good and groundbreaking as DragonBox Algebra (possibly more). Our analytics tell us that our players seem to enjoy themselves quite a bit too (long sessions, good progress, etc) , the reviews are so far unanimously very good... But at just over 10k downloads in two months, our sales numbers are much under what we were hoping for - and what we need. At least the sales are back up from the low point of spring, with some nice "10 Apps your kids need" articles over the summer, but we still need to get DragonBox Elements off the ground, and get DragonBox Algebra to a lot more parents who just don't know we exist.
So the question is, if good reviews and press don't help enough, how do we reach more people with our games and most importantly, more kids who will benefit from them?
PREMIUM GAMES vs FREE MODELS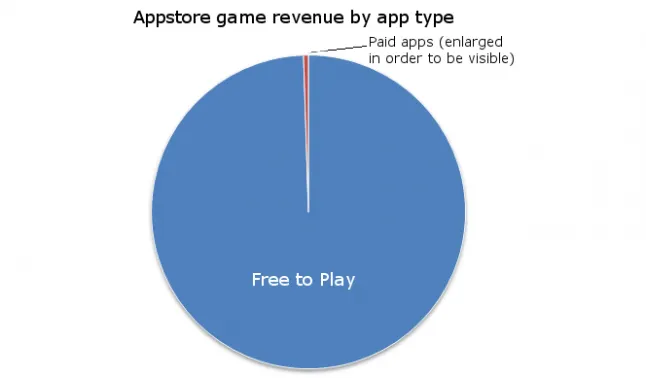 Free to Play is THE only viable model when you look at top-grossing games, with the first paid game (Minecraft) not even breaking into the top 10. To be accurate, Minecraft was #1 at launch for a few days in late 2011, but just stayed in the top 10 for about a week, and we're talking massive global phenomenon here!. But if you take a "normal" day like the 9th of september 2014, you find exactly two paid games in the 100 top-grossing games on iOS in the US: Minecraft (29) and Infinty Blade III (90). Of these two, Minecraft is the only game that doesn't include in-app purchases (IAP). This trend holds true in the Education category, where only one paid app makes it to the 10 top-grossing apps (on a good day), and a huge majority of the top grossing games have a free download + IAP or subscription models.
This means that the big leagues are beyond the reach of games that aren't free to download, and like it or not, we must admit it as a fact of the mobile market. Trouble is, our games have a carefully crafted learning progression towards a meaningful overall objective.

Cutting it up into sellable content packs wouldn't make sense here, as a 5yo kid in Algebra wouldn't know how to solve an equation if she was stopped mid way in the game. We won't even discuss selling consumables, as offering this option to children is grossly unethical.
We see educational apps increasingly turning to a subscription model. This would be the obvious choice for us. However, for a subscription to make sense, there must be enough content for players to remain interested for months. Ironically enough, we work hard at designing games that get players to learn complex concepts much faster than with regular methods (x20 faster for Algebra), which makes sense in a paid model, but is the opposite of what we should do if we wanted to sell subscriptions.
So IAP is out and subscription would require profound changes. Our only immediate options are to see what we can do to boost our sales in a paid app model. And we very well might need to switch over to a subscription model for out next game, bar a major increase in sales.
TRYING TO FIND A MARKETING APPROACH THAT WORKS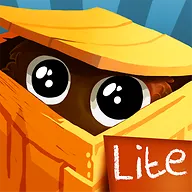 First, keeping a paid app model doesn't mean we can't have a free demo app that shows just what the gaming and educational value of the full version is. Once we had agreed this was something we needed to try, despite fears that people who would have bought the game would instead just download the free version and that it'd destroy more sales than it would create, this wasn't much work. We decided this summer, and the free version has been live worldwide since almost September 1st.
We have announced that DragonBox Algebra Lite was available, which didn't seem to get noticed. It gets downloaded about 150 times a day (that number's pretty stable). Not exactly a slam dunk, but it doesn't hurt our sales, and since our paid download numbers average at around 400-500 a day in the same period of time, the number of Lite apps getting downloaded is significant in that respect.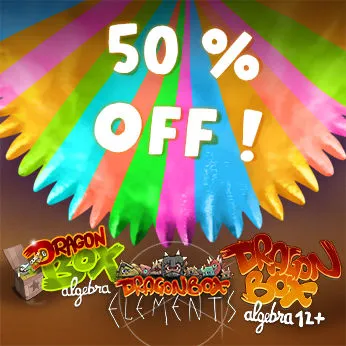 Second, we had to wonder whether the price was just too big compared to other paid games and apps. After all $5.99 and $9.99 aren't exactly price points that people are used to seeing on appstores, and looking at other educational games, only people like Disney or NIckelodeon managed to be somewhat successful with apps priced like this. So we decided to test whether the additional sales we'd get when lowering our prices would provide a net boost in revenue. Changing prices accross the board was what we needed to do, but doing this without a way to get back to previous levels would be pretty dangerous. So we dressed up this price test as a back to school promotion. Yaaaaaay.
Same thing, we've announced that we would run a promotion on our facebook and twitter accounts - only about 3k likes / followers all combined (community building is another major area for improvement that we're starting to address). Again, not much interest shown from blogs and press in either edtech or gaming, so any effect of this drop in pricing is a pretty direct result of the price change itself.

We had a daily sale rate at around $1500 a day beforehand, excluding peaks from articles and reviews. As you can see it starts great, there's a school that goes and buy a couple hundred apps in the middle there, but excluding the school numbers, we're at pretty much the same daily average than before.
So our sale has had a grand total of zero effect on revenue, with even a few slow days where we barely broke $1300 in sales. On the plus side, more kids are getting to play our games and learn through them. But the solution won't be coming from pricing if these couple weeks are any indication.
WHAT'S NEXT
We'll be looking at improving the virality of our games, with two main new features planned for DragonBox Algebra 12+. Our game is played by kids, but we don't sell to kids, nor do we ask them to share stuff. Instead, we try to get parents involved in the experience, and offer them compelling reasons to talk about the game to other parents.
So we'll be trying new features in September to try and compound the impact of the back to school sale:
- Certificates of achievement that can be customized with the kid's name, but that parents need to approve. We want kids to feel proud that they learned so much, and by extension for their parents to feel like a little boasting is in order. Also, it's a chance to interact directly with the parents of our most engaged players :)
- A two-persons photobooth for each chapter, within a scene showing the final evolution of the dragons that kids just earned, and the type of equation they just solved. Both parent and kid can have fun pulling faces and hopefully creating a fun memory of this experience. I don't think any of us has a collection of fun pictures their parents show them when reminiscing about "that time you learned to solve equations".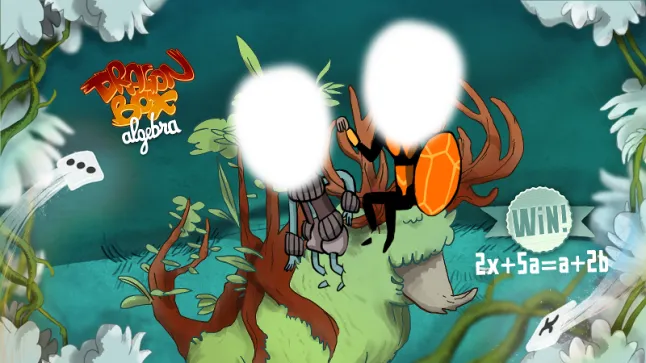 We'll also be looking at extending gameplay and offering a multiplayer experience that makes sense, both in terms of play and of learning. We're planning to develop a daily challenge feature, not unlike what Spelunky does (gotta love that one chance everyone gets at the same challenge, renewed every day). This way, we hope to convince some people with pirated versions that it is indeed worth buying the official version. It will also greatly improve the replay value of DragonBox Algebra.
Fun thing here: a sizable minority of parents takes a gaming lens to look at gameplay length and say that their kids finishing the game in two hours is not enough gameplay value for money. Obviously we're happy that parents of DragonBox as games to be judged as such, but at the same time they are also saying that their children are learning to solve equations too quickly. So it's a bit ironic but we're hearing this, and replaying does help memorizing, so the daily challenge is one of the features that we hope will be both fun and useful for kids, and have an impact on word of mouth for us.
There's much more we need and want to do, on player retention/virality and multiplayer, but small team means choices must be made on what comes first.
Thank you for reading, and if you have suggestions on things to try, we're all ears.