Showcase
Two weeks ago Peter, Maurice, JP and myself flew to Birmingham to showcase Antegods at Insomnia 58, the UK's biggest gaming festival. This was the first time we let our core audience (competitive gamers) play Antegods, so we were hoping they'd enjoy the game and give us good feedback. And I'm happy to report Insomnia did not disappoint!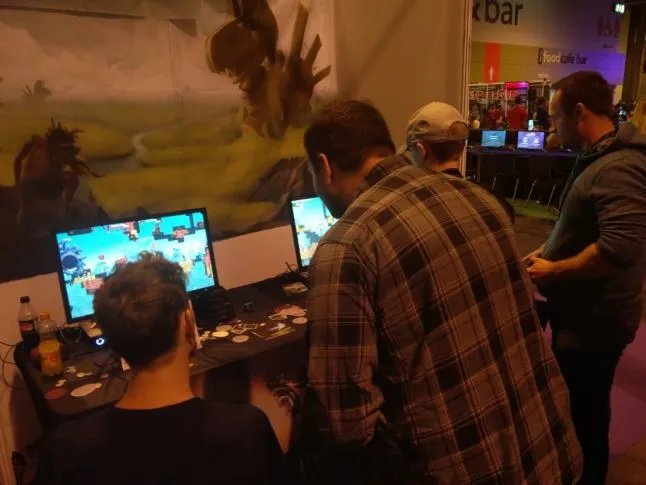 Shout-outs
First off, a big shout-out to the organizers of Insomnia58 for allowing us to showcase Antegods to a huge gamer crowd. The festival was terrific!
Secondly, a big shout-out to the awesome people who played Antegods at Insomnia. We had a lot of fun watching you play! Some of you had nervewracking 'best of 3' competitions going, which were a blast to spectate. One of those competitions was decided with a real nailbiter that took 14 minutes and 3 seconds, which is the longest match we've seen by far.
We loved seeing gamers return to give Antegods another go, in particular two brothers with their father who played on every single festival day, from Friday to Monday. The brothers actually won a match against Peter and myself by inventing and executing a hyper-aggressive strategy that involved capturing all gun turrets on our side of the map to trap our Titan. Well played, lads!
I'll go over some of the successes and problems we discovered over the weekend.
Successes
Players love Antegods' destructible terrain. They were delighted when they discovered they could blast and dash the terrain to pieces. It's clear that destroying terrain is very satisfying, but that it also adds moment-to-moment gameplay depth to movement and combat that the players quickly learn to use.
Most players quickly got a good feel for the game's controls. By the end of their first game they were nimbly dashing about and firing shots at their enemies. Many of them thought that the game looked and controlled smoothly. This was great to hear!
The Titan was a fan favorite. Players feel mighty when piloting it around the level, and seeing an enemy Titan marching into view is intimidating, especially when the Titan cannon has been activated. Many MOBA veterans were intrigued with the idea of having the Titan as a moveable base, and got excited about the possibilities this opens up. It's great to see that the Titan's already so interesting, despite its relatively basic mechanics.
Finally, players enjoy finding energy and delivering it to capture turrets or power up the Titan. There was a lot of tension around turning in energy at the central turn-in point, where a lot of exciting battles took place. Some players actually preferred gathering and delivering energy over fighting; nice to see that different people have different reasons to play and enjoy Antegods.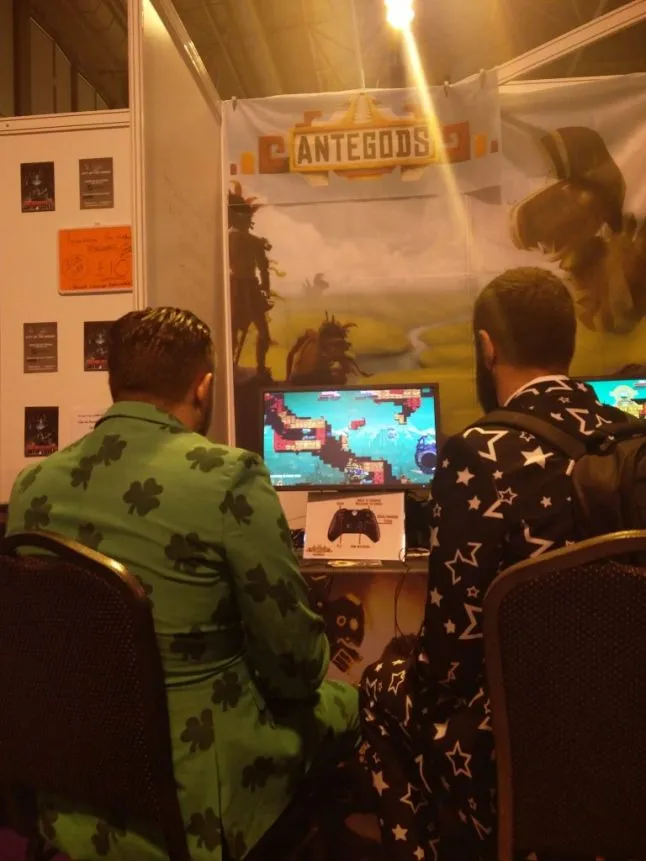 Problems
The first issue most players run into is a lack of sense of direction. They don't know where they are in the level and don't know where to go. The current minimap doesn't help much; it's just hard to read. Furthermore, the tutorial arrows are usually at the edge of the screen, keeping players from noticing them.
When explaining to new players that they have to power up their Titan, their first response is to try and bring energy to the Titan. It's easy to see why. Yet the Titan can only be powered up by bringing energy to a turn-in point. This way players have to fight over dominance of the turn-in point first, which leads to interesting situations. However, there is currently no visual link between the turn-in point and the Titan.
Halfway through the game, we often see a large amount of energy spread through the level. This is caused by players picking up energy from a spindle point and then dying, at which point the energy is dropped. Meanwhile, the spindle points continue generating new clusters of energy. Over time, this causes huge stockpiles of energy, in turn causing a constant, structureless conflict over the center point without memorable moments.
We also noticed a small but very unfair issue: when Totems respawn, they're invulnerable for a couple of seconds. This is meant to prevent spawn-killing and give players a chance to get into a safe position. However, because the Titans function as spawn points, they can get really close to the battlefield or the enemy Titan, allowing them to shoot enemies from within their invulnerability bubble. The other team can't do anything about this…
Finally, we have an annoying issue with turrets or Titan cannons firing from outside the player view (especially when playing split-screen). This seems unfair, because players are getting shot without warning, with no chance to respond.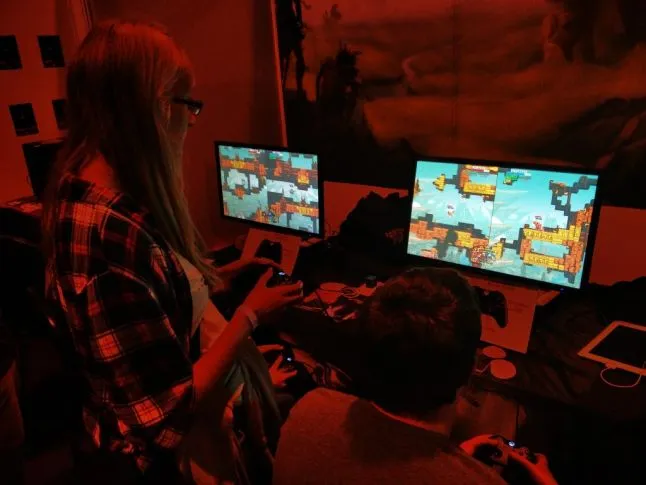 'Is it out yet?'
As you can see, we've gathered a lot of feedback at Insomnia that will help us improve core aspects of the game. We'll be busy with that for quite a while! A lot of people asked us if the game was out yet, thinking that we're close to release. Of course this is not the case; it's difficult to explain just how much work goes into creating and actually finishing a game. Each separate issue can be solved in a pretty short time, but there are so many small improvements we need to make, that it adds up to a very long total development time.
Of course, it's great that people already think Antegods is worth their time and money, and we're very excited to continue improving and expanding the game. We have some ideas for fixing the issues we discovered at Insomnia and we'll let you know about our solutions in a future blog post!
To keep up to date with our development updates, please follow us on Tumblr, Twitter or Facebook. Or subscribe to our newsletter. Whatever is your taste in social media!
Antegods is supported by the Dutch Cultural Media Fund, Cultural Industries Fund NL and the MEDIA Programme of the European Union.