Datapoint of the Week is a recurring Game Developer series made possible by our sibling company and global research leader Omdia.

2021 will be a landmark year for cloud gaming, with most of the vital pieces finally coming together to make it a viable option for both serious and casual gamers. As household entertainment budgets are squeezed, partly as a result of the ongoing Covid-19 pandemic, cloud gaming and game subscription services will prove to be an attractive route to premium titles for more price-conscious consumers who will hold off from purchasing the latest consoles or upgrading PCs.
Cloud gaming content services, such as Xbox Game Pass Ultimate and PlayStation Now will drive the majority of revenue, with 70% coming from subscriptions in 2021, supplemented by one-off purchases and microtransactions. 'PC in the cloud' services such as Nvidia GeForce Now will remain a small proportion of the total, representing 7% of the market in 2025.
According to Omdia's market forecast, the revenue generated from cloud gaming in 2021 will reach $4bn, growing at a rate of 188% compared to 2020. Over the next five years, cloud gaming revenue will hit $12bn. One of the key factors driving this growth is Microsoft's inclusion of cloud gaming in the Xbox Game Pass Ultimate service – which has, overnight, allowed millions of existing subscribers to stream games.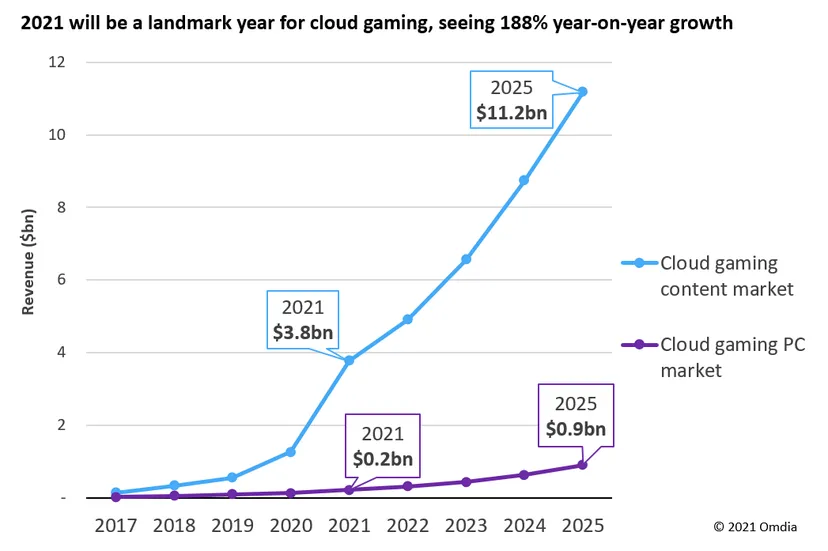 Microsoft's focused strategy, as well as its technical capabilities and games ecosystem means the company will emerge as the clear leader in the cloud gaming category in 2021. It will however face stiff competition from the likes of Amazon, Google, and Sony.
Find further reading here.