It's okay to make mistakes, as long as you learn from them, and even the most successful developers aren't invincible. Those are the lessons that Finnish indie studio Frozenbyte learned when the latest installment in its popular platforming action franchise Trine landed on Steam and immediately kicked up a fuss.
Fans had been expecting a lengthy side-scrolling title similar to the first two installments. What they got instead was a game that tried something new: a shorter, more streamlined affair set in a fully 3D world.
Trine 3: The Artifacts of Power was a product of the developer's growing ambition. The team wanted to raise the stakes and create something fresh - a game that was "bigger, badder, and better" in every possible way. It was an expensive decision in more ways than one, with the new gameplay features eating away at the team's budget faster than they'd anticipated.
Determined to press on, a decision was made: shorten the length of the game and cut story content to ensure everything else could be polished to a high standard. Quality not quantity became the answer, and although the game's narrative suffered as a result, the team hoped that the new features would win fans over. It was a gamble that didn't quite pay off.
"If we had a time machine, I'd go back and let people know that we were planning to create a longer story arc that might span several games"
While some adored the new additions, seeing Trine 3 as the next natural step for the series, a sizeable group of fans were left shell shocked, and set about voicing their concerns in scathing reviews on Steam. A common complaint was that there was no warning about the shortened length offered to those who purchased the early access version of the game. For a studio that'd seen its franchise leap from strength to strength, the criticism was a huge blow.
Acceptance, not denial
In a brutally honest video apology issued by the developer, the team explained that they'd considered coming clean to fans about the game's revised length before the release, but, ultimately, couldn't work up the courage.
"We made the decision to not say anything because our main worry was that we'd make promises that we couldn't keep, and we were unsure about how we'd be able to deliver the continuation of the story," says Frozenbyte's marketing manager, Kai Tuovinen. That's now a decision that they regret.
"The wave of negative feedback was a shock," continues Tuovinen. "It's always tough to see something you've really poured your heart and spirit into getting slammed."
"It will take a while to recover from it. But in a typical Finnish fashion, we had a company party, got drunk, went to the sauna and talked about things. So we're not sulking in a corner or anything like that anymore, although the atmosphere is still less cheery than usual."
Learning the hard way
These judgment calls may have jeopardized the future of the franchise. "Since the sales didn't match our expectations, the sequel doesn't seem like a good idea at this point," says Tuovinen.
"If everyone stuck to the same formula, the only innovations we'd ever see would come out of small indie studios."
"In retrospect we can't really say if announcing the "episodic" nature of the story would have made a difference. But the story's abrupt ending is something we've been criticized about, so opening up the background to that was the main thing we wanted to explain in the video response we made."
Tuovinen advises other developers to take great care when using Early Access. While he didn't feel that Frozenbyte had any other option to get their game funded, he warns that what initially seems like a blessing - the ability to share your work with your fans, iterate in public,and incorporate early feedback -- could turn out to be a curse. "If you have the financial capacity and your game is not of a genre that's generally thought of as a good fit for Early Access, you're probably better off waiting and finishing the game."
Understandably, the studio would also advise other developers, whether using Early Access or not, be completely honest with their fans. Transparency is important, because if you're unsure about a certain feature or announcement, there's a good chance your players will be too.
"If we had a time machine, I'd go back to the Trine 3 announcement and let people know that we were planning to create a longer story arc that might span several games, but the continuation and delivery of the story would be financially dependent on how well the first part sells," explains Tuovinen.
"We had the mentality that we were giving them a large slice of a bigger cake, but rather than making them wait another two to three years for the whole thing, we'd be giving them that slice now."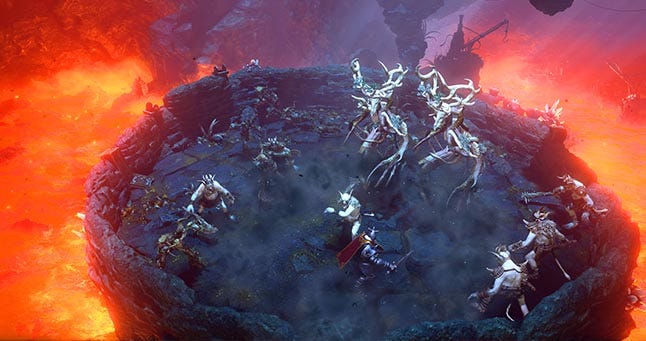 One of the biggest fan complaints was that Frozenbyte had made too many changes to Trine, fundamentally altering the experience they fell in love with.
This is the one thing Tuovinen doesn't regret, and he encourages more developers to step outside of their comfort zones and take a leap of faith. After all, says the Frozenbyte marketing man, that's what makes indies great.
"I would encourage people to keep trying something new, even though it may be end up being more expensive and time-consuming than doing something you're already familiar with," advises Tuovinen.
"If everyone with a successful franchise stuck to the same formula and milked it, the only innovations we'd ever see would come out of small indie studios. We don't ever want to lose our grip on that mentality."