Sony Interactive Entertainment's PlayStation Portal, a handheld gaming device that streams games from a PS5, has been fully revealed at Gamescom. While PlayStation Portal is intended to engage and retain the most valuable PS5 owners as Nintendo readies next-generation hardware, many questions remain over its appeal to consumers.
PlayStation Portal sees Sony's handheld gaming strategy shift from a dedicated platform to a peripheral
PlayStation Portal, at first glance, may appear similar to dedicated gaming devices built to play games natively, such as the Nintendo Switch or the Steam Deck, but it is, in fact, a streaming handheld. A PlayStation 5 console and software are both required, as well as a Wi-Fi connection to interface between the two.
This marks a clear departure for Sony, which has previously launched handhelds as standalone platforms served by bespoke software libraries. Its last handheld platform, PlayStation Vita, vastly underperformed relative to expectations, with Omdia estimating lifetime sales of just 14.1 million units, or just under a fifth (19%) of the previous-generation PlayStation Portable's 76.2 million.
Sony has since seen success focusing on a single platform instead, the latest being PlayStation 5. As such, PlayStation Portal is very much a peripheral designed to extend the PS5 ecosystem rather than exist alongside or compete with it.
PlayStation Portal promises to unlock greater flexibility for PS5 owners to enjoy their games with its emphasis on enabling off-TV play via streaming. This is something Sony no doubt hopes will increase engagement with the console (and spur further software purchases), not dissimilar to the relationship between Valve's Steam Deck being an extension of the Steam distribution platform for PC software.
Its DualSense-esque industrial design is no coincidence, providing upsell opportunities for its PS5 controllers, the high-end DualSense Edge ($199.99) and DualSense ($69.99), as the Portal replicates some of their key functionalities.
Furthermore, PlayStation Portal's missing Bluetooth functionality pushes consumers toward additional peripherals purchases—more specifically, wireless audio headsets compatible with Sony's proprietary PS Link wireless standard. This includes the PULSE Explore earbuds ($199.99) and PULSE Elite headset ($149.99), also revealed alongside PlayStation Portal.
PlayStation Portal's value lies in its potential to retain the most valuable PS5 players
More pertinently, however, is PlayStation Portal's complete absence of support for PlayStation Plus Premium's cloud-streaming service. This is likely by design. By mandating PS5 hardware and software ownership, PlayStation Portal does not cannibalize its PS4 and PS5 software business; the customer has already invested in a PS5, while regularly purchasing full games from retail or the PS Store. The cloud-streaming-only customer will not be generating content spend.
Also, consider the price point: $199.99 puts PlayStation Portal in spitting distance of Nintendo's Switch Lite, which launched at the same price in late 2019. Omdia expects Nintendo's next-generation system to launch in 2024, after PlayStation Portal arrives in late 2023.
In 2023, PS5 has benefitted from a significant sales uplift year-on-year, partly thanks to a return to supply in previously undersupplied territories such as Western Europe. Omdia's preliminary console forecast estimates the active installed base of PS5s to surpass 50 million units by the end of 2023.
With PlayStation Portal providing the option to at least replicate the Nintendo Switch's portable USP to an extent, Sony hopes it can retain this audience's wallet and eyeballs on PlayStation as cross-system ownership increases in the face of a highly mature market segment.
Indeed, Omdia's Consumer Research Survey conducted in April 2023 reveals that, globally, over one in three PS5 owners already own a Nintendo Switch. This proportion is even higher in the US, the territory with the largest active installed base of PS5 consoles.
Also, consider Valve's Steam Deck. While it plays games natively on-device, it is, as PlayStation Portal is to the PS5, an extension of Valve's Steam ecosystem for PC games. Adjacent devices such as PlayStation Portal don't necessarily need to sell in console volumes to be useful; the goal is to increase engagement with an existing ecosystem—in this case, PlayStation 5.
Figure 1: Estimated annual Steam Deck sell-through (all models)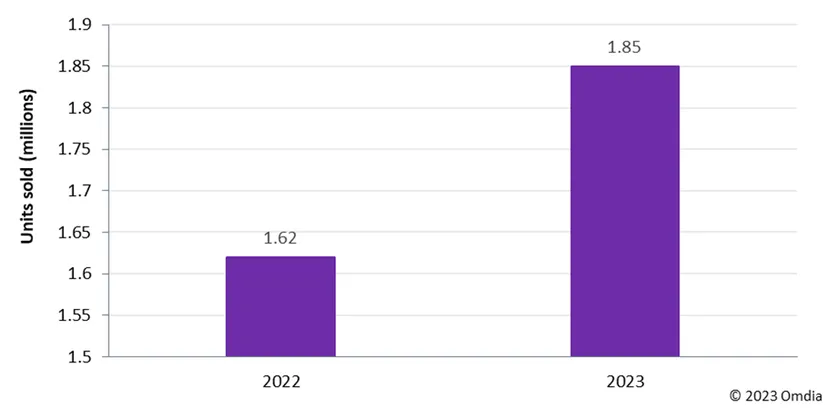 Sony still has a lot to prove with PlayStation Portal
There are, however, key signs that Sony has a lot of work ahead of it to convince its engaged PS5 audience to adopt PlayStation Portal. For one, Sony already offers PlayStation 5 remote play on smart devices and PCs. Because of this, it must convince users that the PlayStation Portal provides a PS5 streaming experience that is substantially better than on the devices its audience already owns.
While PlayStation Portal is an all-in-one device, making it more streamlined than those alternatives, there remain a number of hurdles that reduce the attractiveness of the device beyond its $199.99 asking price.
The most notable one is a reliance on communicating with the PS5 via the user's own Wi-Fi connection, which is already utilized via remote play on existing devices. Not only does this substantially limit usage to inside the home—a missed opportunity considering Switch and Steam Deck remove these limits—but also latency (the time between when a button is pressed and the action is displayed on-screen) becomes dependent on the quality of the local Wi-Fi connection being utilized.
The concept was executed more gracefully over 10 years ago. When Nintendo tried a similar streaming approach to off-TV play with its failed Wii U console, it created a custom communication protocol between the Wii U GamePad and console to avoid the pitfalls of using local Wi-Fi. The result was a more robust connection, with latency coming in lower than many TVs.
Sony could have engineered a similar solution with PlayStation Portal, utilizing a direct connection to the PS5 console itself via an included dongle that plugs into its 10Gbps USB port. It already does this with its PULSE 3D wireless headset to avoid the latency associated with a Bluetooth connection.
In light of all this, PlayStation Portal may not need to be a big success to justify its existence. It is being positioned and communicated as a peripheral, and one with a price tag that puts it on equal footing with the $199.99 DualSense Edge controller, communicating its status as a high-end application aimed at its most enthusiastic audience.
As a result, Sony is not going to be bestowing the same sales projections on PlayStation Portal as it did on PlayStation Vita. It would be right not to—previous Sony handhelds were standalone games platforms, requiring substantially higher R&D and operating costs behind them. PlayStation Portal may not tempt a significant number of PS5 owners away from a Switch or Steam Deck with its promise of off-TV play, but if it resonates with Sony's most engaged userbase, the company's experiment will be deemed a success.
Appendix
---
Further reading
Consumer Research – Gamers Visualization (June 2023)
Games Hardware Database (May 2023)
Console Report – 1H23 (May 2023)
Steam Deck Forecast Report (April 2023)
Games Content & Service Spend by Distribution Type Database (March 2023)
Author
James McWhirter, Senior Analyst, Games