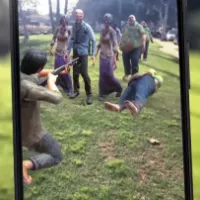 [Video Game Deep Cuts is a weekly newsletter from video game industry 'watcher' Simon Carless, rounding up the best longread & standout articles & videos about games, every weekend.
This week's highlights include articles about new Walking Dead narrative & AR games, a talk on PICO-8's playfulness, and lots more besides.

Plenty of notables crowd this week's roundup, which I managed to put together despite being on a campsite in coastal California for half of the week. Lots of diversity of content in here - I particularly like the idea of twinning board games, AR games, mobile titles & big console/PC games all in one email.

Otherwise, there's an infinite amount of hemmed-in tunnel views of 'how games work', which I find vaguely depressing. Broaden your mind. It's got nothing to do with your Vorsprung durch Technik, you know.

Until next time...
- Simon, curator.]

------------------

PRACTICE 2018: 'PICO-8 and the Search for Cosy Design Spaces' (Joseph White / NYU Game Center - YouTube - VIDEO)
"This talk retraces the design of the fantasy console PICO-8 with these goals in mind, embracing the fuzzy boundary between tools and creative process, and the influence that user-made PICO-8 cartridges have had on PICO-8 itself. [SIMON'S NOTE: PRACTICE is a gem of a design-centric game conference & the other talks - including from Liz England, Zak McClendon, Allison Parrish & more - are up on YouTube now!]"

Revisiting The Order: 1886 with developer Ready At Dawn (Blake Hester / Polygon - ARTICLE)
"The Order: 1886, for a little while, was a big deal. It was the first original IP from independent studio Ready At Dawn — a team on the rise that had established itself with games such as God of War: Chains of Olympus and Daxter."

How Baldi's Basics taps into the real horror of '90s edutainment (Joel Couture / Gamasutra - ARTICLE)
""The most important thing I wanted to capture with the game was an unsettling feeling of things being off," says Micah McGonigal, developer of edutainment/horror mixture Baldi's Basics in Education and Learning. "I didn't want to go flat-out horror; I just wanted to create a mish-mash of different things that don't quite meld together right, but also don't seem ridiculously over-the-top and crazy.""

Video games are political. Here's how they can be progressive (Alfie Bown / The Guardian - ARTICLE)
"On the contrary, like all art that arises from culture, games are deeply political. They are also often biased – even when their designers intend them to be impartial – towards conservative, patriarchal and imperialist values such as empire, dominion and conquering by force."

'Fundamentally we were building an MMO': Designing The Walking Dead AR game (Alan Bradley / Gamasutra - ARTICLE)
"AR lets developers play in the largest creative space available: the real world. On paper, it's a tremendous idea, an almost unlimited space to explore to play in without many of constraints of traditional open world games. But bringing those ambitious ideas to life is much more challenging, especially when you're among the first to attempt it. For Sulka Haro of Next Games, lead designer on The Walking Dead: Our World, not being able to rely on precedent was a huge challenge."

The precarious business of living off modding (Alex Wiltshire / PC Gamer - ARTICLE)
"And yet at the same time, today modders have greater support than ever. With the rise of Patreon and programmes that give official commercial support has come the opportunity to legitimately make a living through modding. But it remains a precarious business. We talked to four modders who are making money from their craft."

The big Doom Eternal interview: Switch timings, multiplayer and a whiff of Heaven (Robert Purchese / Eurogamer - ARTICLE)
"id Software is also working on a new kind of multiplayer experience in addition to the Souls-like Invasions - where players play demons in other people's games - for the game... But it's still early, and there's still no whiff of a release date - not a "2019" or anything. [SIMON'S NOTE: this is a little bit light, but I find it interesting - this is how carefully choreographed but personable interviews build hype for AAA games nowadays. There's a lot they CAN'T talk about - but the net result feels 'good', doesn't it? There's an underlying excitement there..]'

PLAYERUNKNOWN: From Mod Creator to Creative Director of PUBG (Brendan Greene / GDC / YouTube - VIDEO)
"In this 2018 Game Developers Conference talk, PUBG Corp's Brendan "PLAYERUNKNOWN" Greene shares his history in games, mod making, and the path he took to become Creative Director at Bluehole Inc."

The Greg Miller story (Colin Campbell / Polygon - ARTICLE)
"Over lunch at a quiet, fancy Hawaiian joint in downtown San Francisco, I find myself struggling to interview Greg Miller. The trouble with Miller is not that he's rude or evasive, like some midtier celebrities. In fact, he's quite the opposite. He's garrulous, friendly, funny and open with me. The problem is, he's this way with just about everyone. [SIMON'S NOTE: I've seen some complaints about this piece - maybe because of the apolitical Fallon-ness of Miller. But I think true attempts to understand the personality & motivation of game industry figures are oddly few and far between, so I give Colin's piece a lot of points just for that.]"

How Neopets has influenced a generation of game developers (Emma Kidwell / Gamasutra - ARTICLE)
"So what was there to do online? Between playing Minesweeper or doodling in Microsoft Paint, many game developers who grew up with the Internet spent the bulk of their allotted time exploring Neopets, the virtual pet website launched in 1999 that grew to be so much more."

The Tour - Episode #2 (AREA5 / Hearthstone eSports / YouTube - VIDEO)
"Episode 2 follows Tempo Storm and Team Genji at DreamHack Austin, HCT Seoul, and DreamHack Sweden - three back to back Tour Stops during the month of June. It captures a deep look at winning and losing in high stakes tournaments, being a part of a team, and being invested in the Hearthstone competitive community."

Game Changers: Billiards (Matheson Marcault / Medium - ARTICLE)
"This is the first of three short essays looking at how different games evolve over time, with players making tiny changes and reinventing as they play—how a game played on medieval lawns eventually became pinball, how chess variants proliferated across the world, how the basic structure of a maze has formed the basis of installations and paper puzzles and digital games."

Striving to be seen: Black Girl Gamers on Twitch (Jessica Conditt / Engadget - ARTICLE)
"BGG is a unique case on Twitch, since it's not only Lopez or another single person doing all the streaming but also a collection of volunteer streamers, all of whom are black women, helming the page for two-hour stints and playing games of all categories and styles, including Overwatch, Fortnite and Hearthstone."

China Freezes Game Approvals Amid Agency Shakeup (Lulu Chen / Bloomberg News - ARTICLE)
"China's regulators have frozen approval of game licenses amid a government shake-up, according to people familiar with the matter, throwing the world's biggest gaming market into disarray. The halt follows a restructuring of power among departments, said the people, who asked not to be named because they don't have approval to discuss the issue publicly. [SIMON'S NOTE: we don't cover 'normal' news that much, but this is a super big deal, & well reported, too.]"

Specular Maps (Casey Jarman & Jarett Sitter / Believer - ARTICLE)
"As much as independent games have flourished in the past ten years, the most astonishing development might be in their soundtracks, for which a relatively small community of musicians—the vast majority strangers to modern pop music's traditional model of album cycles, touring, and merchandising—has built an exhilarating, thriving, and often avant-garde musical universe in the shadows of the traditional music industry."

Inside Remnant, an Interactive Story Told Through Mixed Reality and Food (Stefanie Fogel / Variety - ARTICLE)
"Mixed reality, the merging of the real and virtual worlds, is slowly changing how we work, how we play, and how we communicate. Now, two women are using it to change how we share meals as well. Remnant is an immersive, interactive dinner experience that pairs food with technology to tell a story. "

The Walking Dead game's new season finds a solution to zombie fatigue: kids (Andrew Webster / The Verge - ARTICLE)
"When shocking deaths lose their shock value, the game loses much of its power. But for the fourth and final season of the game, Telltale seems to have found a solution to zombie fatigue: put the focus almost entirely on kids."

Why Holedown is the hot mobile game of the moment (Petrana Radulovic / Polygon - ARTICLE)
"Holedown is the rare game that everybody seems to love. Game enthusiasts, app-loving commuters, critics and game developers alike have sung its praises since its its debut on the App Store and Google Play in late July. Mobile brick-breaker games have gained traction among more casual players over the past year, but Holedown seems to be the first to find traction across the entire games community. So what's so special about it?"

The hottest new board games from Gen Con 2018 (Aaron Zimmerman / Ars Technica - ARTICLE)
"We played a truly obscene amount of games to sort through the noise and bring you this big list of 20 top titles. These games should be available soon; check with your favorite local or online game store for when they'll be getting them in."

ROMS and Game Preservation (HeavyEyed / YouTube - VIDEO)
"With the recent removal of all roms from Emuparadise at the hands of Nintendo I want to touch on what that means for the games industry and the preservation of the medium as a whole. From remakes, remasters and everything in between..."

Valve's forgotten game: Team Fortress 2's shocking toxicity problem (Emma Kent / Eurogamer - ARTICLE)
"Although many of the competitive leagues have responded with statements, bans and policy changes, some have remained silent on the issue. Players have also reported the toxicity goes beyond the competitive sphere to almost all parts of the Team Fortress 2 community - so the question is, should Valve do more to discourage it?"

------------------

[REMINDER: you can sign up to receive this newsletter every weekend at tinyletter.com/vgdeepcuts - we crosspost to Gamasutra later on Sunday, but get it first via newsletter! Story tips and comments can be emailed to [email protected] MINI-DISCLOSURE: Simon is one of the organizers of GDC and Gamasutra & an advisor to indie publisher No More Robots, so you may sometimes see links from those entities in his picks. Or not!]