Gamer segments in China are undoubtedly the ones that are growing the most rapidly these days. For example, Statistics by SteamSpy showed that by April 2017, there were already up to 14 million Chinese gamers on Steam. This figure has currently surpassed 30 million and would increase further.
Daniel Ahmad, an analyst at the consulting firm Niko Partners, which covers the game industry, tweeted that the increase in Chinese gamers began with the growing popularity of Dota 2 around the world, and the launch of other representative games in the Chinese market. He also said that users from the China region will increase more quickly moving forward.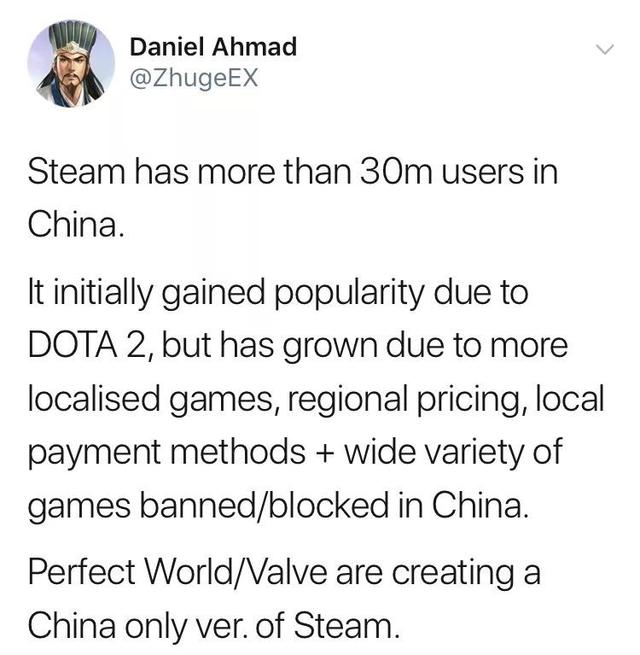 Despite big jumps in the numbers of Chinese gamers each year, the market has not received the attention it deserves.
NieR: AutomataTM by Square Enix went live in Steam's China Region in the first half of 2017, but due to the game's non-support for the simplified Chinese, Chinese gamers voiced their dissatisfaction and gave negative reviews. Unfortunately, regardless of how "vocal" Chinese gamers got, more than a year has passed and the game has yet to support the simplified Chinese.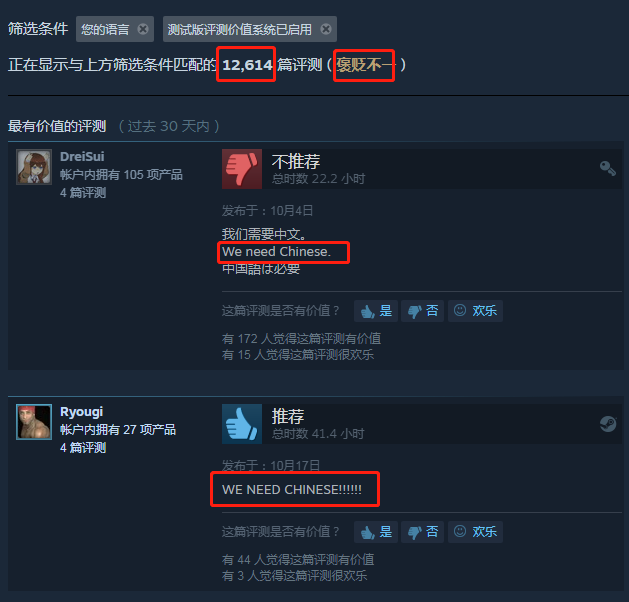 Partly because the Chinese game industry took off later in China and the market had yet to fully develop, piracy had been an issue. As a result, game companies hardly made any gains, and many did not regard the market highly. In recent years, however, as copyright awareness grows in China and the game industry develops at a breakneck pace, along with the introduction of platforms like Steam, gamers in China can easily buy original games from all over the world with China yuan. As the strong buying power of this enormous market is gradually revealed, the Chinese gamer has taken on the role of the buyer. This buying power of the Chinese market gives Chinese gamers a say. Chinese gamers see language support as part of the "product experience" when reviewing games, and are sending the message "We need Chinese" to game developers of the world.
But will this desire result in actual purchases? The following are a few illustrative examples that answer this question, somewhat.
---
An experiment. Does localization targeting Chinese, really promote revenue?
Game developer Lars Doucet ran an experiment in 2016. He performed a basic localization of the five-year-old RPG game Defender's Quest into Chinese, and re-launched it for sale on Steam to test the purchasing power of Chinese gamers. The outcome was astonishing.
The following content originates from an article on Doucet's blog, China is kind of a big deal for Indie Games.
(http://www.gamasutra.com/blogs/LarsDoucet/20170307/293025/China_is_kind_of_a_big_deal_for_Indie_Games.php).
The revenue contribution of the China region leapt from 22nd place to overtake the U.S. region, and accounted for 23% of gross revenue. At the time, Doucet noted that the region's: zooming to #1, even for just a week, is amazing.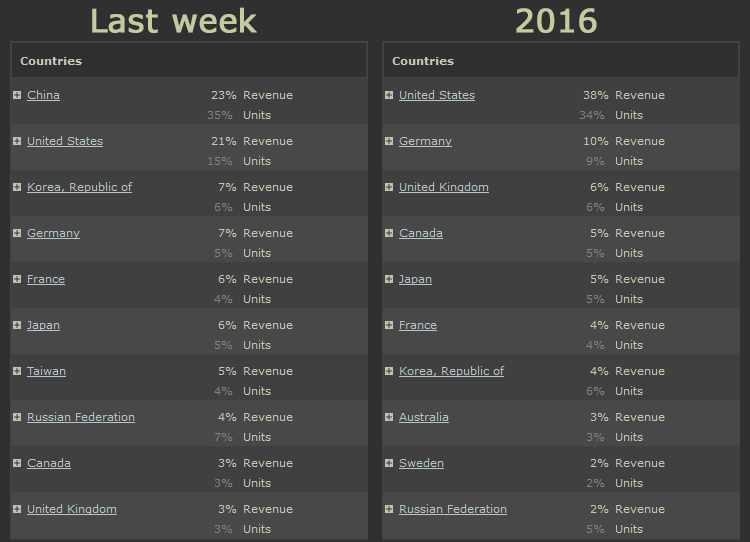 (A comparison of the backstage statistics provided by Lars Doucet. Previously, China was not in the top ten)
More evidence! Localization targeting Chinese DOES promote revenue.
---
In April 2018, Jane Ng, a lead artist for the team behind Firewatch gave her views on Chinese localization as well as the Steam Spy 2017 GDC report. She thought that Chinese gamers, who make up 64% of the gamers on Steam, were not simply interested in PUBG. Despite the humongous size of the Chinese market, there are only 2,824 games that support Chinese on Steam, among which there is no lack of low-quality translations, making it difficult to get Chinese gamers to spend. She gave statistics for Firewatch after the Chinese version was launched, which showed that Chinese gamers outnumbered those from the U.K. (8%) and ranked No. 2 (11%), proof that Chinese gamers do have a massive purchasing potential.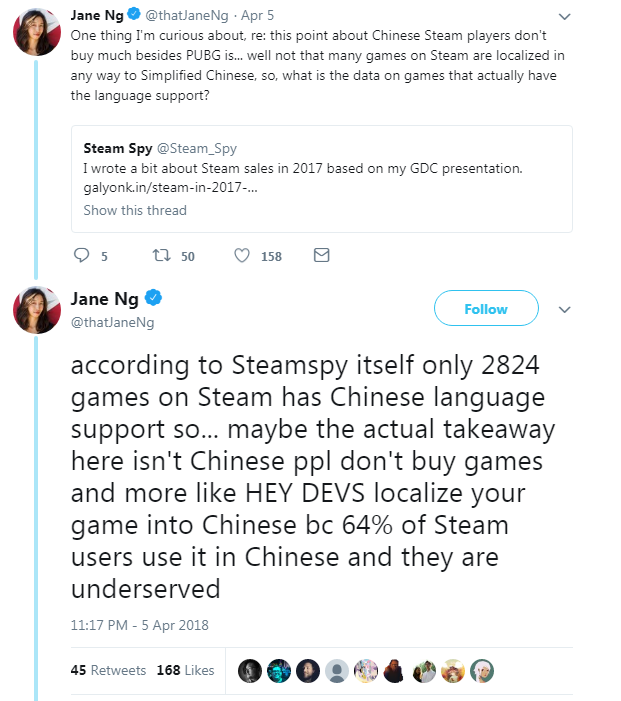 The developers of Celeste and Defender's Quest agreed with Ng's tweet, who indicated that their revenue had seen increases of 20% and 40% respectively after Localization into Chinese.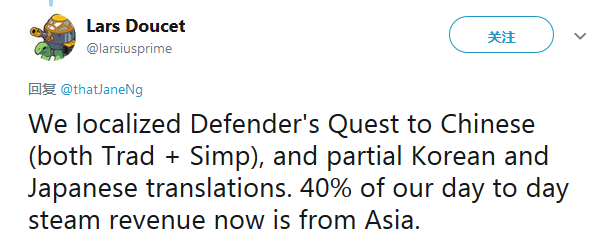 Localization into Chinese may have bigger surprises in store for independent game studios. The little-known Finnish fishing game Ice Lakes was localized after it caught the eye of a Chinese game anchor, and sales soared within a month. Among the game's active user base, 77.53% are Chinese users.
Attention for Chinese market, no matter leaders or followers.
It is no longer an exaggeration to say, "If you have the Chinese gamer, you have the world in your hands." In fact, this is the trend for the future. At the annual E3 in the last few years, launches of new works by Sony, Ubisoft, Nintendo, and other major game companies have included Chinese at the onset. In turn, Chinese gamers have responded positively to these game companies that recognize the Chinese market, with sales, unsolicited reviews, as well as recommendations in articles and videos. Sales of Assassin's Creed Origins exceeded 120,000 units within 3 days of its launch on Steam, among which 34.08% were purchases by Chinese gamers.

Game developer Lars Doucet also shared how sales in the entire Asian region increased after he added the Chinese version. His conjecture was that Steam's algorithm for recommendations is based on languages rather than regions, so this was related to the ripple effect on neighboring countries with similar culture. This provides another incentive for localizing games for the Chinese market.
---
Based in China, Wiitrans (www.wiitrans.com), a language services provider, has witnessed the changes in the Chinese game industry. Wiitrans is strongly encouraged by the rise of the industry, and firmly believe that China's market will be a competitive environment for game companies moving forward. With an abundant pool of specialized native game linguists who are also gamers themselves, Wiitrans is able to provide high-quality translations of various types of games on PC and PS4 platforms and more. Together with project managers with rich experience, voice actors, and technical personnel, they make up our game localization team that provides localization services for games who wish to tap the potential of the Chinese market. Wiitrans team is dedicated to helping games boost sales, and enabling Chinese gamers to access a wider range of high-quality games.