A musical score is a great way of guiding the player's emotions. It can offer important clues about the world the player inhabits and indicate the severity of the obstacles being encountered. The 2D action-adventure title Hollow Knight, developed by Team Cherry Games, is an excellent example of this.
In the game, you play as the character Hollow Knight who must explore a ruined kingdom buried beneath the ground. Along the way you'll collect power-ups, discover new areas, and defeat ancient evils, with your actions underlined by a hugely atmospheric soundtrack by composer Christopher Larkin.
The music for Hollow Knight presented many challenges for Larkin. The most significant being how to create an evocative score with distinguishable leitmotifs. He employed several solutions to achieve this, like using dynamics and varied instrumentation to differentiate tracks from one another, maintaining contact with the development team to ensure the score matched their interpretation of the characters, and taking the time to listen to a variety of influences for new ideas.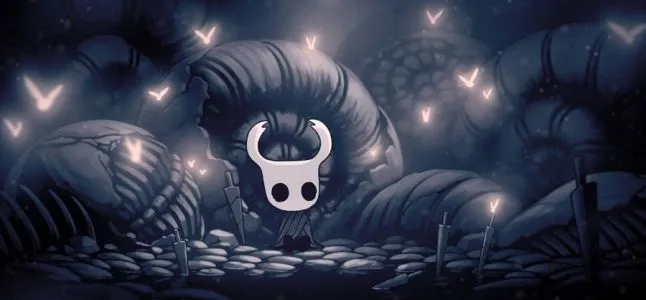 Using different instrumentation and dynamics
According to Larkin, the initial brief that he received from Team Cherry was to compose a soundtrack demonstrating a sense of "dark elegance using minimal instrumentation", but that remained "classical and melancholic."
The score includes numerous tracks featuring little more than piano and strings, though there are certainly sections where he felt it was possible to add some intense sounds and instrumentation into the mix.
"We definitely started with the soft piano and viola in the opening menu and "Dirtmouth," but we pull out all the stops for the boss battles." says Larkin."That said, the melancholy and a certain sadness is still evident in a lot of these, underneath the crazy runs and shredding."
"There are some areas that have very unique instrumentation," he adds. "We have harp, marimba and other earthy tones for "Greenpath." We have very Gothic, cold-sounding organ for "Soul Sanctum," and we use Kalimba, wine glasses and guitar harmonics to give the shiny, crystal sound for Crystal Peak." In these situations, the visual qualities and the context of the areas have a large impact in the choice of instruments and sounds."
The importance of live sound
Some of the tracks required additional musicians and live instruments in order to bring them to life. On "City of Tears," for example, Larkin employed the talents of soprano singer Amelia Jones to achieve its ethereal quality. While, across the soundtrack, Timothy Cheel's viola playing contributes a variety of emotions.