The year is almost over, and so the staff and contributors who call Gamasutra home have been taking time to look back and reflect on what 2017 meant to us and the game industry as a whole.
We've been publishing the results all month in an effort to give you some fresh perspective on what happened this year, and now as we totter off to our own holiday celebrations we've taken the liberty of condensing them here into a single, tremendous list.
This is not a definitive rundown of the year that was, but hopefully it helps to remind you about some of the remarkable work your game industry colleagues did in 2017, as well as the things we went through together and the games we played along the way.
Gamasutra contributors also each wrote up a personal list of their top games, and you can read them here: Kris Graft, Katherine Cross, Alex Wawro, Alissa McAloon, Chris Kerr, Phill Cameron, Bryant Francis, and Brandon Sheffield.
Below, we start in on the highlights of 2017 by listing (in alphabetical order) 10 notable developers and studios (selected by Gamasutra staff) that surpassed our expectations and created something which got us talking.
Arkane Studios
Arkane Studios, with locations in Lyon, France and Austin, Texas, makes the list for keeping alive top-tier, single-player "immersive sims." Prey and Dishonored: Death of the Outsider are exemplary games released this year, in a genre that probably requires three tons of Post-It notes during the prototyping phase.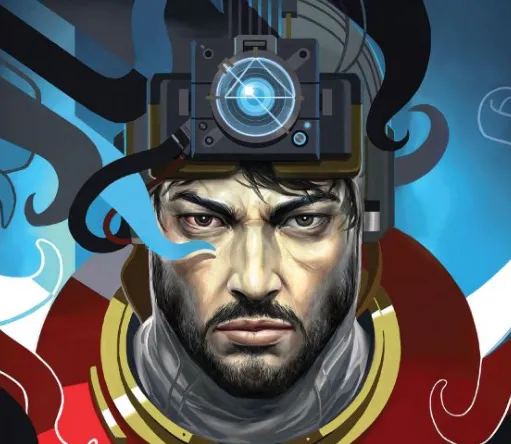 Recognizing Arkane this year is important. There's a shadow of doubt that hangs over the commercial viability of big-budget, single-player immersive sims – rumor has it, Arkane's most recent releases weren't exactly blockbusters. But if Arkane's games of 2017 are any indication of what this studio is capable of, we need them to keep making immersive sims.
The DNA of games like System Shock, Thief, and Deus Ex arguably run deeper in Arkane's games than even the recent games that bear the names of those classic immersive sims. Part of that is because key people working at Arkane also worked on the games that gave initial rise to this category of games. But it's also because Arkane is flat-out committed to improving and perfecting this important genre.
And it's a difficult genre to be in. The amount of production value that goes into these games is staggering, and, due to the non-linear nature of these games, a lot of that production value isn't even seen, let alone appreciated, by most players. It takes an incredible amount of commitment to bring these games to market, especially at this level of quality.
So for that, Arkane makes the list, not "just" because Prey and Dishonored: Death of the Outsider were among the best games of 2017, but also for the commitment to excellence and incredible execution in a genre that is challenging in more ways than one.
Christian Whitehead, Headcannon, and PagodaWest Games
This development trio came together to release the '90s inspired Sonic Mania, but the story behind how the team came together to create the refreshing homage is something worth recognizing.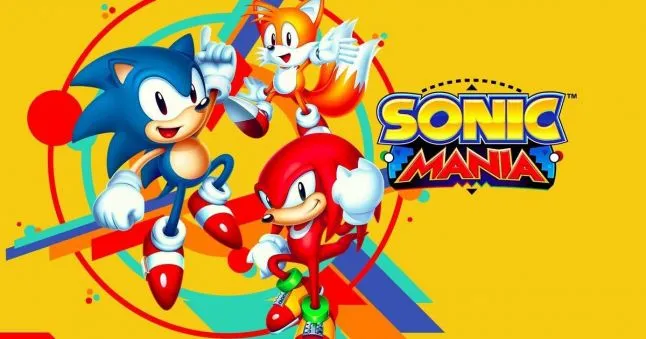 Before getting the green light to create a modern take on a 2D Sonic the Hedgehog game, Whitehead and Simon Thomley of Headcannon connected in 2009 to create a fanmade mobile version of Sonic CD and, hopefully, catch the attention of Sonic owner Sega in the process.
The sheer quality of their mobile remake did indeed catch Sega's eye and the duo went on to use Whitehead's custom-made 'Retro Engine' to bring both Sonic The Hedgehog and Sonic The Hedgehog 2 to mobile platforms on behalf of Sega.
David OReilly
David OReilly's Everything is a game that plays itself. It's made by a small team, yet seeks to encompass all of existence. It gives us room to touch, inhabit, and play with everything we can see, and in so doing reminds us -- in a way that only a game could -- that everything is made up of the same stuff. That we are all, fundamentally, pieces of the same whole.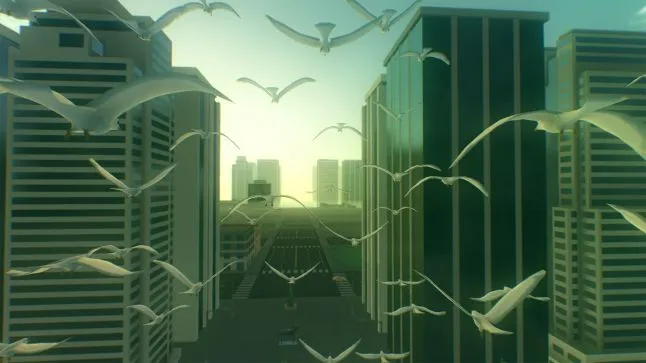 Everything is a game envisioned by someone who is interested in games, but hasn't spent a career thinking about the best ways to make them. It's a high-profile example of how the democratization of game dev tools is opening the industry up to broader spectrum of creators, and in the process expanding the scope of what games can or should be.
As we reflect on 2017, we recognize David OReilly and his collaborators not because they released the "best" or most interesting indie game of the year, but because they made explicit an implicit truth: making games, like all creative work, is an act of philosophical expression.
Giant Sparrow
Not many video games make one feel something other than the fleeting rush of being challenged and rewarded. Some games make you feel like you've fed your brain, as if you'd read a good book or short story.
Giant Sparrow is a studio that makes this kind of inspirational game, and does it exceedingly well. 2017's What Remains of Edith Finch, the follow-up to 2012's The Unfinished Swan, was the year's best example of narrative and mechanical harmony, a masterful achievement that will be studied for years to come.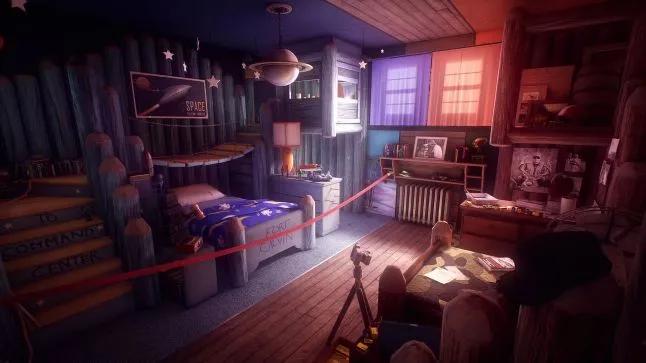 That harmony, of course, was not an accident. Speaking with Giant Sparrow's Ian Dallas this year, he explained the grueling process of making 30 different control schemes for Edith Finch's vignettes, each intuitive, and each one enabling the player to communicate through the game in a meaningful way; to feel the narrative unfold through a game controller.
While Edith Finch is noteworthy in and of itself, Giant Sparrow as a studio deserves acknowledgment. The studio managed to navigate a mid-development switch from Sony to the newer publishing house Annapurna Interactive, leave a lasting mark on this newfangled first-person storytelling genre, and sell more of this game than a lot of people expected. We're happy (and relieved) that so many other people appreciated Giant Sparrow's work, so that they may go on to create more memorable experiences.
IO Interactive
Longtime Hitman developer IO Interactive made our top developers list last year for taking a risk and breaking the latest game in its long-running series up into an episodic release. 2017, however, saw IO Interactive tasked with a different set of challenges and a unique situation that have earned the developer a spot on this list once again.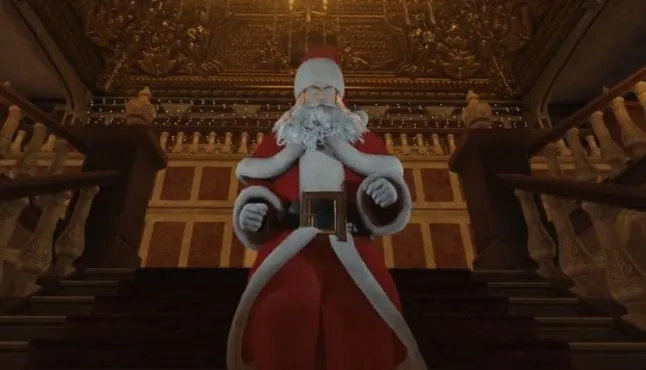 After successfully navigating its risky decision to release Hitman as an episodic, live game, news broke that Square Enix was looking to end its ownership of IO Interactive. At the time, Square was in talks about selling IOI with a number of parties, making both the studio and Hitman's future was uncertain.
Weeks later, however, IO Interactive emerged as an independent studio after agreeing to a management buyout with Square Enix. Surprisingly, the negotiations between the two companies resulted in IO retaining the rights to the Hitman series and keep its episodic game alive. Unfortunately, the transition was not a painless one and IO did execute a number of layoffs. Nevertheless, the fact that it managed to remain in business, retake the rights to its flagship franchise, and continue supporting one of the best "live" games of last year is a feat worth celebrating.
Laundry Bear Games
Laundry Bear Games (based in Toronto, Canada) made its debut with the release of A Mortician's Tale in October 2017. The game, which started out as a game jam game called Mortuary Simulator, was inspired by the work of mortician and author Caitlin Doughty and the death positive movement she helped found, which seeks to dismantle the current culture of death in western society by educating the public.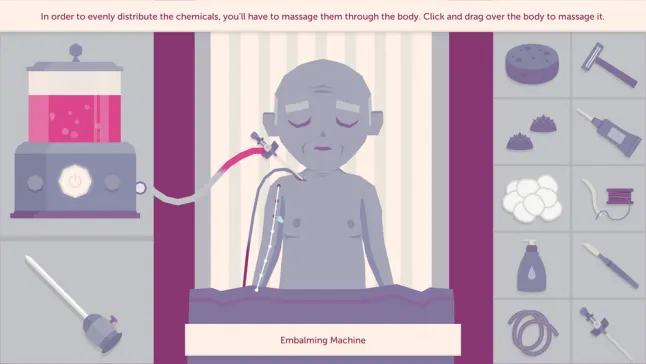 In Mortician's Tale Laundry Bear made a game that challenges the depiction of death and does so in a respectful and informative way. Players learn everything from the different ways bodies are prepared depending on which service the deceased requested, to the sometimes sinister intentions of funeral homes who seek to overcharge and take advantage of grieving families.
Video games are full of death and dying and violence at the hand of the player. Instead of inflicting harm, A Mortician's Tale asks that we take care of a corpse instead of creating one.
Dying is inevitable. The culture of silence created around it has scared us into avoiding conversations we should be have with our loved ones about death. Laundry Bear has succeeded with A Mortician's Tale because it's generated a discussion, and has developed one of the most authentic games about death.
MachineGames
It takes a talented group of developers to weave a tale about American White Supremacy into a goofy Nazi first-person shooter, and in 2017 that group of developers was Sweden-based MachineGames.
After the success of Wolfenstein: The New Order, it was going to be a tall challenge for any studio to re-capture the energy and intensity that first game work, and not only did MachineGames do that, the team crafted more human and meaningful moments than even suggested by the first game.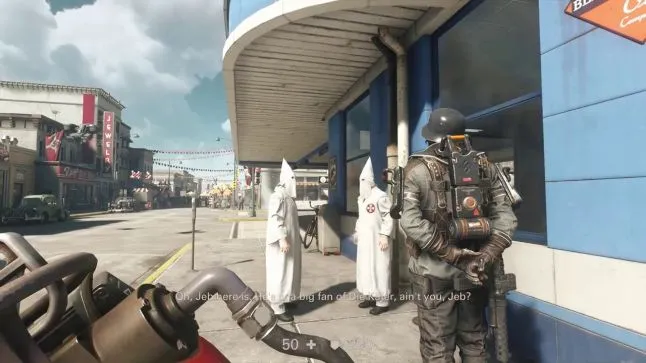 In Wolfenstein II: The New Colossus, mothers pick up guns to defend their children's future, a racist white Texan boasts about how the Nazi regime has improved his life for the better, and a soft-spoken half-Jewish child, caught between worlds, cedes leadership in the resistance so he can better use his privilege and power in the best way possible.
And all the while, MachineGames' commitment to technological achievement and innovative play delivers a set of standout levels and weapons that do justice to the series' first-person shooter heritage. The New Colossus ends with the suggestion of a third adventure for our rag-tag heroes, and we hope MachineGames gets a chance to tell one more tale in this fantastic series.
Nintendo Entertainment Planning & Development
You'd be hard-pressed to find someone in the game industry who doesn't think Nintendo is good at making games. Game design and development is, perhaps more so than any of its competitors, a critical and enduring pillar of the company's business.
But this year was something special for Nintendo. Alongside the (surprisingly strong) launch of a new console it released a fantastic array of games, from Splatoon 2 to Metroid: Samus Returns to Super Mario Odyssey and The Legend of Zelda: Breath of the Wild.
Any studio would be lucky to see a project succeed on the order of Odyssey or Breath of the Wild. Nintendo EPD shipped both this year, and in the process managed to reinvigorate two storied franchises that have, over time, grown stale and predictable.
The hard work of Nintendo developers proved instrumental in the company's 2017 turnaround, and inspired many to look to 2018 with one eye trained firmly on what, exactly, Nintendo will do next. For these reasons and more, we recognize Nintendo EPD as one of the top game developers of 2017.
The Pixel Hunt and FIGS
Newsgames. Edutainment. Serious games. These terms come loaded with baggage, and any dev who sets out to make a game about real issues must be braced to bear that weight.
Many do it well, but few this year seemed to do it as effortlessly as the developers of Bury Me, My Love, a mobile game about the experience of a Syrian refugee seeking safety far from home.
It's the first independent game from French indie studio The Pixel Hunt and French digital design agency Figs, who together manage to write and present the unfolding story of BMML in a way that feels grounded without being grave.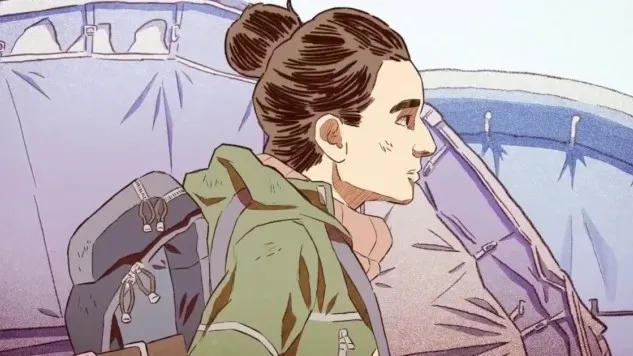 Unfolding through a WhatsApp-esque font of texts, emoji and beautifully illustrated selfies, the story of BMML hero Nour and her husband Majd is at turns hilarious, terrifying, and gut-wrenching. But most of the time, it's mundane. The player watches from the perspective of Majd, sometimes making choices on how to respond (should I use the blushing-face emoji or the zipped-lips one?) but mostly waiting for word from Nour on where she is and what she's doing.
So often, the answer is quotidian: she's trying to find a road in the dark. She's annoyed with a hotel door that won't close properly. She's stuck in a long line at a government office. Throughout the game Nour and Majd share in-jokes, awkward texts, and uncomfortable silences in a way that feels true to life. Sometimes they can be boring, or cowardly, or petty, and that's so important to see because let's be honest, so can we.
Games about serious subjects are often peppered with characters that feel like caricatures of real people, packaged for a global audience, who spend their stage time emphasizing the drama of their valiant struggles. By contrast, BMML gives players space to sit with two people and get to know them as the world pulls them apart.
It's a remarkable game, and we can't wait to see what the dev team does in the years to come.
PUBG Corporation
It's been a truly remarkable year for PUBG Corp. The studio's debut game PlayerUnknown's Battlegrounds (you might've heard of it) has become a bonafide record-breaker, trendsetter, and award winner -- and it hasn't even officially hit shelves yet.
Whether you love, loathe, or couldn't care less about the Early Access title and the wave of 'battle royale' shooters it's spawned, you can't deny the immense impact it's had on the games industry. The last-man-standing shooter has experienced nothing short of a meteoric rise over the course of the year, becoming the most-played Steam game of all time with over 2 million concurrent players and surpassing 20 million sales in the process.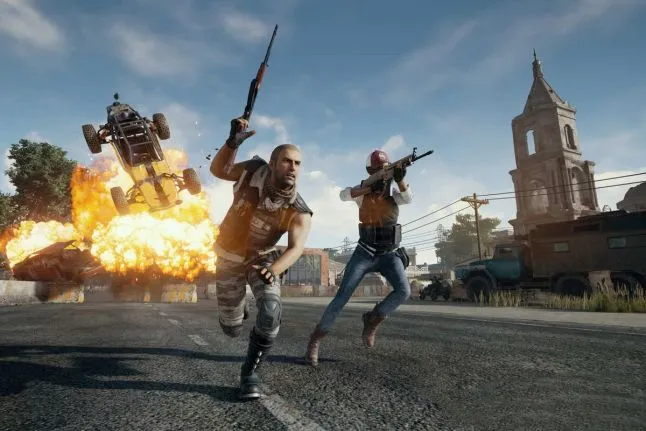 Sure, the game itself might be a little rough around the edges, but Battlegrounds has energy and personality by the bucketload. Every do-or-die match is packed with tension and memorable moments, and like a reality show for the modern age, the unpredictable nature of Battlegrounds makes it as much fun to watch as it is to play.
Success, however, breeds competition, and although PUBG Corp. will surely be watching the progress of other last-man-standing titles like Fortnite: Battle Royale with keen interest, right now it's deservedly the undisputed king of the hill. The young studio managed to shape and legitimize a sub-genre by dedicating itself to the cause, and in the process became the face of a burgeoning movement that looks set to engulf the games industry.
Winner winner chicken dinner, indeed.
Click through to page 2, and read our list of the top games of the year!
---
You'd have a hard time tallying up how many great games shipped in 2017, but you can be sure there are more than ten.
In spite of this fact, or perhaps because of it, the staff of Gamasutra have once again picked ten games that we think highlight some of the game industry's best work this year.
Game developers know better than most that constraints breed creativity, and in forcing ourselves to pick just ten (just ten!) games we had to think hard about which were most important to us, and the game industry as we see it.
Here then, in alphabetical order, are our picks for the top games of 2017. Each is accompanied by a few thoughts from a Gamasutra staff member who felt strongly enough about the game to put it on their list of the year's best.
Publisher: Double Fine Productions
A few years ago, some of the folks who made Panoramical published a deep dive into how that game affords players control over imagery and sounds "as a conductor in a quasi-­totalizing fantasy of cyborg unity."
The whole article is worth reading, and at the end they closed it out with a coda excerpted from the book "Dropping Ashes on the Buddha: The Teachings of Zen Master Seung Sahn."
It's the story of a seven-year-old named Gita confronting the death of a beloved cat, and since space is effectively free on the Internet I'm going to take the liberty of reprinting it here:
"What happened to Katzie? Where did he go?"
Soen­sa said, "Where do you come from?"
"From my mother's belly."
"Where does your mother come from?" Gita was silent.
Soen­sa said, "Everything in the world comes from the same one thing. It is like in a cookie factory. Many different kinds of cookies are made — lions, tigers, elephants, houses, people. They all have different shapes and different names, but they are all made from the same dough and they all taste the same. So all the different things that you see — a cat, a person, a tree, the sun, this floor — all these things are really the same."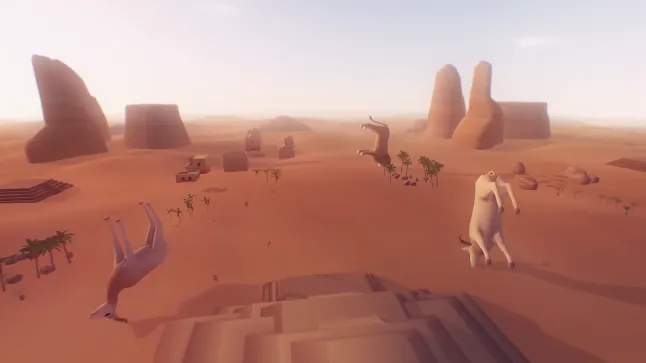 This, to me, is Everything. The latest game from David OReilly and crew is an attempt to express ineffable truth through an interactive medium. It's a game that can play itself. It's a kind of koan you can roll around in. It's a great thing to leave on in the background during a party. It's a nice thing to do while you listen to some good Alan Watts talks.
I have very fond feelings for Everything, in large part because I was in the right place at the right time to appreciate its vibe. During a year in which the world seemed hellbent on drawing lines, building walls, and picking fights, Everything was a constant reminder that all of it is noise.
- Alex Wawro
Gorogoa by Buried Signal
Publisher: Annapurna Interactive
I'm so glad this game sneaked into 2017, and that I was able to catch it before making this list. A puzzle in a pure form that also tells a story in a powerful way, Gorogoa had me wondering how developer Jason Roberts was able to conceive of such a game, let alone extract it from his brain and execute the idea flawlessly.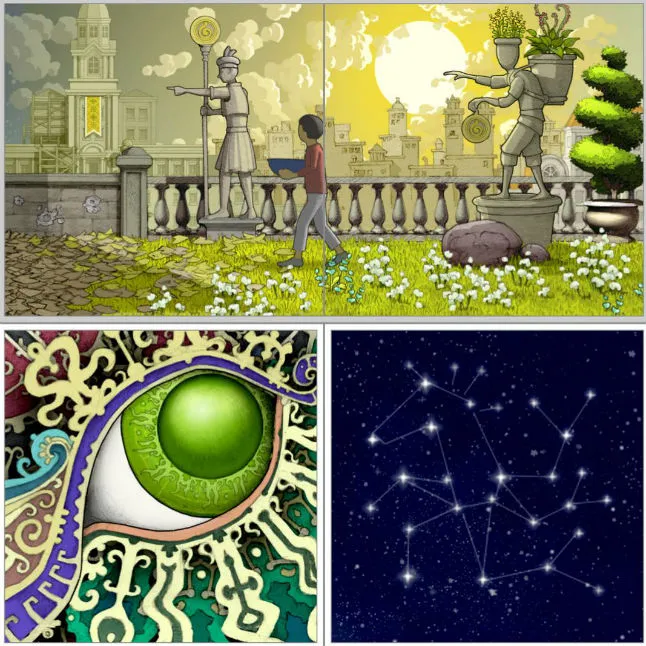 Gorogoa made me understand a new language when it comes to 2D spaces. It's one of those designs we should be talking about when discussing "game literacy." There was such an obvious conversation happening between me and the puzzle pieces that it was blowing my mind. Solutions were sometimes challenging to find, but they always made sense according to the rules that are established early on in the game. Gorogoa is one of the most brilliant intersections ever of artistic, design, and technical mastery, and everyone should experience it.
- Kris Graft
Publisher: Sony Interactive Entertainment
I can't remember a time a game has made me stop and take a moment to appreciate its world before Horizon Zero Dawn. Multiple times, I've completed a quest or finished looting a downed enemy only to turn around and take a moment to admire the colors spread across the sky by an approaching sunset or the shadows cast by a coming storm.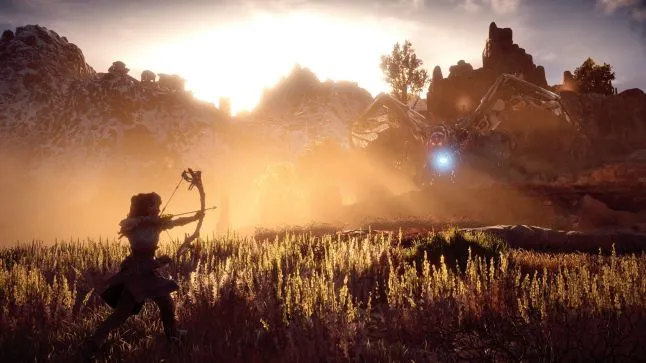 The world, characters, and stories of Horizon Zero Dawn are just as compelling as the breathtaking vistas you seem to happen across during otherwise routine tasks. Guerrilla Games' big departure from its Killzone series is an open world, post-post-apocalyptic game where nature has reclaimed the structures of modern civilization and massive machines roam about like wild animals.
There's something to be said about the sense of accomplishment you feel after single-handedly taking down one of the larger metal beasts wandering the world after stealthily laying traps across its path and disabling its weaponry with carefully placed arrows. Even with its place cemented on my top games list, I'm still scouring the map in Horizon Zero Dawn for activities, just to make sure I experience as much of this game as possible.
- Alissa McAloon
Publisher: Finji
Night in the Woods is a game about anthropomorphic talking animals, and the stories it tells are more human, more relatable, than just about anything I saw in other games this year.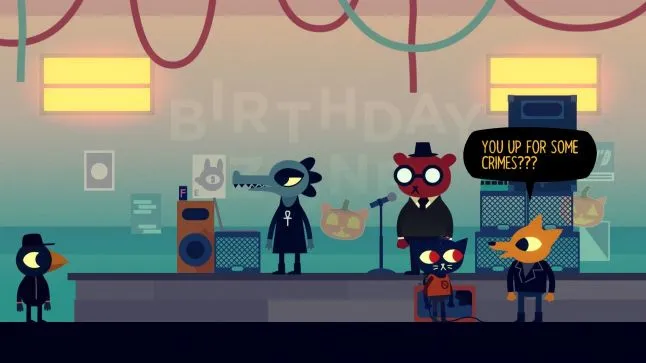 This game commits to a very specific tone so completely that if it resonates with you, as it did with me, playing through it can be almost painful. By the time I was done with Night in the Woods I felt like I'd grown up with each of the characters, knowing them as well (and as poorly) as all the friends I'd left back home.
- Alex Wawro
"WINNER WINNER CHICKEN DINNER!" isn't just the best thing you can see at the end of an hour-long match, it's a symbol for how oddly earnest and complex PlayerUnknown's Battlegrounds (aka PUBG) has turned out to be.
As the classic first-person shooter has grown and morphed into games like the highly-polished Overwatch, PUBG's rough edges and emergent narratives create far more relatable, human moments in a multiplayer shooter to the point that I honestly feel it's comparable with single-player role-playing games.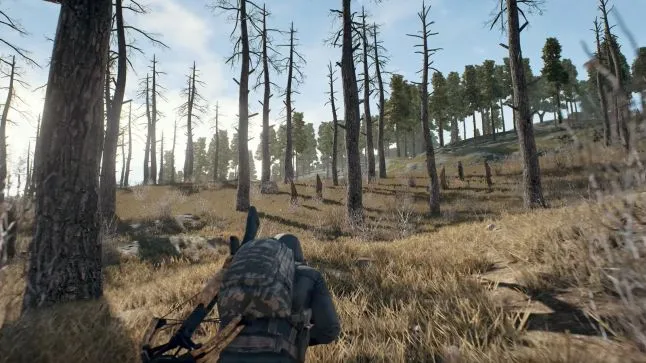 Whether it's the unexpected grenade that shouldn't have made it into the house, a surprise encounter while combing through the ruins, or a Fury Road-worthy firefight along the bridge, PUBG isn't just a game about shooting other players, it's a broad platform of experiences birthed from its sizable map and shrinking play zone.
- Bryant Francis
Prey by Arkane Studios
Publisher: Bethesda Softworks
You're stuck on a giant space station infested with shape-shifting aliens and your only chance of survival is to fuse alien genetics with your own, to become a hybrid human-alien...thing.
My favorite "immersive sim" of all time, Prey does an incredible job of teaching the player what they can do with the systems at hand, then enabling and encouraging players to do those things.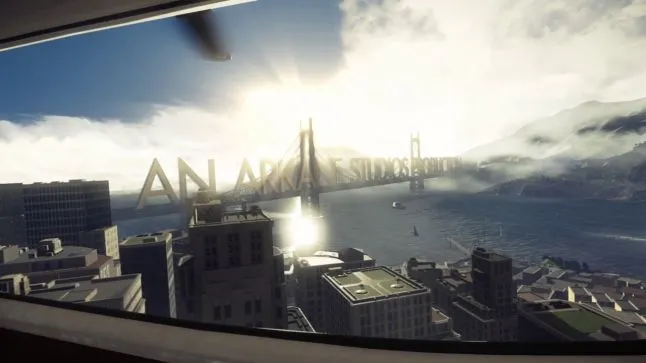 The accompanying level design lends itself to experimentation, and the way it manages gating is such that players feel like they're cheating or breaking the game, which just adds to the fun of it. It's like an improvised jazz solo version of a Metroidvania. And yeah, you can morph into a coffee cup.
- Kris Graft
Pyre by Supergiant Games
Pyre is beautiful. Supergiant weaves the music, the ideas, the art, the characters and their stories into something that feels greater than the sum of its parts.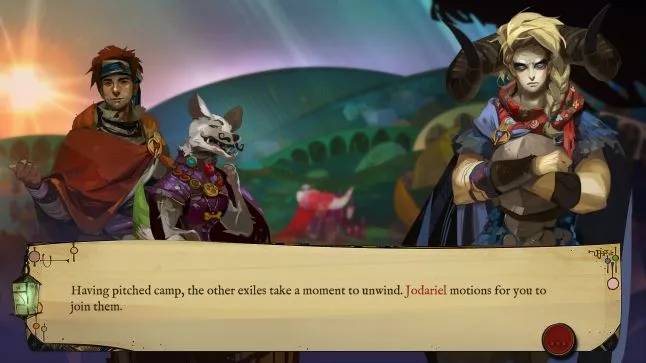 I also appreciate that in so many places Pyre surprised me, striking off in a completely different direction than I expected. Characters who at first seem cruel or foolish become relatable, even likable; opponents are sometimes so sympathetic you find yourself kind of hoping they'll beat you, because they deserve a win; losing can be the best thing that happens to you; the people you save can't always save you.
Pyre is a triumph, and easily the most interesting game Supergiant has ever made. The fact that it's all bound together by what's basically a supernatural NBA Jam-alike is just icing on the cake.
- Alex Wawro
At this point, there's nothing I can say about Breath of the Wild that hasn't already been written. It achieved the near-impossible by redefining the evergreen franchise and simultaneously supporting the successful launch of an entirely new console. Indeed, the highest praise I can give Breath of the Wild is that it managed to reinvent the wheel without ripping out the series' heart and soul.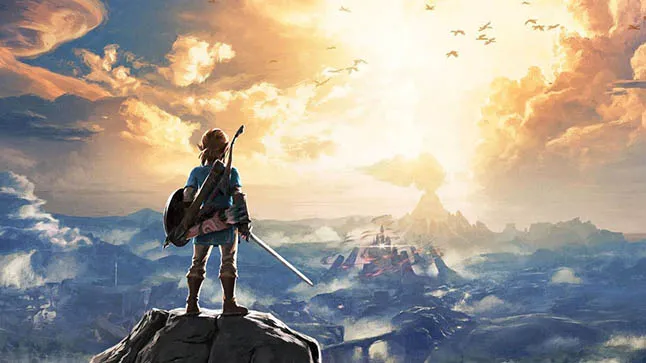 Gone are the predictable temples, familiar items, and linear world progression. In their stead we got gigantic mechanized puzzles called Divine Beasts, a sweeping open world that can be fully explored right from the get-go, and fresh powers that can be combined in marvelous, infinitely surprising ways.
At the best of time it feels like an experiment in fun and a shining example of how vertical open world design should be implemented. At the worst of times… well actually, there weren't any worst of times. Let's be real: Nintendo knocked it out of the park and then some, delivering my favorite Zelda game since Wind Waker while yanking a classic into the modern age.
- Chris Kerr
Publisher: Annapurna Interactive
It's telling that the graveyard you encounter near the end of Edith Finch feels empty, as though the gravestones are just placeholders, a reference to the occupants, rather than any sort of memorial. Because the house itself is the true graveyard, these shrines to each member of the house locked away behind sealed doors, frozen in a snapshot of the person in the moments before they passed.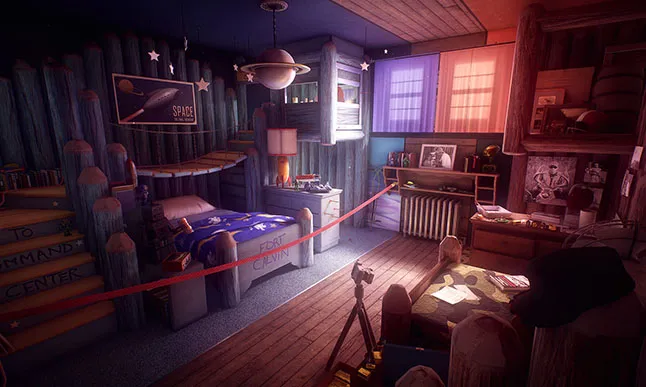 There should be something morbid about traipsing through this empty house, but there's enough joy in the vignettes that you slip into for each character that it never feels oppressive. Instead you're just struck by the unrealised potential of these people that so often passed before they should have, as well as how so many of them died in what was seemingly their most triumphant moment.
Lewis' cannery job is an obvious standout, but so many of these inventive and surprising stories manage to capture the essence of the characters in sharp relief. The room that you entered before, that was filled with hints of the person who left it behind, now left like an echo of those final moments. It's rare for a game to really reverberate emotionally, but Edith Finch is a rare game.
- Phill Cameron
Like a lot of people, the Yakuza series has hovered just below my radar for a long time. It really wasn't until social media, where people could share all the cool, weird things that happen in this series, that I had to reevaluate my life and subsequently punch myself for not getting into Yakuza sooner.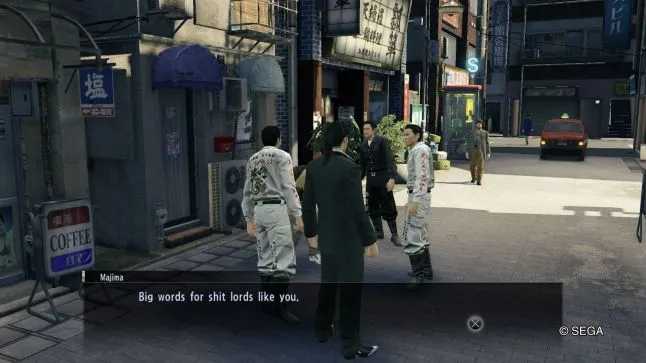 Yakuza 0, for me, possesses zero ludonarrative dissonance. It's basically a hyper-accurate "If Kris Graft Were an Actual Yakuza Simulator 2017." Part of this is because so much of the game's open world quest design derives from what I'd call "welcome distractions." You run into people and situations that are so weird and compelling, your motivation to help them overtakes the motivation you have for any main questline, and you go on a tiny, satisfying adventure.
starting to think that the best, most relatable open world game protagonist is just a person who has the attn span of a butterfly, easily distracted by anything.

so yes, kazuma kiryu. pic.twitter.com/n6jzuU9LIE

— kris graft (@krisgraft) November 14, 2017
The main storyline is full of real estate intrigue, and the intersection of the game's two protagonists, Kazuma Kiryu and Goro Majima is actually pretty well done for an open world game. There's just so much charm and heart here, not to mention it's one of the few games anymore that truly feels like a "Sega game." It's wonderful.
- Kris Graft
Click the link to page 3, and enjoy our list of the top game industry events of 2017
---
Gamasutra editor Alex Wawro continues our yearly series of year-end roundups by looking back at some of the biggest events that influenced the shape of the game industry in 2017.
As the year winds down around us, it's nice to pause for a moment, take a breath, and reflect on what we've come through.
So much happened in 2017 that many weeks felt like months, and some months felt like years. Within the game industry we saw grand openings, grand closings, big debuts and seismic shifts in the business of making games.
In looking back over Gamasutra's coverage of 2017, we found five big events that seem likely to influence the shape of the game industry for years to come. Many were key parts of larger trends that defined the game industry in 2017, and so here we give them their due and reflect on what effect they've had on how people make and sell games.
Nintendo makes a big splash with the Switch
Nintendo's Switch wasn't the only new console to launch this year, but it was the only one most devs were talking about. This time last year a lot of industry analysts were cautiously optimistic about the Switch's potential, and that was borne out in spades as Nintendo proceeded to sell out stock and ship over 10 million units worldwide to date.
The Switch's popularity is a big deal for Nintendo, and it's proven to be a boon (thanks in part to the relatively straightforward porting process) for developers looking to get their games in front of an audience.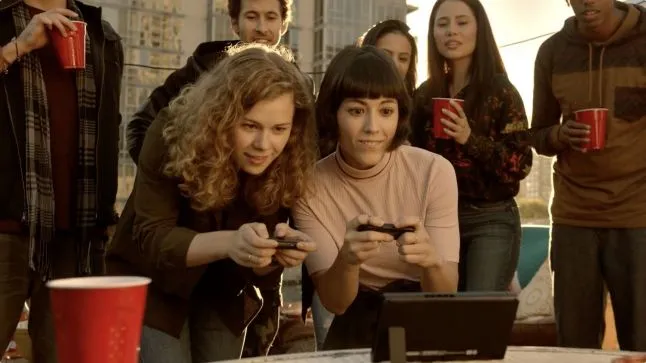 The #1 way to get your game played at cool rooftop parties
As it grows ever more difficult to get noticed on overcrowded game markets like Steam, PSN/Xbox Live, and Apple's App Store, the Switch's barren storefront has given devs room to shine. At least one game sold more on Switch at launch than on all other platforms (PC/PS4/Xbox One) combined, and many devs report outsized success on the system.
It's unclear how long this can continue. The number of Switch game releases seems to grow larger every week, even as big-budget game companies like Square Enix, Bandai Namco, and (presumably) Electronic Arts slowly turn to focus more heavily on Nintendo's latest.
But in 2017, at least, the outstanding success of the Switch (which Grasshopper's Goichi "Suda51" Suda called "a punk console" made by someone who "must have something wrong with them") seems to have been nothing but good news for the industry at large.
Goodbye Steam Greenlight, Hello Steam Direct
Valve made some significant changes to Steam this year, and one of the most impactful seems to have been replacing the community-powered Steam Greenlight with a new, fee-based submission system: Steam Direct.
The announcement alone provoked a lot of important discussion among devs about what a game distribution platform should be in 2017. Ought it cost a fee to put your game on the market? How much do you charge to dissuade the smallest share of devs and the largest number of asset-flippers and copycats? Should market submissions require approval by paid evaluators? By the public? By anyone at all?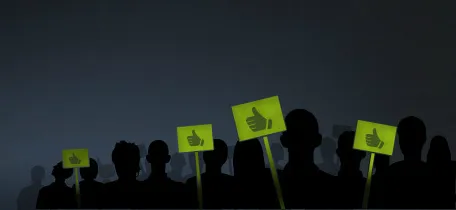 Rest in peace Steam Greenlight
For Valve, the respective answers seem to be: yes, $100 per game (recoupable), and a submissions process that involves a bit of paperwork and a cursory review by Valve. The (relatively) modest submission fee seems to have mollified many devs who got spooked by talk the Steam Direct fee could be as high as $5,000, but it's not clear that it's had much effect on the "noise" in Steam's submission pipeline.
Steam Direct has been live for five months, and while Valve seems to have achieved its stated goal of making the process of getting on Steam more straightforward, it's hard to say whether Direct has done (or will do) much to quiet the cacophony of games screaming for attention and money on Steam's storefront.
IGN buys Humble Bundle
The folks at Humble Bundle surprised many of us this year by announcing that, after seven years in business, the bundle company built by indies would be acquired by IGN for a (still) undisclosed sum.
This is a big deal because shake-ups at Humble are likely to reverberate through the indie game industry. The company has expanded well beyond its (still significant) bundling business to now publish games, pay devs to make games for its subscription-based monthly game club, operate a subscription-based online game trove, and run an online game marketplace.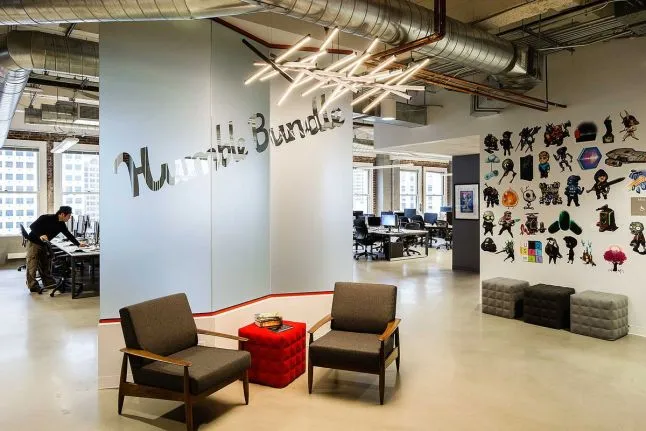 One question remains: Did IGN pay what it wanted?
However, when the deal was announced back in October IGN exec Mitch Galbraith told Gamasutra that "the idea is just to feed [Humble] with the resources they need to keep doing what they're doing." Meanwhile, Humble cofounder John Graham suggested the company -- and perhaps, by extension, the devs it works with -- would benefit from having the support of IGN.
We'll see how that bears out in the year ahead. Regardless, editorial types at IGN now have more to worry about when it comes to disclosures -- and a longstanding pillar of the indie game dev industry now has new owners.
After nearly 20 years, Visceral Games shuts down
Many good studios met their end this year, but Electronic Arts' decision to close Visceral Games and overhaul its big Star Wars project was especially notable because of how it prompted the game industry to ask: are single-player games dying?
The answer, of course, is no. You can't kill an idea. But you definitely can kill a project because you think it won't work out the way you want it to, which is basically what EA seemed to do when it announced back in October that it was changing the Star Wars game Visceral had been working on from a "story-based, linear adventure game" to more of "an experience that players will want to come back to and enjoy for a long time to come."
With that, a studio that had been in business of making games (Future Cop: LAPD, Dead Space, Battlefield Hardline) since 1998 was effectively shut down as its big project was handed over to a network of EA teams led by EA Vancouver.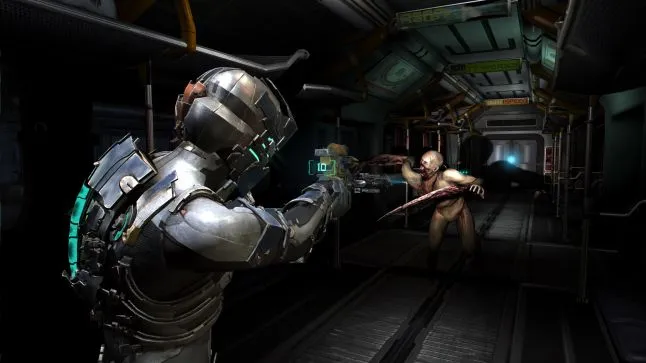 Dead Space protagonist Isaac Clarke demonstrating the grim work of carving up an unfinished project
Only those involved know all the reasons why, but from outside it sure looks like one of the big ones was the rampant success of Destiny 2, Overwatch, and other $60 "games-as-a-service" titles. These are games that keep players coming back, keep players paying, and as they (alongside other live game mainstays like Dota 2 and the newly ascendant PlayerUnknown's Battlegrounds) dominate headlines and earnings calls it's hard not to see the death of Visceral Games and its planned big-budget single-player adventure as a portent of things to come.
Electronic Arts drops a cool half-billion on Titanfall dev Respawn
Electronic Arts' decision to close Visceral Games may also have been influenced by the fact that it apparently put up as much as $455 million this year to acquire Titanfall creator (and longtime EA partner) Respawn Entertainment.
The game industry runs on money, and while EA's decision to spend roughly half a billion to snap up Respawn isn't quite as hefty as some big buys in previous years (Tencent spending ~$8.6 billion on Supercell last year, Activision buying King for ~$6 billion the year prior), it's enough to make us sit up and take notice.
The fact that EA reportedly made the decision after Nexon first offered to buy Respawn is even more intriguing; what do these big companies, which seem ever more focused on games as a service, see in a studio whose latest game appears to have been critically acclaimed but commercially overlooked? A game that (unlike its predecessor and most triple-A games) shipped with a critically-lauded single-player campaign packed with interesting, one-off mechanics?
The answer, at least for EA, may be as simple as Star Wars. Respawn has been working on a Star Wars project with EA for some time, and here at the end of the year it sure looks as though EA has moved heaven and earth (and budgets, and projects, and people) to make sure its Star Wars ducks are all in a row.
These shifts affected scores of developers across multiple studios this year. What effect they'll have on the industry going forward remains to be seen.
On the next page you'll find a broader look at the big game industry trends of 2017, as well as some thoughts on what they mean for game devs going forward
---
Gamasutra editor-in-chief Kris Graft (@krisgraft) takes a look at the trends that shaped the video game business in 2017.
2017 in the video game industry was essentially a round of Playerunknown's Battlegrounds. Here are the trends that defined a year of fighting over a chicken dinner.
Uncertainty in a post-Steam Direct world
Valve officially ditched its user-vetted Steam Greenlight program this year and in June launched Steam Direct, which abandons the campaign and voting process of Greenlight for a straightforward $100 recoupable fee to publish a game on Steam.
It's still difficult to judge the precise, direct effects of Steam Direct. However, the anxiety among developers is palpable. Data shows that we are seeing more games on Steam, which has become open and crowded enough that developers are (and should be) reexamining how they use the platform, and how they market their games.
We also see some evidence that as the number of games on Steam grows, the revenue of the average game developer on Steam is dropping--it appears that players' spenditure can't keep up with how many games are available to buy. And these days, there are more...how do we put this...game-shaped items on Steam that don't add value to the platform, and which have the tendency to alienate the more earnest developers.
As I said, trying to figure out the exact effects of Steam Direct is a tangled web, because it's not the single reason that there are more games on Steam these days. But for many developers in 2017, Steam Direct is seen as a key enabler of a Wild West digital market where many games go to die.
Lootbox scrutiny
As game companies look for more ways to mitigate the risks involved in making big expensive video games, they're are looking to "loot box" models as part of the strategy to provide "games as a service" (i.e. 'games that can continuously make money over a long period of time via all sorts of business models').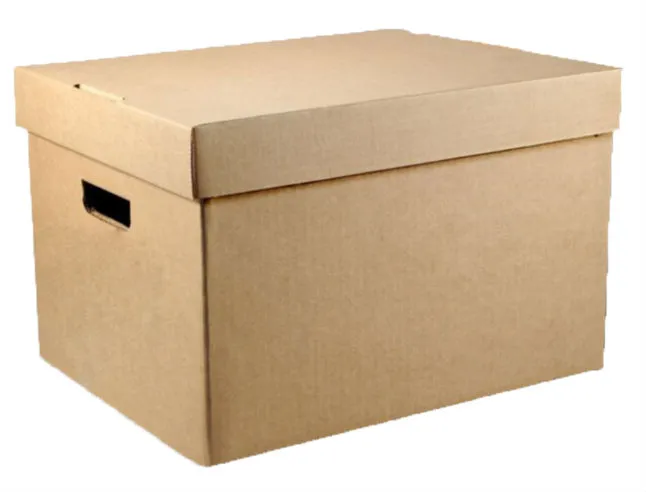 Is there loot in this box? Pay me $5 to find out.
But due to some aggressive or straight-up bad lootbox implementation in major releases, and the subsequent player reaction, we find the model under the microscope by not just players and the media, but by government regulators across the globe. It turns out that some of these lootbox systems look a lot like gambling.
This trend will continue into 2018, and likely beyond. Some major game publishers have weighed in to argue that lootboxes are not gambling, and the ESRB, the self-regulatory organization that rates the age-appropriateness of games, has agreed with that side of the argument. For now, the game industry needs to do a bit of soul-searching as to whether or not it's worth testing just how much it can get away with when it comes to this form of monetization, before lawmakers intervene and answer the question themselves.
AR piques interest as VR comes back to...reality
The hype has largely cooled for virtual reality, which is honestly a good thing if it's going to become a sustainable business. A few VR studios have closed, and it's still hard to make money with VR's smaller userbase. But we still saw long-term investments in VR, such as Google's purchase of Job Simulator developer Owlchemy and Microsoft's purchase of VR company Altspace. In 2017, the VR space seems more about the long, earnest grind that comes with working with new, promising technology, and less about the gold rush.
Meanwhile, this year we saw the introduction of Google and Apple's respective ARCore and ARKit, two mobile-based AR solutions that promise convincing, accessible AR, and are supported by not only interested game devs, but also major tools companies like Epic and Unity.
This year, immersive computing may not have garnered the hype of a couple years ago, but now that expectations have mostly come back down to earth, we can look forward to a more realistic results that may have a larger impact on video games.
Chicken dinners for all
Can a game be a trend in itself? In the case of Playerunknown's Battlegrounds, yeah, sure. Released in March on Steam this year, PUBG has seen success with impact that goes beyond the walls of PUBG Corp.
It's certainly not the first battle royale-style game (it's not even the first battle royale game from original creator Brendan "Playerunknown" Greene), but there hasn't been one that comes close to its impact and influence. With 24 million units sold and peak concurrent players pushing 3 million on Steam, it's not difficult to speculate that PUBG is coaxing time and money away from other online multiplayer releases.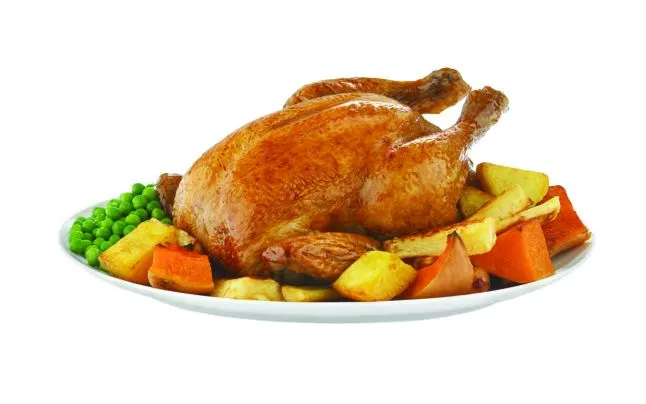 An actual chicken dinner.
Other developers have seen the success of PUBG and implemented similar mechanics in their own games (to the chagrin of Brendan "Playerunknown" Greene). Epic Games' Fortnite added a battle royale mode in the wake of PUBG's success, and in China, an entire new genre of cloned and copy-cat games has arisen--a genre known there as "chicken-eating games." It's a game business phenomenon, and it's only in Early Access.
Switch rising
It's always difficult to gauge exactly how successful (or unsuccessful) a new Nintendo console might be. Nintendo is known for going its own way, deliberately aiming to offer something different from its competitors.
Once the Switch launched, and people had it in their hands, it started to become obvious that Nintendo had made something special--maybe not lightning-in-a-bottle like the original Wii, but rather something more sustainable that caters to a "core" Nintendo audience, relying more on practicality and unique functionality rather than explosively successful gimmickry. Today, the console stands at 10 million units sold-through, with 14 million expected to ship by the end of March 2018. For comparison, Wii U's lifetime sales stand at 13.56 million.
And the Switch's success has not just been about hardware. Even before launch, Nintendo had been carefully courting independent developers who have successfully filled in the gaps in the Switch's young library. For some developers, the Switch has become a haven away from the crowded markets of Steam and more mature consoles. That blue ocean is reddening up with an increasing amount of competition on the storefront, but for 2017, the Switch has been hugely impressive, and the key factor in Nintendo's return to form.
Hungry for more? Gamasutra contributors also each wrote up a personal list of their top games of the year, and you can read them here: Kris Graft, Alex Wawro, Alissa McAloon, Chris Kerr, Phill Cameron, and Bryant Francis.