My colleague Ryan Henwood and I are creating the theme music and sound effects for The Phantom P.I. Mission Apparition from Rocket 5 Studios. With composer Aaron Robertson creating all the in game music. The Phantom P.I. Mission Apparition is a spooky comedy adventure game coming to mobile devices and desktops in 2014. Ryan and I had the pleasure of working with Rocket 5 Studios on a few other projects previously. We are honored to work with them again on this fun and exciting game.
I always find myself intrigued in the development process of video games. I enjoy reading game devlogs and getting a glimpse on how the game comes to life. I am also captivated by the mistakes in development that end up changing the course of the game for better or worse. I thought maybe it would be interesting to hear about the audio development of a video game. So I decided to write an audio devlog on the current game I am working on The Phantom P.I. Mission Apparition.
We began the audio process of the game with the creation of The Phantom P.I. theme music. We were given a video with storyboards that included certain scenes from the game. It had the look and feel of the introduction to famous 80's sitcoms with a haunted house twist. After our first look at the cinematic, we could not have been more excited. We both enjoyed watching 80's sitcoms when we were young. It also brought us back to our enjoyment of the horror and comedy genre.
For the melody, we looked to many different sources of music for inspiration. We listened to music from The Misfits, the movie Phantasm, and even some Beach Boys. In the way many songs get their start we just jammed together to see what came up. When you think of people playing music together, I doubt that the image of two people sitting on their computers making loud noises in unison come to mind.
Hello beautiful sounds of the 1980's. If only you played more than one note at a time.
I decided to use my Roland Juno 106, for the 80's component of the theme. The Roland Juno 106 was built in 1984 and is still analogue, but it was also a hybrid analogue/digital keyboard. It has warm sounding pads and very classic 80's strings patches. There was a slight problem in that mine has a dead voice chip. Take a listen below to hear what I am talking about. Warning you might want to turned down your listening volume some sounds are really loud.
A common problem in these keyboards is that every 6th note played is quiet, silent or crackling. In my case, usually if I leave it powered up for a while, it seems to work ok. While making the music for the theme song, the Juno 106 ended up not playing a simple 3-note chord. It would only play single notes at a time. So Ryan suggested I play them separately and we would record them into Pro Tools. Then we could edit and sync the notes together to form a chord that way. So here we were playing along with the drums and I played a single note at a time to make the chord. I suppose it could have been easier to just use another keyboard or software synth, but the sound from the Juno 106 was worth it.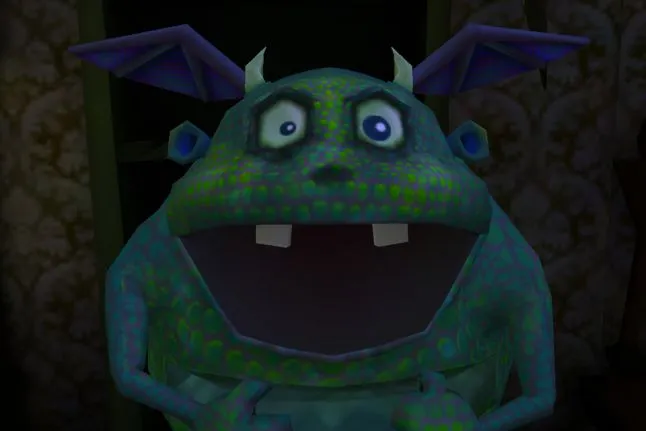 Uh oh! Hopefullly Baublebelly doesn't steal our Les Paul.
After we came up with the melody and put a hammer through the Juno 106, we moved on to the next part of the song. We received some much-appreciated feedback from Rocket 5 Studios on the theme song. Deciding to add more of a rock and roll feel, Ryan broke out the Les Paul and double tracked the guitars. Then he added a bassline underneath that followed the guitar parts. We felt we did the dead rock & roll legend Marshall Staxx justice.
We had a lot of fun creating the theme music for the game. There were some difficult moments, like the Juno 106 not playing every note. We also had unforeseen moments, like recording an in-the-moment piano piece with my Iphone on my father in law's piano. There were also unifying moments, with our backs turned to each other and jamming on our computers. The right notes of the melody and rhythm met up and we could not stop playing it. But that is what makes the end result worth it. Take a listen below in the trailer.
In part 2 we will talk more about the sound design of the game. We may even talk about how you can find inspiration in everyday sounds. Say, an almost empty soap-refill container spewing out its last remnants...
Blain Kramer and Ryan Henwood are Sound Designers and Composers currently working with Rocket 5 Studios on The Phantom P.I. Mission Apparition. If interested in finding out more about the audio development of this game follow Blain on twitter @BlainKramer, and Ryan @DeepRootsSound. Also check out Composer Aaron Robertson who wrote all the in game music @_AaronRobertson.