This interview is part of our Road to the IGF series.
Cuccchi takes players on a journey through the works of Enzo Cucchi, drawing symbolism from his art and turning it into gameplay elements that players can interact with as they explore these living spaces inspired and drawn from his paintings. As players progress, they'll steadily unlock a digital gallery of the artist's works and drawings.
Fantastico Studio spoke with Game Developer about the Nuovo Award-nominated game, discussing how exploring the works of Cuccchi would lead the developer to taking similar paths while recreating the artwork, how the artist's style inspired these spatial visions, and how video games can be used to spread art further than many galleries and other shows could.
Game Developer: Who are you, and what was your role in developing Cuccchi?
Andrea Valesini, Creative Director: I'm Andrea Valesini, the creative director of Fantastico Studio. I'm the producer of Cuccchi.
Julian Palacios, Designer and Developer: I'm Julián Palacios and I was the designer and developer of Cuccchi. I came up with the design and realized the game, doing both visuals and programming.
What's your background in making games?

Valesini: I'm a visual designer, game designer, creative director, and co-founder of the indie game company Fantastico Studio. Fantastico has been developing and publishing video games on consoles and mobile since 2017.

Palacios: I started as a self-taught Unity developer. In 2020, I self-published Promesa, a personal video game about memories and dreams.

How did you come up with the concept for Cuccchi?

Valesini: I received a message on Instagram from a user with a particular name, "organization_terratrisolaris," requesting the development of a contemporary art archive in the form of a video game. The writer was Alessandro Cucchi, the son of the artist Enzo Cucchi, whom I have known since we were children. We grew up playing football together on the street in the center of Rome (unfortunately it is now strictly forbidden). He had no idea I was part of the Fantastico Studio team, so it was fun to see each other again after a long time because we had lost touch.
We started thinking about the product to be made, but we didn't want to develop just a web game - we wanted to bring the archive to all the major gaming platforms. This means, and we think it is a remarkable fact, that it is possible to buy (and play) the digital version of the catalog of one of the masters of the Transavanguardia on consoles such as PlayStation 5.
For the development of the game, I immediately thought of Julian Palacios. We worked together to bring his game, Promesa, to consoles, and I really love his work. He had the artist's sensibility necessary to carry out such a project.
Palacios: I was already talking with Fantastico Studio about bringing Promesa to console. They, together with Alessandro Cucchi, were looking for someone to develop a video game archive of Enzo's work. I was given a big folder full of pictures of drawings and paintings and, at the beginning, I spent a lot of time just going through the pictures and sorting them in folders that conveyed different ideas and moods to me. In the end, I came up with a simple maze/exploration game that could go wild with the visuals, inspired by two old freeware games by dustmyte: Tripgate and Blitmaze.

The development choices were derived from the fact that I had to work on it mostly alone and in a short period of time, which meant that I had to move to simpler visual techniques than the ones I used in Promesa. Moving away from 3D modeling and naturalistic lighting, I instead explored things I had never used before, like 2D sprites and particle systems.
What development tools were used to build your game?
My development tools were Unity 3D together with image-editing software and some modeling.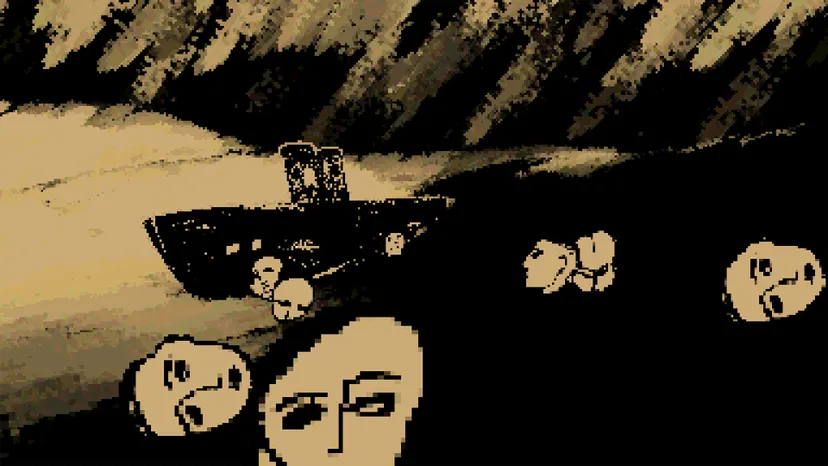 Cuccchi is a game made to archive the works of Enzo Cucchi. What drew you to this artist and their works?
Valesini: At university, I had Achille Bonito Oliva as a professor of art history, the man who invented the Italian Transavantgarde. During my exams, he always asked the students to explain what the Transavantgarde was. For this reason, I know Enzo Cucchi's work very well. I'm a fan of his. It was destiny that our paths met :-)
What made you interested in creating a game where you could enter and explore the works of Cucchi?

Valesini: We think that spreading art through a medium different to traditional ones (catalogs, websites, exhibitions) can be very useful for reaching new users. Thanks to publishing on PC and console, the work of Enzo Cucchi has gone around the world, reaching many people who have learned to appreciate his work and who otherwise would never have known him.
Some players have expressed this thought in the reviews on Steam, thanking us for introducing them to Enzo Cucchi's work. We are developing other projects like this. Our intent is to use gaming platforms to spread art-related products, as cinema and music already do. It is also impressive to think how easy it was to distribute the game all over the world and make everyone appreciate the art of Enzo Cucchi. With traditional tools such as catalogs or exhibitions, it would have been very difficult, if not impossible, to spread his work globally in such a short time.
Until now, the video game has been seen by Italian art insiders as a tool for children. We are trying to make these people understand that they are wrong. The video game is an art form, its environment a fertile ground which development projects can use to reach a new and young audience. Just what the art system needs right now.
Palacios: The project was very stimulating because there was a lot of creative freedom involved in coming up with an idea that could work. Since Cucchi's visual work is very variegated, I realized that each level had to be different in presentation, which meant that I could explore many different things while working on it.

What thoughts went into making artwork that the player can walk through and examine from inside the work? Into taking art and making it into something the player can move through?

Palacios: I don't agree with the idea that "the player can enter the artwork", because it's unfaithful to what a painting is. I wouldn't say that a movie adaptation of a book lets me enter the book, they work differently and give us two different kinds of experiences. They are different languages that don't need each other's validation.
Video games are, for me personally, firstly a spatial medium, a medium that explores our presence in a simulated world, in a representation. When I was first looking at Cucchi's images, I noticed that there were different sets of images that conveyed different spatial ideas to me. These spatial ideas could become their own thing, be translated into something different. I see the levels as worlds that were inspired by these images, sort of like a "concept album". The artworks were the sparks that made these new visions possible, and hopefully, they reflect back on the artworks.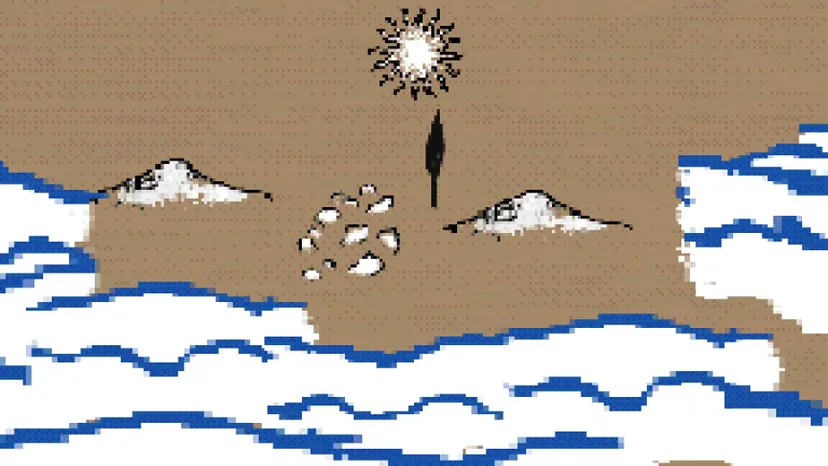 How do you feel this unique viewpoint affects the player? Changes the way they receive and interpret the art?

Palacios: I think the most interesting part of the game is being able to see how the artworks shaped the experience and the different ways the images in the game are linked to the paintings. It shows how our imagination works (or at least how mine worked in this project), and how it can transform what we see.

How has shaping the artwork into an explorable world affected your own interpretations and receptions around Cucchi's work? How has creating your game affected your relationship with the art?

Palacios: While working on a project like this, where you use the source material as your tools and ingredients, I found myself recreating the patterns and shortcuts that Cucchi developed with his style. By trying to come closer to something, inevitably I started finding similar solutions and assembling components together in ways that resembled the original. One starts to see and to think in a similar way. The process of making Cuccchi has made me imagine and play with things in ways I would have never done by myself.

Has your work in creating Cuccchi affected your own thoughts on game development and creating art? What are your feelings on your own works after having completed this project?

Palacios: Making Cuccchi was satisfying because it made me realize I could do things I liked even when using techniques I had never used before. It showed me that there's immense value in the process of creating or in learning to do something because it's how we discover new things.
This game, an IGF 2022 finalist, is featured as part of the IGF Awards ceremony, taking place at the Game Developers Conference on Wednesday, March 23 (with a simultaneous broadcast on GDC Twitch).