I try to keep regular screenshots of all game projects im working on - no matter if it is a jam game or a big project. It is really nice to come back later and take a look at the progress.
So here is a short history in screenshots of "Das Tal". This is where we are now.
Until now it was quite a long way. We implemented our first prototype with Löve2D to later switched over to Unity3D for creating the "full" game. Mainly because Löve2D is really neat and this way we can't sneak all those ugly prototype hacks into our game
:).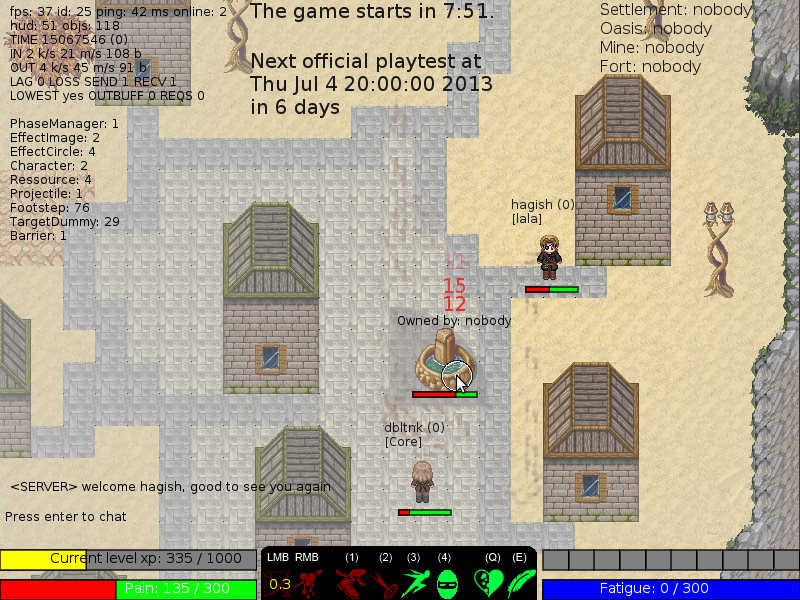 Then we switched over to Unity and did the first graphically more appealing version of the game.
From now on all screenshots where from the Unity client. A lot of placeholder art but we got a glimpse of where we wanted to go with the art style.

We replaced more placeholders and did more tweaking.
Then came the time for more character models - including animations. We started to add some "real" game play. There where still placeholder assets all over the map and all the UI was just dummy.
Oh and we had these "nice" red and green circles as placeholders for particle effects.
Another round of polish. Now we have particle effects and most of the UI is not a placeholder anymore. Actually only the popup windows are "placeholders".

Thanks for looking :). If you are interested in supporting us we are currently running a kickstarter campaign.