You're trapped in a room with a group of eight other people. There's a sadistic murderer on a monitor, and he's laughing at you. Your only way out is to solve puzzle after puzzle.
To some readers, this might sound like the premise of a Saw film. More game-savvy types might recognize the premise of the Zero Escape series—but what if this were happening to you in real life?
If you swing by Real Escape Game in Los Angeles, it could be. The escape room company has teamed up with Aksys Games and Spike Chunsoft to create an escape room based on the cult hit adventure game series. Opening this week, "Real Escape/Zero Escape" promises to translate the experience of the story-driven puzzle games into escape room form, while also creating a gameplay experience that series newcomers can enjoy.
The concept of essentially making a real-life spinoff game for the Zero Escape series raises some interesting design questions. How do you adapt a story-driven multi-hour single-player game for a multiplayer 60-minute real-life experience? How do you rethink the game space? And how do you pinpoint the key experience points that sell players on the shared fantasy?
We spoke with the SCRAP team for some design insight on the development of Real Escape/Zero Escape, and saw their early efforts at work in an alpha test in Los Angeles.
Drawing the right elements from the source material
For escape room designer Tamami Kawakata, building Zero Escape in real life became about designing an experience about trust. For her, this is one of the key story elements from Zero Escape she felt could be translated into a game experience. But while the characters in the video game are able to have conflicting motivations and can be distrustful of each other, real people in the escape room probably won't be, which presented one of her first design challenges.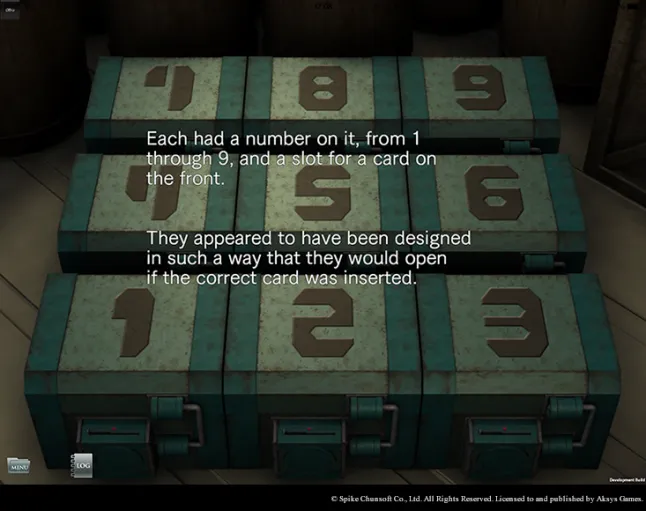 From the first Zero Escape game, Nine Hours, Nine Persons, Nine Doors
"It's hard to make a game about trust," she says, "because it's easy to trust players, and each other, because it's 'just a game.' It's not real, and they won't die, and they won't be killed. So, how [do we] make them trust or each other or how to install doubt?"
This led her and her fellow room developers to reach back to the Zero Escape games for mechanics involving splitting up the players. Escape room games frequently will create situations where players need to break up larger tasks into smaller ones in order to solve large puzzles, but Zero Escape builds on its 'locked in a room by a manipulative terrorist' scenario by dividing players even further, and limiting communication between the groups.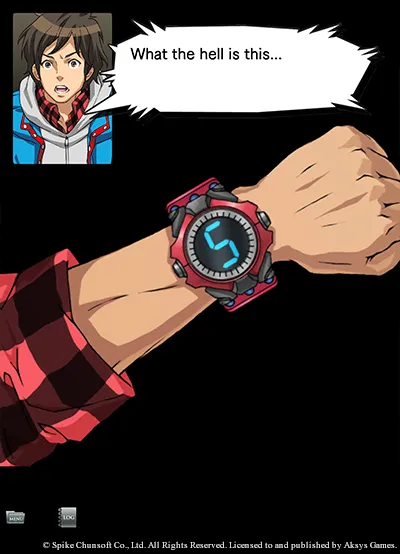 'Trust' then, becomes more about trust in other players' abilities, rather than their motivations. With multiple puzzles being built around sharing correct solutions, players are constantly gauging if the information they have is accurate or not, and if so, how they can work with their fellow players to get it.
The production challenges of digital to reality
After a theme is decided upon, how do you build and populate a literal, physical space to turn it into an engaging puzzle?
Producer Doc Preuss says the way Zero Escape often turns budget constraints into a virtue proved to be an inspiration as well, but construction was still difficult. "That was one of the hardest parts," he says. "There were very ambitious early concepts, but as with digital game design, you have to be cognizant of limited resources, limited time, and eventually agreeing on the concept that is going to be executable within your timeline."
Strongly themed escape rooms lend themselves to giving players objects like Spellbooks and physical keys, so SCRAP searched the Zero Escape games for objects to anchor its puzzles around, and landed on the watches that the terrorist Zero attaches to every character before the game starts. It's one of the few objects in the game that SCRAP builds a tiered puzzle off of, and like in the games, who's wearing what watch plays into a set of character information that creates social puzzles later in the experience.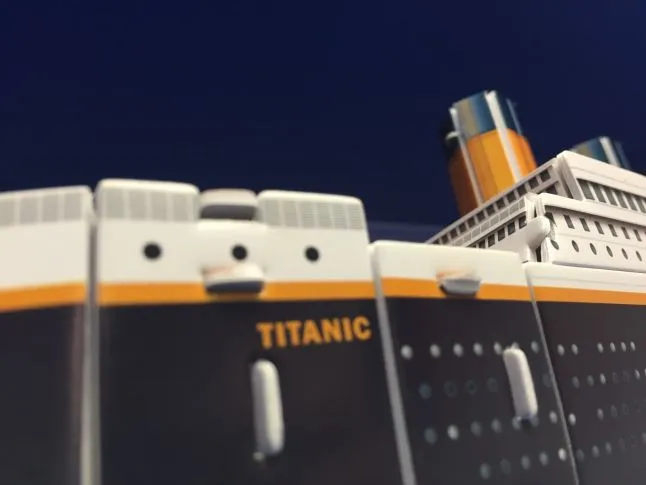 For the most part, the puzzle rooms are sparsely populated, mostly not to confuse players as to what's a puzzle piece, and what's an easter egg. Since Kawakata, Preuss, and their team want to make sure the room is playable by fans and non-fans alike, many of the direct references to the game are delivered in pre-game presentations, or baked in to the flavor of the rooms for fans to figure out for themselves.
The clock is your friend, and the player's enemy
Zero Escape games, despite the 'trapped in a room' setting, are still visual novels—story-driven experiences where the puzzles are meant to unlock dramatic reveals and character clashes that are not replicable in a time-limited real world escape game with 8 random strangers.
But that doesn't mean a room can't build toward something. After deciding on theming the puzzles around trust, Kawakata says the biggest mysteries need to come at a precise point in the game. "I think about the player feelings, and that the game is 60 minutes, and the final scene, where I decide to put the exciting point needs to be at 55 minutes or so."
That moment becomes a point then, for a metapuzzle to exist that's built on the foundation of the other puzzles. In a game about trust, it's an especially thematic high note, since it's a moment where the players both need to really hope that their allies elsewhere in the room succeeded, and manage their frustrations and tension at how fast time is running out.
Those last moments are also where Kawakata looks for her last key player experience--that sense that "'I could have escaped if I had 5 more minutes,'" she says. "That's the reaction I want players to have as a designer. We have to make players believe it's possible to solve this puzzle. But if it's no good, it'll feel impossible."