There's a mobile game crashing through the App Store paid charts right now -- and you might be surprised to hear that it's a Formula 1 simulation game. While Formula 1 games are usually fairly niche experiences that garner small yet avid fanbases,
Motorsport Manager
appears to be appealing to a broader audience. The game puts you in charge of your own Formula 1 team, as you balance racing, research, sponsors, fans, and of course cold, hard cash. While the experience is fairly deep and captures the F1 experience well, it's also very accessible, even to those who don't know their F1 so well. I spoke with Christian West, creator of
Motorsport Manager
, and an industry veteran who has also worked on titles like
Geometry Wars: Galaxies, Joe Danger Infinity
and
Tumble
, to discover how he aimed to break F1 out of its niche.
I'm an F1 fan, and one of the problems with F1 games seems to be that the sport doesn't really translate so well into video game form, since much of F1 is watching cars going round and round -- not exactly masses of real action. When you were approaching making an F1 simulation game, how did you feel was the best way to tackle this? How did you plan to make the game feel consistently action-packed? Did it even need to be?
Christian West
: I don't actually have a design background, I'm a programmer, so this is a problem I discovered about six months into development and probably should have predicted.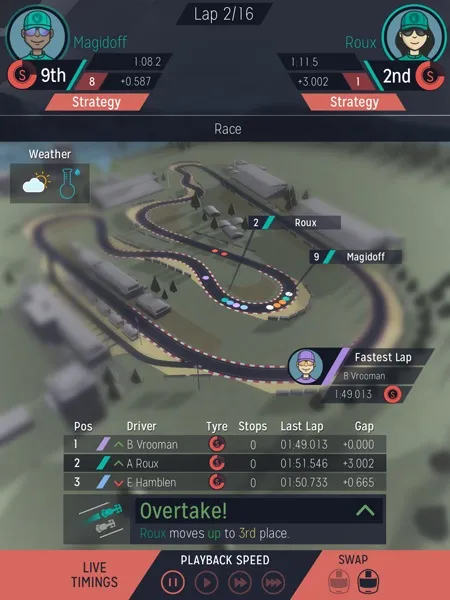 I managed to get a playable build ready the day before [UK game convention] Rezzed and it was the very first time anyone, including myself, could play the game. F1 teams plan their strategy before the race even starts, so I allowed the player to do the same. At Rezzed I watched people set up their strategy, hit the play button, and then just watch the cars do lap after lap without interacting again. They walked away and politely told me they liked the game. I watched that in agony for three days. The first thing I did the night I got home from Rezzed was cut that mechanic. I wanted people to feel like they were in the race. They might not be driving the cars, but they needed to feel like they were in charge and they were making the difference.
How then did you alter your formula to make the game feel more playable?
West
: The key was formulating race strategy on the fly. I limited pitstop strategy so the player could only queue up the next pitstop. That forced people into paying attention and instantly grabbed them into reading the race. Suddenly people were taking into account their drivers' tire wear and the tires of their opponents, the weather conditions, and trying to predict if the AI cars were going to pit for new tires this lap or the next. It became fun. I was worried about the game for the first six months of development, but after that change I felt I was on to something good that would entertain F1 fans and gamers in general. I learnt to not hide the game away. Watching gamers play
Motorsport Manager
at events like Rezzed and Radius Festival taught me a lot about my game and I don't think it would be half of what it is now without them.
It feels like Motorsport Manager is perfect for mobile, and works on a level that even people who don't particularly like F1 can play it -- much in the same way that New Star Soccer was played by tons of people who don't particularly care about football. Was your goal to cater mainly to F1 fans, or were you looking to gain a broader audience?
West
: The aim from the start was to be accessible, with a complex strategy system hidden underneath. The simulation excites me as a motorsport fan -- if you know what you're looking for you can spot that the harder tires last even longer in certain weather conditions or if your driver is stuck behind a slower AI car you can ask your driver to conserve their tires and eventually push them again when the car in front pits in the hope that you'll gain a position through the pitstop sequence.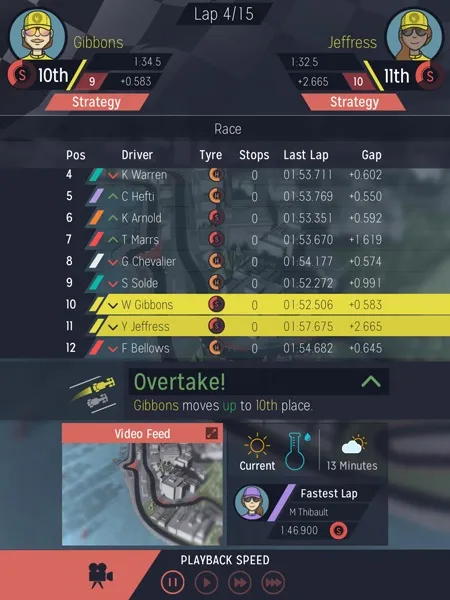 That's incredibly hardcore, and F1 fans will gain a slight advantage as a result while a casual player won't notice they've missed that trick, and all of that is hidden away under a UI which I iterated on to the point where I'd dream about NGUI. I learnt to not use sliders to set strategy options and use pushable buttons instead that were clearly labeled with their function. As a player you'd push that button and know exactly what you were getting. That made a huge impact on the accessibility and games like New Star Soccer were a huge inspiration throughout.
Were you not tempted to make it a free-to-play game? It seems like it would have worked well with in-app purchases.
West
: Everywhere I'd go I'd be told to make the game free-to-play, and it would be difficult to achieve success with a paid version. Maybe I'd make more money as a free-to-play game, who knows. I didn't want people to be paying to win -- I wanted them to use strategy to win. I actually decided to not have any detailed car upgrading even without IAPs because I'm not convinced upgrading a front wing from level 2 to 3 is actually that fun anyway. If I'd made the game free I'd have to know for sure I could get people to spend money and that is immensely challenging for one guy working on his dining room table to achieve. Large companies often get that wrong. I had limited time and money and decided to spend that time on gameplay and hope that people would appreciate that.