Presented in partnership with Magic Leap. Tune into the L.E.A.P. keynote at 9 a.m. PT on Wednesday, October 10.
Magic Leap, the groundbreaking wearable pocket PC/augmented reality company, is holding its inaugural L.E.A.P. conference this week offering presentations and demos for industry professionals (follow Gamasutra's ongoing coverage here). Thanks to Magic Leap, we were able to attend the conference today to try some of those demos for ourselves.
Create is a Magic Leap app that might at first seem like a kids game, but quickly reveals itself to have a level of depth that will keep even adult players enraptured. By scanning your room top to bottom, Create allows you to build your dream playground complete with live characters and working physics. Users are given a pallet of options to play with, ranging from drawing tools to gadgets, with a little of everything in between. Want to draw your own castle and populate it with knights? Create will let you. Want to build that castle out of blocks made of cake? That's an option as well.
Taking the "make whatever you want" ethos of LEGO and adding in a magic bag of tricks, Create shines brightest when it is most creative. The drawing tools are deep, offering a wide range of the colors and line thicknesses for you to play with, along with marker, paint, and chalk options. But even those features lose a little of their luster when you start to explore the other abilities the app gives you.
"It would be incredible to see the physics and world-building options of Create put into a game like Scribblenauts."
There's a brush that lets you create complex runs of dominoes for example, which we spent a lot of time doing. Then we dropped a T-Rex on the sofa in the demo area to let it fight with a little knight character. After stomping the knight into oblivion, the T-Rex jumped off the sofa and knocked over all of the dominoes we'd laid. It was an unexpected moment, but one that absolutely delighted us. From then on it became a game to see how thoroughly we could make the game's elements interact.
Under the gadgets section, we found a cloner and a launcher, which we used to clone cheeseburgers, which were then launched in the direction of our T-Rex for a meal. T-Rex never got sick of feeding time, but eventually, it was clear that we'd made a mess. Cleaning up your space is easy and fun, with a range of solutions. You can use a simple Delete option, which allows you to blast everything in the room until it's cleared away. But the best cleaning tool found in Create is the Vortex, a swirling rainbow blackhole that sucks up everything you've created with a swipe of your controller.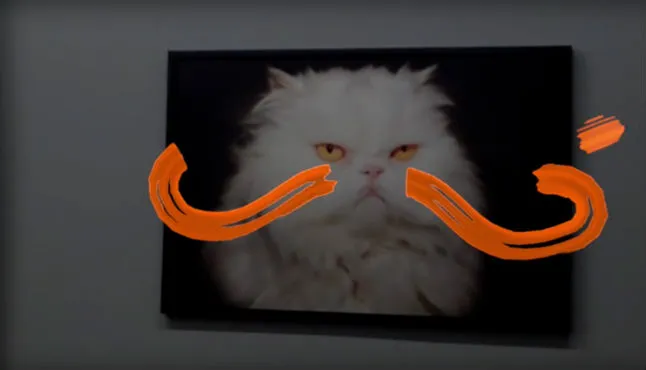 You can paint a mustache on your painting of your cat.
Create is an intuitive experience, presenting players with new possibilities to explore with every new option they select from the menu. Towards the end of the demo, we discovered rubber balls to play with, which lead to creating our own courses with slides and drops. During the ten-minute demo, we were constantly faced with new options to explore. Sometimes demos are frustrating because they don't give you enough to experience the product. Create was frustrating for the opposite reason -- just as we started to think we'd figured out everything it could do, a new way to use the app for building a world would reveal itself.
It would be incredible to see the physics and world-building options of Create put into a game like Scribblenauts, allowing players to solve puzzles in their own home. Perhaps one day. Currently, the app is only available for Magic Leap. If you own the system and have children, give them a few hours, step back, and marvel at what they're going to create. Or just play it yourself. Create doesn't have an age limit; it makes everyone feel like a kid.