Hey game makers, don't forget: 2019 Game Developers Conference organizers are currently calling for submissions to Alt.Ctrl.GDC, the perennially popular on-site showcase that highlights unique control methods for playing games.
The deadline for submissions to the showcase is Friday, November 30th, and organizers welcome any and all one-of-a-kind game peripherals, contraptions, and novelties which enhance game experiences and challenge our expectations.
The showcase itself will take place March 20-22 of next year, during the final three days of GDC 2019. Teams for each submission chosen will be asked to showcase their game to GDC attendees at the Alt.Ctrl.GDC exhibit area; they'll also receive a pair of All-Access Passes and a pair of Expo Passes, for a total of four free passes to GDC 2019!
Since the call for submissions went out we've been highlighting some previous Alt.Ctrl.GDC standouts in an effort to inspire you and get your creative juices flowing. Today, we continue with a look back at Steel Crate Games' Keep Talking and Nobody Explodes, the iconic defuse-'em-up in which players must work together to share information and (try to) disarm a bomb.
You've almost certainly seen this game, either in person or talked about in the media, but like so many great Alt.Ctrl.GDC participants it's a game you really have to play to appreciate.
Initially conceived of during the 2014 Global Game Jam, Keep Talking and Nobody Explodes is a game about panic and teamwork. One player (who's often isolated inside a VR headset) is tasked with disarming a bomb, and the other players must use a specially-provided manual to guide their friend through a complicated bomb defusal process.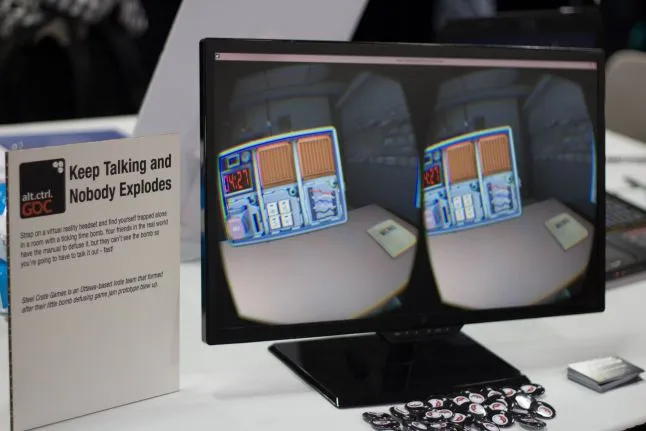 After its 2015 debut Keep Talking and Nobody Explodes went on to sell hundreds of thousands of copies across multiple platforms and win numerous awards, including the Excellence in Design award (as well as nominations for the Nuovo and Grand Prize awards) at the 2016 Independent Games Festival!
It's a ton of fun, especially if everyone gets into their roles, and it all started as a lighthearted game jam idea for a VR game that wouldn't exclude players not wearing a headset. Every great thing starts with a great idea, so if you have a great idea for an offbeat controller game, why not prototype it and pitch it for next year's Alt.Ctrl.GDC?
Alt.Ctrl.GDC is part of the Game Developers Conference 2019, which takes place March 18th through March 22nd of next year at San Francisco's Moscone Convention Center.
For more details on GDC 2019 visit the show's official website, or subscribe to regular updates via Facebook, Twitter, or RSS.

Gamasutra and GDC are sibling organizations under parent company Informa