With nearly a full year of of game releases ahead, Gamasutra is picking out noteworthy titles due in 2009 for each home and handheld platform, this time for the PlayStation 3. While lacking hardware sales and its resulting third-place standing in current generation console marketshare has many comparing the PlayStation 3 to the unfortunate GameCube, the PS3 hasn't experienced the diminished third-party software support that Nintendo's purple system suffered. We've collected the most anticipated titles from the PlayStation 3's 2009 slate, previewing 17 in all, from multiplatform MMO games like
The Agency
to exclusive downloadable titles like
Flower
. Previously: 2009's anticipated
Xbox 360 games
,
PSP games
,
Nintendo DS games
, and
Wii games
.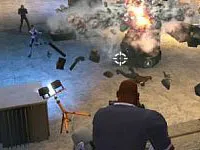 The Agency
(Also coming to PC) Release Date: February 17th Developer: SOE Seattle Publisher: Sony Online Entertainment In this spy-themed massively multiplayer online shooter, players join one of two factions, the United Nations Intelligence and Tactical Experts (U.N.I.T.E) or the Paramilitary Global Operations Network (ParaGON), and complete either stealth-based or action-oriented missions, depending on their chosen agency. Those operations can range from patrols and deliveries to aggressive assaults and assassinations. Players can choose from six classes (along with aliases for non-combat portions) like Field Medic and Tactical Specialist, and they have a wide selection of weapons, vehicles, and gadgets available to them for the different missions. After players have advanced sufficiently, they can join Guild-like Networks for special team missions in which they compete against rival groups to complete objectives.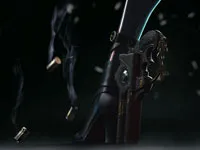 Bayonetta
(also coming to Xbox 360) Release Date: September 1st Developer: PlatinumGames Publisher: Sega Though there are still a lot of details yet to be released for
Bayonetta
, expectations are understandably high seeing as Hideki Kamiya, the director behind Capcom's
Devil May Cry
and
Viewtiful Joe
series, is heading the project. The action game's eponymous witch protagonist packs two sets of pistols -- one pair attached to her high heels -- which she uses to dispatch monsters disguised as angels. Along with her bullet-heavy attacks, she can also perform magical strikes with her hair.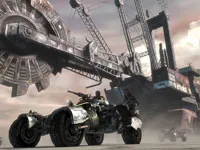 Borderlands
(also coming to Xbox 360, PC) Release Date: 2009 Developer: Gearbox Software Publisher: 2K Games Inspired by the Mad Max films and Blizzard's
Diablo
games,
Borderlands
is a four-player cooperative first-person shooter with RPG elements. Three playable and customizable characters are available, each with their own skill trees, accessories, and back stories. Players ride in customizable vehicles and explore a lawless, desolate planet filled with randomly generated areas and items (500,000+ weapons, 500,000+ items and armor variations), in search of a vault promising alien technology and secrets.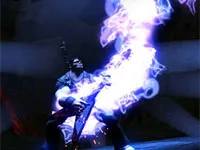 Brütal Legend
(also coming to Xbox 360) Release Date: Autumn Developer: Double Fine Productions Publisher: Electronic Arts Despite weathering
a period of publisher limbo
earlier this year,
Brütal Legend
will see a release in 2009 courtesy of Electronic Arts, much to the relief of Tim Schaefer's and Double Fine's fans. The lighthearted action adventure game stars a heavy metal band roadie voiced by actor Jack Black, who wields a giant battle axe and a magical guitar against a wild assortment of demons and other-world creatures that have enslaved the human race.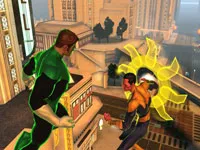 DC Universe Online
(also coming to PC) Release Date: No date announced Developer: SOE Austin Publisher: Sony Online Entertainment SOE enlisted the creative talents of Jim Lee and other notable comic book artists for this MMORPG, which features dozens of characters (from Batman through Superman to Lex Luthor) and settings from the DC comic book universe. Users create their own customizable superheroes or super-villains, setting traits like super strength and speed. As players complete missions, advancing their character and building up their "threat level," they'll interact with more and more powerful licensed figures, in both team-ups and battles. Of course, there are also opportunities for player characters to fight against each other.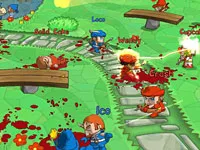 Fat Princess
Release Date: No date announced Developer: Titan Studios Publisher: Sony Computer Entertainment This cartoonish, light-hearted action game for PSN has up to 32 people spread over two teams scrapping while trying to rescue their respective princesses from the opposing group's clutches. Players can customize their characters and pick from five different classes -- swordsmen, mages, priests, builders, and archers. Saving a princess requires more than just brute force or an effective mix of classes, though, as soldiers can find pastries and feed them to the captive girl, making it impossible for just one soldier to carry her home. As the princess eats more and expands in size, more and more players are required to lift and retrieve her.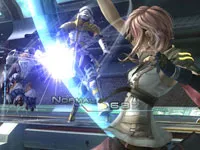 Final Fantasy XIII
(Also coming to Xbox 360) Release Date: No date announced Developer: Square Enix Publisher: Square Enix Though no longer a PlayStation 3 exclusive,
Final Fantasy XIII
, the latest entry in the most popular Japanese RPG franchise in the West, will likely be the next game to significantly drive system sales on the same scale as
Metal Gear Solid 4
's release. In addition to bringing back the high-production cutscenes the series is known for, the title features a modified version of
FFXII
's Active Time Battle system. This latest installment stars Lightning, a heroine designed as the female equivalent of
FFVII
's Cloud Strife, also wielding a combined gun/sword weapon that can manipulate gravity.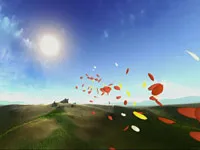 Flower
Release Date: No date announced Developer: Thatgamecompany Publisher: Sony Computer Entertainment
Fl0w
developer Thatgamecompany returns with another soothing PSN game,
Flower
, which looks to exploit "the tension between urban bustle and natural serenity." Players guide a flower petal by tilting their Sixaxis controller, exploring and flying through fields, collecting more petals along the way. The title's different environments provide obstacles and other challenges to the petal's flight, but players also have an effect on the environments they pass through, adding color and life to dull patches.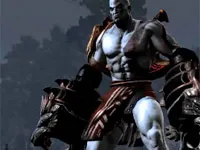 God of War III
Release Date: Fourth quarter Developer: SCE Studios Santa Monica Publisher: Sony Computer Entertainment Surprisingly the first
God of War
PS3 game -- several installments have released to PS2, PSP, and even mobiles since the system launched -- Sony looks to update the hack-and-slash series to current generation standards with a new game engine and support for the DualShock 3 controller's tilt and rumble. Few details are available on
God of War III
, but the game, which will supposedly be the last for the series, will again follow Spartan Kratos in his quest to annihilate the Greek gods who betrayed him.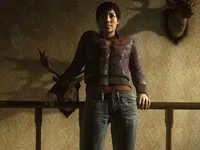 Heavy Rain: The Origami Killer
Release Date: No date announced Developer: Quantic Dream Publisher: Sony Computer Entertainment Described by writer and director David Cage as a "dark film noir thriller with mature themes"
Heavy Rain
has players controlling four characters and investigating a series of appalling murders. Unlike Quantic Dream's previous releases (
Farenheit, Omikron
series), the game does not feature any supernatural elements.
Heavy Rain
is designed to provide a "bendable" story in which dialogue choices, interaction with characters, and moral decisions can take the player through different interlocking stories that approach "[adult] subject matter and themes rarely touched upon in video games."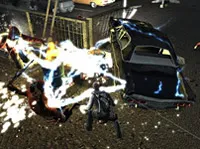 Infamous
Release Date: Spring Developer: Sucker Punch Productions Publisher: Sony Computer Entertainment
Infamous
' everyman hero Cole, or anti-hero depending on how you play, gains his superpowers of electricity after a freak accident that leads to his city being quarantined and overrun with rioters and criminals. As a "modern day superhero" exploring the chaotic, urban sandbox environment, players can choose to use their powers -- like shooting bolts of electricity or summonings shields of electricity -- to either help or torment the city's residents, building a reputation for themselves while trying to find the culprits behind the accident that changed his life.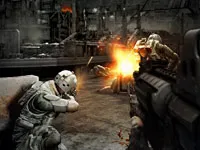 Killzone 2
Release Date: February 27th Developer: Guerrilla Games Publisher: Sony Computer Entertainment
Killzone 2
takes gamers to Helghan, the home world of the first-person shooter series' gas-mask wearing antagonists, the Helghast. Along with their squad of Interplanetary Strategic Alliance (ISA) soldiers, players go behind enemy lines, fighting the Helghast and their hazard-filled planet during the ISA's invasion. The game's class-based online multiplayer mode allows players to pick two ability sets from a batch of six to best accommodate their playing style or their squad's needs. 32 gamers can join in for a multiplayer online match, with up to four players per squad (two squads can also form a group together).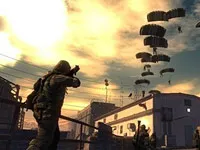 Massive Action Game
Release Date: No date announced Developer: Zipper Interactive Publisher: Sony Computer Entertainment
SOCOM
series developer Zipper Interactive plans to allow a staggering 256 players in this massively multiplayer online first-person shooter's battles. Players are broken into groups of eight, with the highest ranked members leading their squads. Three factions are currently planned for MAG -- America, Europe, and Middle East. Zipper also hopes to include a wide variety of specialized classes and vehicles, such as tanks, armored personnel carriers, and airplanes.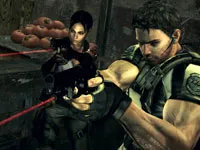 Resident Evil 5
(also coming to Xbox 360) Release Date: March 13th Developer: Capcom Publisher: Capcom With almost four years past since the acclaimed
Resident Evil 4
debuted on the GameCube, Chris Redfield, one of the heroes in the original
Resident Evil
, returns in the latest entry to the series, now a Bioterrorism Security Assessment Alliance officer investigating a zombie outbreak in Africa. Redfield is accompanied by Sheva Alomar, a BSAA member who provides ammo and support. Their cooperative dynamic continues with online and offline multiplayer co-op modes.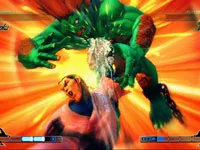 Street Fighter IV
(also coming to PC, Xbox 360) Release Date: February 17th Developer: Capcom, Dimps Publisher: Capcom Almost ten years since this fighting franchise's last numbered release,
Street Fighter
returns with all twelve characters from the classic
Street Fighter II
along with eight new playable characters, several of which were unavailable in the game's Japanese arcade release. Presented in 3D with an ink-like, seemingly hand-drawn visual style,
SFIV
features simplified, more approachable controls, but also introduces Focus Attacks, a new counter attack system for
Street Fighter
veterans, and Ultra Combos, a series of cinematic moves that players can execute after getting hit and filling up their "Revenge Gauge."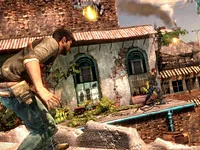 Uncharted 2: Among Thieves
Release Date: Fourth quarter Developer: Naughty Dog Publisher: Sony Computer Entertainment Nathan Drake is on another treasure hunting quest, hoping to uncover mysteries behind 13th century explorer Marco Polo and his lost ships. Drake is specifically seeking a crystal said to grant its holder a wish. He's accompanied by a new character named Chloe Frazer, who is voiced by Stargate SG-1 actress Claudia Black. This (pictured) sequel to the 2007 action-adventure games adds stealth action segments, free climbing over walls, and the ability to flip over objects to use as cover when under enemy fire.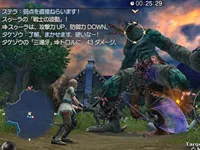 White Knight Chronicles
Release Date: No date announced (already available in Japan) Developer: Level-5 Publisher: Sony Computer Entertainment While trying to save the kingdom of Balandor's princess from an evil corporation called Wizard, the game's young hero, Leonard, stumbles upon an ancient suit of armor that transforms him into the powerful White Knight, a figure capable of fighting off the enemy. In this Japanese RPG, combat is carried out in a real-time system that allows players to pull off chains of moves with the game's pre-battle menu and even perform combo attacks with multiple party members.
White Knight Chronicles
also offers an online and offline cooperative multiplayer mode. [
UPDATE:
God of War III
and
Infamous
added to compensate for titles with unannounced dates]