It's been about 2 months since Oculus finally released the consumer model of its Rift headset, and a little over a month since the HTC Vive finally made it to market. Now that the dust has settled, and the realities of virtual reality for the public are beginning to set in, we wanted to check in with developers and see how things are going.
There's a number of immediate concerns developers are facing—the Vive and Rift are both facing their own shipping dilemmas, but there's been some unexpected lessons about pricing, some realities about still working to introduce players to virtual reality, and some nice observations about curves in player adoption.
For developers whose games were available at or shortly after the launch of the Oculus Rift and HTC Vive, it's been nice to get some revenue in house, and validating to see positive responses from players. "We can finally relax a little," says Sarah Northway, of Northway Games' and Radial Games' Fantastic Contraption. "It's been a pretty crazy nine months for us since we started the game, and we worked hard to get it finished in time to be a launch title."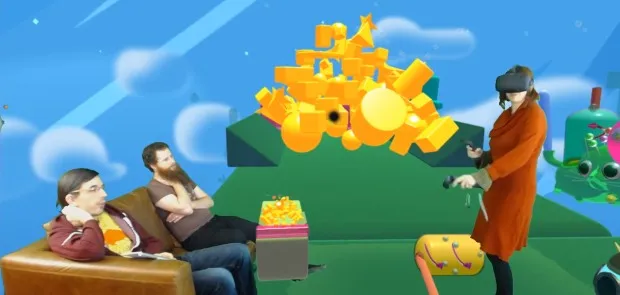 Despite months of playtesting and public demos at PAX, developers say there's been new lessons and observations in getting feedback from people buying their home kits. "It's really illuminating to read threads about 'my first-time VR experience' and to see how people are using the hardware, how the setup experience is, and their reaction to Lucky's Tale and other initial software that they try out," says Playful's Dan Hurd.
And for Owlchemy Labs, creator of Job Simulator, it's been just plain validating. Designer Alex Schwartz is still waiting for the Oculus Touch controllers and PSVR to launch before he's ready to call the launch of VR 'over,' but there's been positive reception to ideas that used to sound far-fetched. "As more people have access to VR, we find that our crazy thoughts are being validated over time," Schwartz says. "When we talked about standing VR with hands to others, everyone thought we were crazy."
But the launch of VR hasn't been without some business dilemnas of its own. TinyBuild's Alex Nichiporchik, which recently announced plans to publish the VR game Stage Presence, is frustrated by the supply chain issues preventing VR headsets from reaching customers, and that there's no plug-and-play solution for VR yet. "You always have this first wave of technology excitement, where a lot of investors go in and things start spiraling, but the true successful consumer product will be plug and play, and it just works."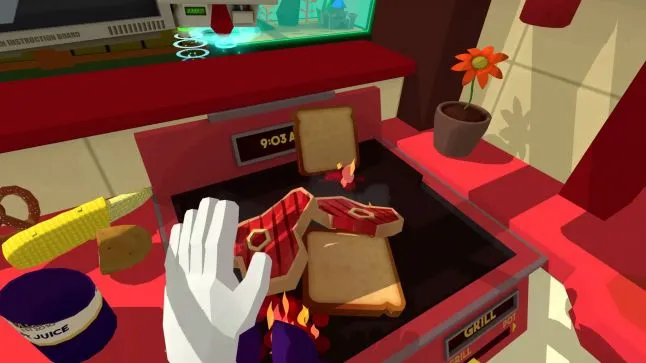 Owlchemy Labs, meanwhile, had to deal with unexpected pricing dissonance and wound up lowering the price of Job Simulator from $39.99 to $29.99. Schwartz isn't fazed by the negative feedback that led to the price change, and says it's part of the process Owlchemy Labs accepted when it launched into an unknown market. "We did end up lowering Job Simulator's base price as a response to the overall market trends, but we knew that this process of launching would be one where we'd need to keep our ear to the ground and respond player reaction was new information," Schwartz says.
Cloudhead Games' Joel Green says sales of The Gallery: Call of the Starseed have been about where the company expects, while Northway reports that their Fantastic Contraption launch has gone "smoothly." She says since Vive early adopters quickly jumped on their game, they're expecting a different user acquisition curve as more and more platforms reach people's homes. "It helps that it's been a gradual rollout as both HTC and Oculus are shipping units as fast as they can. Our player base is a gradual uphill curve instead of the usual downhill one."
But of course, user adoption still remains a big challenge for virtual reality platforms, and the need to showcase VR games at public events doesn't seem to be going away. Nichiporchik says public showcasing has been "a pain in the ass" for the smaller publisher, since the powerful system specs for the devices can cause unpredictability on the show floor. (Nichiporchik told us at PAX that they'd blown their booth's fuses with their VR rig, and struggled to wrangle a proper HDMI cable on the Twitch stage when they announced Stage Presence.)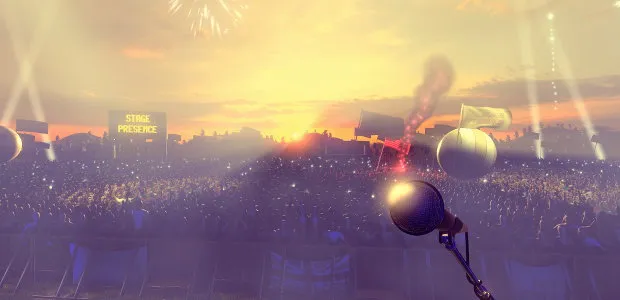 Schwartz says despite the difficulties, it's still going to be necessary to take VR demos to the public in order to attract new users. "Public demos are key to getting VR onto the faces of people who otherwise wouldn't have contact with it. VR is one of those things where it's almost impossible to explain without saying 'just try it!'"
Hurd agrees that videos of VR gameplay still don't do the medium justice, while Green sees opportunity in businesses to set up VR arcades and cafes to invite players into VR away from the bustle of conventions and conferences, especially in cities that could support gaming cafes akin to those in Korea or China.
And Northway, of course, continues to see promise in the "mixed reality" streaming that Northway Games and Radial Games have been using to promote Fantastic Contraption. "Until the rigs are ubiquitous and affordable enough, sitting on the couch watching your friends play will be many people's experience with VR. We want to make the most of it!"
The path to mass virtual reality adoption is still a ways away, but with Samsung reporting 1 million users for the Gear VR, and new platforms like Google Daydream entering the market, its future certainly still offers a ray of hope for developers weathering the first few months of launching their product.