[
In this in-depth analysis, Gamasutra sister site GamerBytes examines performance of XBLA games during February, delving into how recent promotions have helped boost sales.
] In February and March, Microsoft held another Xbox Live Arcade promotion – the House Party. Similar to the Block Party of last year, the promotion will show off five new titles that are big names, or just something special. House Party did well for a few titles, namely
Toy Soldiers
and
Perfect Dark
in 2010, so how well has it done so far in 2011? February had promotions for two games, specifically
Hard Corps Uprising
and
Bejeweled Blitz Live
, along with
Stacking
,
TNT Racers
and
Bionic Commando Rearmed 2
. We've checked the Leaderboards for each game to see how they've fared in the digital download space.
Rearmament
February's first release was Capcom and FatShark's
Bionic Commando Rearmed 2
, the sequel to the the 2D side-scrolling remake/update, which was a big hit and a part of the original Summer of Arcade. The original
sold 130,000 units in its first week
across XBLA and PSN. So how did the sequel fare? On XBLA alone, the first week added just 3,467 players, for a total of 5,457 players in the month. The original game has a
Metacritic rating of 85
, while the sequel has a
rating of 62
. It's a shame, and is another direct sequel that hasn't done well on the digital download front. It was also $15 compared to the original's $10 price.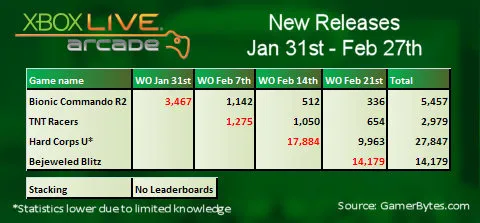 TNT Stack
The second week included two releases – Keen Studios'
TNT Racers
and Double Fine's
Stacking
. Unfortunately
Stacking
has no Leaderboards whatsoever, one of the few games to do without them at all - so we can't tell how well it did, even though reviews and internet buzz have been good for the Russian stacking-doll game. The top-down
TNT Racers
was released for 800 Points, and was also released on PSN and PSP. It was published by DTP Entertainment with little fanfare, as has been the case with most releases by the German publisher. The game only added 1,275 players in the first week with a total of 2,979 players by the end of the month, which is very low.
Let's Get The House Party Started!
The first game of the House Party promotion was
Hard Corps: Uprising
, a new
Contra
-styled game from Konami and cult Japanese developer Arc System Works. Currently the game has a Metacritic
rating of 75
, which is quite good. And in total, the game received 17,884 Leaderboard-registered players in its first week for a total of 27,847 over two weeks -- though this number may be lower than actual sales, since the game is split between "Arcade" and "Rising" modes, Rising being the main mode with the Leaderboards, but second option down on the menu. The second title was PopCap's
Bejeweled Blitz Live
, a downloadable variant of the incredibly popular Facebook game, with a bunch of new modes and accessories co-developed by Torpex Games (
Schizoid
). For the single week it was released, it did okay with 14,179 players. This wasn't too bad, but considering the promotion and the popularity of the game, perhaps it might have done better. On the other hand, the Facebook version is "virtually" free to play, and switching jewels is much easier with a mouse.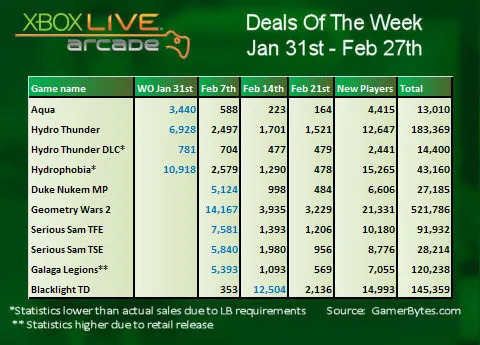 Water Kills Aliens, Doesn't It?
There were three promotions for the Xbox Live Arcade "deals of the week" during February – the first was "Water", so
Hydro Thunder Hurricane, Aqua
and
Hydrophobia
were on sale.
Hydrophobia
was the winner here, with over 10,900 new Leaderboard registrants – and that's just people who played through the first hour, so it's likely a lot more than that. Having a $15 game go down to $10, and then having a sale at $5 helped too.
Hydro Thunder
did okay as well, and
Aqua
added more players than they did in their opening week (1,885) so the sale has been beneficial for them considering their already low numbers. The next promotion was "Aliens", and it seems
Geometry Wars
was a winner, with over 14,000 new players in the first week. The two
Serious Sam
titles also was a strong perfromer with 7,581 and 5,840 respectively for that week. The final weekly deal was
Blacklight: Tango Down
, which added 12,000 players in the deal week.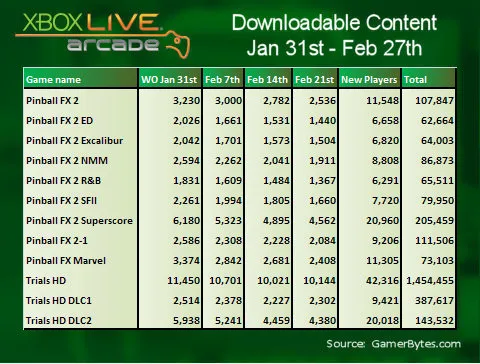 Pinball Fanatics Keep At It
Pinball FX 2
continues to do very well for itself, adding a ton of new players to the variety of tables each week. It's really fantastic to see how well the game sells, and it's clearly helped by the fantastic menu system integrated into the game that shows all of the new content being available. Most downloadable content is hidden away and never really mentioned as being available, so seeing this work is great. And of course,
Trials HD
also continues to be extremely popular, with an additional 42,000 players in the month, and over 20,000 players purchasing the second piece of downloadable content. Again (though perhaps a bit less so than
Pinball FX
) well-integrated DLC with robust competitive high score tables really helps.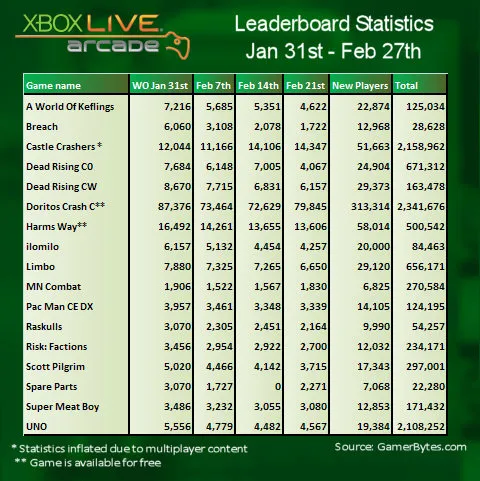 Other Stats
Monitoring some other notable titles,
A World Of Keflings
has hit over 125,000 players, as has
Pac Man CE
, and as per usual,
Castle Crashers, Dead Rising Cases
and
Limbo
all continue to be strong sellers. The free downloads of
Doritos Crash Course
and
Harm's Way
have slowed down, but they still add a ton of new players each week -- a very successful advergame initiative.
All In
March continues the House Party promotion with
Beyond Good and Evil HD
,
Torchlight
and
Full House Poker
, and there will be new downloadable content for
Ilomilo
and
Lode Runner
- we'll see how they stack up soon.