Over the past decade, many have touted cloud gaming as the ultimate 'console killer' – however, it's becoming increasingly clear that not only isn't this the case, but consoles are actually giving cloud gaming a helping hand towards mainstream adoption.
According to Omdia's research, in 2021, console makers were responsible for 73% of the global spend on cloud gaming services and content.
At the end of 2021, Microsoft and Sony were responsible for almost three-quarters of total cloud gaming market revenue, with Xbox Game Pass Ultimate subscriptions taking the lion's share. PlayStation Now has much fewer subscribers than Game Pass, but it is nevertheless growing.
Instead of a cloud gaming subscription service, Nintendo offers 'cloud versions' of about a dozen games on Switch, which otherwise wouldn't have been able to run on the device.
Whether it's instantly trying new games without waiting for downloads, or playing triple-A titles on underpowered devices, Omdia predicts that cloud gaming will become further intertwined with the console gaming experience in 2022 and beyond.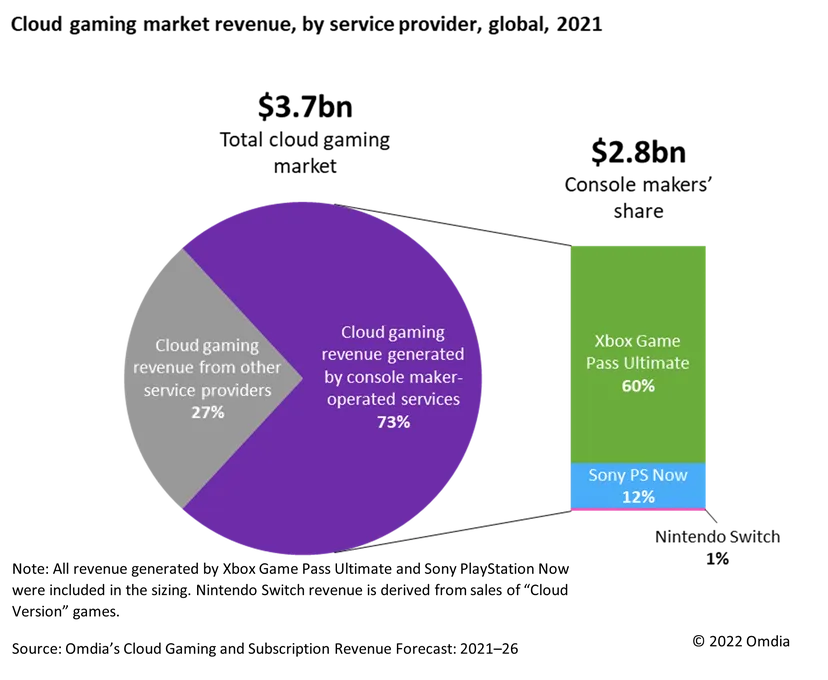 You can find more information on cloud gaming revenue sources in Omdia's full report.