My phone just wouldn't stop buzzing. Hours earlier, I had been sitting in the lighting box in the rafters of MOMA overseeing the OnLive GDC 2009 press conference below. "Ladies and Gentlemen, after seven years of self-development, we're excited to bring you a company and service that will change the landscape of the games industry…"
Down on the show floor the following day, the booth was crammed from the moment the conf doors opened with people who had to see for themselves that what we claimed we had built was real. As the first Head of Engineering at OnLive, that moment still makes the hairs on my neck stand on end. I remember speaking to hundreds of press, game devs and publishers, even high-profile telecoms, and military executives from Turkey, China, The Netherlands, from all corners of the globe, who had seen the news and had immediately flown in to speak to us, pulling up the tablecloths and looking behind the booth screens for any signs that we were faking the tech. It was real. Streaming a game from the cloud was possible. We also claimed that we would be the last 'console' you would ever buy.
Fast-forward 12 years, and consoles are still very much a thing whilst the messaging about cloud gaming remains pretty much the same; drivers, troubleshooting, overnight installations, compatibility, poor performance, upgrades etc., are all set to become relics of the past. All you have to do is choose what you want to play, and seconds later, you're playing, as super-powerful data centres deliver blockbuster games without any need for downloads to devices everywhere, particularly to people who don't have access to high-end gaming PCs and consoles.
Yet despite data analysts annually predicting huge rises in the market value (estimates suggest $30BN by 2030), and a new wave of cloud companies emerging, consumer adoption of cloud gaming services remains stagnant, unimpressive, almost niche. Why? Because even though the messaging is compelling, the numbers still don't add up. Perhaps because all we've done with the opportunity so far is continue to replicate console experiences in the cloud for a tiny number of people, and we lock it behind expensive subscriptions.
THE RISE AND STALL OF CLOUD GAMING
Most cloud providers offer pixel streaming services (compressing video via a cloud-based GPU per user which is then delivered to an internet connected device), which is perfect for B2B enterprise as it enables teams to remotely share desktops and collaborate on large scale projects running from the cloud. This has helped several game studios keep projects alive during the pandemic; but it is only half a cloud solution, as the model simply doesn't extend to delivering games to consumers. It's a massive waste of money, and it doesn't scale to meet unpredictable levels of unscheduled demand to serve global audiences.
Think of it like a gym subscription model; you want to sell as many subs as you can, but you *don't* want everyone turning up on New Year's Day to begin their new diet. "Hello Mr Big Cloud Provider, who knew it but turns out my game could be a megahit, can we have 50,000 more GPUs please? Oh, you don't have that many? Yes, uhuh, I will hold..."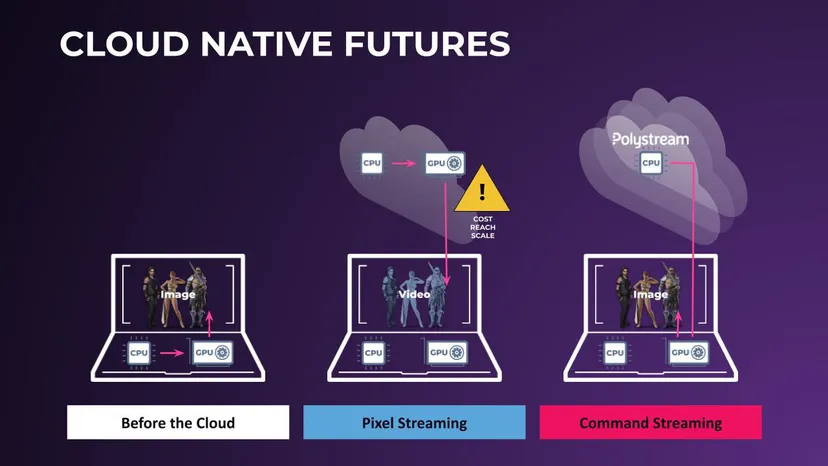 These barriers have meant that as an industry, we've been slow to evolve our creative thinking, and dare not take any risks in approaching how / if we can develop game experiences specifically with the cloud, and new audiences, in mind. As someone who has lived and breathed all things cloud gaming for over a decade, I believe change is coming, and cloud-native game developers above everyone else will be the ones leading the charge. My mission today is to demonstrate that cloud-native gaming is poised to be scalable, elastic, and cost effective. It will be a huge opportunity, not a threat or a burden for developers in the near future.
Polystream is approaching its own seven-year self-development milestone and is designed to work across everything, being both cloud and engine agnostic. This must be the case for every developer to have access and security. We also use command streaming technology. This involves using CPUs in the cloud to stream data commands, rather than compressed video, to the GPU in your device: a process which means you only use compute when and where you need it; streams are run instantly like a tap, not a water tank you have to spend hours heating in advance. And with that, the question can change for developers from being "can we afford to do it?" to "what should we use cloud streaming to deliver?"
BREAKING DOWN THE WALLS
Today, many of the headline-grabbing experiences we associate with the metaverse can *only* be delivered through cloud infrastructure whilst game engines are certainly the foundation blocks for the future of immersive, interactive experiences that sit outside of games. Many examples in the media cited as early versions of the metaverse focus on the third place where millions gather in a 3D environment to play or socialise, but still have traditional gaming barriers to entry; I need to book out at least an hour of my time to install / update, navigate through lobbies and character selection screens, and be comfortable using a keyboard and mouse or controller in order to jump into a 10 mins in-game event, and inviting my non-gaming friends to join me is, frankly, an insurmountable hurdle.
For the metaverse to be inclusive and accessible to as many people as possible (and for me, accessibility here should be non-negotiable) it needs to be cross platform, working across partners and experiences seamlessly. Creating game-led, cloud-native experiences for users with diverse needs and perspectives may require us to throw out many of the game mechanics and tropes we so heavily rely on today and rethink how we design something for completely unknown audiences, where players can invite non-players to join in using any device, instantly, from anywhere, and I believe that is a goal worth pursuing.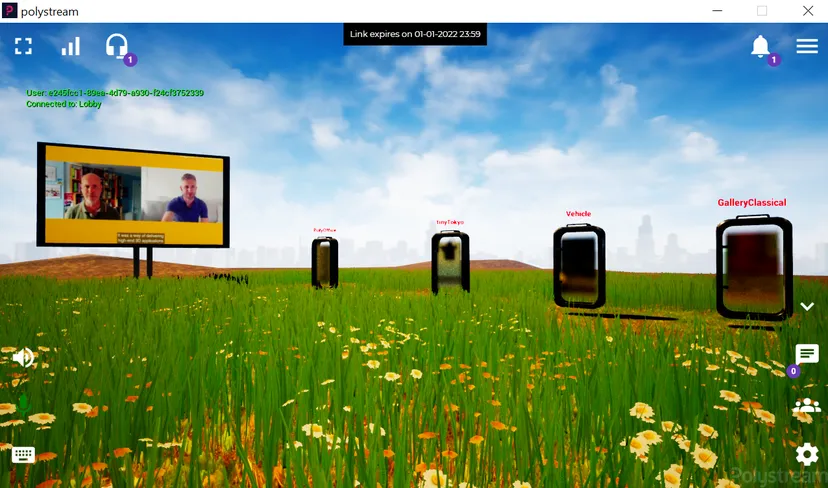 The cloud has yet to play its most important role in how we seamlessly integrate data together to form one experience, where you can move from either spectating or playing a game, to finding your friends in the crowd at an in-game concert, to custom building and buying a house or a car, to inviting your family to a gallery exhibition, or meeting colleagues in a virtual social club - it should all be as easy as moving from one web page to another.
I don't want us to get stuck arguing what the definition of the metaverse is. If we get this right, we probably won't even call it the metaverse / omniverse / Oasis / 3D internet etc. It will just be an extension to us living online. We already have so much of the technology needed to knit together these experiences. The next step is to all start working together to define the standards needed to remove walled gardens, and to push for interoperability and cross-platform benefits to de-risk, and foster, innovation.
HOW I LEARNED TO STOP WORRYING AND LOVE THE CLOUD
Game developers could be the first to realise and build these worlds within worlds if we can quickly get to an agreement on what the shared building blocks for this will be. And this work has to start with publishers working with platform holders and big tech suppliers, aided by steering groups like TIFCA or the Open Metaverse Interoperability Group, who support studios in moving away from risk-averse development cycles and business models.
The good news is, game devs are already experimenting! I'm watching companies like Midwinter Entertainment, Mainframe, and Oorbit pushing the boundaries of interactive entertainment. But we still have a long way to go before we can truly call them shared, immersive, open metaverse experiences.
What I have learned about the cloud is that our collective worldview must be as broad as the opportunity. That can start by looking at how we connect existing experiences today - imagine wearing the Gucci hat you spent money on in Roblox in any 3D virtual world.

With command streaming we can essentially make anything a multi-person experience by giving everyone presence and agency! At Polystream, we call it 'Room Zero', our showcase of how we might one day visualise the 3D internet. Today it's a rough Frankenstein-style sandbox full of experiments using technologies, tools, and apps that already exist that when combined can finally unlock the potential of the cloud. Unity, Unreal, Source, AWS, Azure, Electron, High Fidelity Spatial Audio are all woven together so we can learn how to connect and navigate through a truly interactive, immersive environment of completely distinct, yet compelling destinations.
The cloud is now a commodity and Polystream is ready to play its part. I'm excited; my phone is buzzing again as I find myself constantly talking to developers and studios that are working to deliver the next hairs-on-the-back-of-the-neck-moment, and move us away from thinking instant all-you-can-eat-access subscriptions, or simply adding millions of players into one bucket with an extra button labelled 'engagement' for today's users is interesting/good enough. Cloud-native gaming is the key to opening new experiences to non-player audiences with content that can only be dreamt up in the cloud and is the doorway to the metaverse. After all this time, I am looking forward to these first steps.
- - -
Bruce brings both British Aerospace engineering savvy and Silicon Valley entrepreneurial vision to the video games industry!
From jet engine testing facilities to the world's first liquid-cooled gaming PCs, to pioneering cloud gaming platforms; Bruce has dedicated his life's work to building teams, tools, and platforms that go beyond solving a problem, but defines each generation of interactive entertainment.
As CEO and Co-Founder of Polystream, he is now working with a trailblazing team who are disrupting everything we know about cloud native gaming and are the picks and shovels building the open 3D internet. Polystream's breakthrough command streaming technology solves legacy problems and is the nexus for new metaverse experiences. By seamlessly knitting together incredibly immersive games, interactive apps, and synchronously social experiences that are delivered instantly to new communities around the world, Polystream aims to positively connect people to each other in ways never before imagined.