Heaven's Vault developer Inkle Studios has open-sourced SLayout, the UI layout and animation system the team used in the game.
The dev shared the code powering SLayout on GitHub for fellow developers to download and play with. All in all, Inkle Studios says that SLayout can be used in Unity to provide an easier way to handle layout properties and animation for text and UI elements.
The repository on GitHub includes a number of examples as well, so developers can poke around in a few different layouts to get a feel for the code itself ahead of using it for their own projects.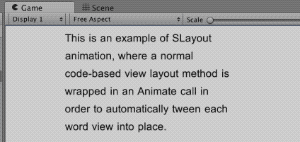 In the tweet sharing the open-source announcement, the developer also notes that the release itself complements Inkle Studios' co-founder Joseph Humfrey's upcoming GDC talk titled 'Designing Text UX for Effortless Reading' set for March 23.
Developers can find SLayout and all its associated files and documentation over on GitHub.
Gamasutra and GDC are sibling organizations under parent UBM Americas