Retro Game of the Day! Shadow Dancer (Arcade)
Shadow Dancer (Arcade) by Sega, released in 1989.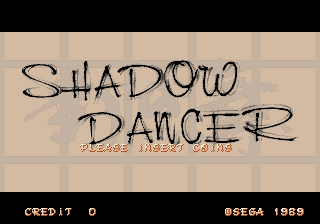 Sega's venerable Shinobi series was a fairly big hit for them. Counter to their many colorful, happily-themed games, the Shinobi series was a dark and violent, action-filled world. The first installment was a notable landmark title, and Shadow Dancer was the first "direct" sequel to that game (in the arcade at least - I think it predated the 16-Bit console sequel "Revenge of Shinobi" by a hair, though I am not sure technically which was the first to market)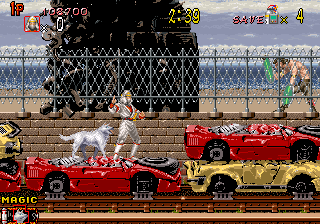 Like Revenge, Shadow Dancer also had a Sega Genesis console release (Shadow Dancer:The Secret of Shinobi) which released the following year, although it looked aesthetically very similar to this arcade release the game was quite different from it's arcade counterpart.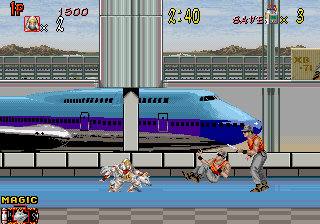 The arcade put you in the Ninja Boots of original Shinobi Joe Mushashi's son Hayate, and at your side is your trusty dog Yamato. Unlike the console version, whose inclusion of the dogs seems mostly to be for novelty, in the arcade it is absolutely critical to the player's survival to learn how to use the dog properly. Many enemies are placed treacherously, and the dog must be sent to distract them so you can get a clear shot/swipe. Failure to master this will result in a lot of player deaths!
Overall, the game is definitely much trickier than it's console adaptation; the two games have completely different themes and level layouts, and the arcade can be brutal if you don't plan your moves and tread carefully. Technically, the game is very gray and drab looking, but quite detailed and attractive in that way. Shinobi's world is not a happy and colorful one, but that doesn't mean it isn't lavish and interesting. This stood in stark contrast to many other Sega games available at the time.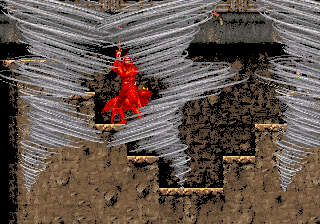 Shadow Dancer is a tough game (1-hit deaths, return to the beginning of a sublevel) which can be unforgiving and frustrating in that; yet it's nicely laid out, controls are solid, and it only serves to bolster the fairly strong pantheon of the franchise. It is absolutely worth a look, and it's a fair bit of challenge too. Dig it up and see what the fuss is about, patient players will find a lot to enjoy here.