A new challenger steps into the game engine arena today: MaxPlay, a game technology company split between San Francisco and Austin that aims to entice developers into using its "cloud-based" game development platform.
It's a notable attempt to try and edge into the market by appealing to the growing number of game makers who are collaborating remotely to build games big and small.
While most major game engines have evolved to include remote collaboration features, MaxPlay's Game Development Suite (GDS) is built from the ground up to allow developers to collaborate in-engine, in real time, at distance -- CEO (and former Electronic Arts exec) Sinjin Bain pitches it as "Google Docs for game developers."
MaxPlay's platform is chiefly composed of a native runtime engine and a local-client editor you run on your machine, which you can then use to either work independently or in tandem with others via MaxPlay's server architecture.
While the company was founded last year, Bain and his team (many of whom are also ex-EA talent) are making their public debut this week and shared some examples of how the MaxPlay GDS might be useful to modern game developers.
"The GDS is designed so that all skillsets required to build games can work together simultaneously, in the same game scene or project," Bain tells Gamasutra via email. For example, "an engineer or designer makes a script change in New York and I can instantly see the change in the editor, or in the previewer, or even on the intended game platform instantly in Los Angeles...there's no more waiting for daily builds before you see each other's work."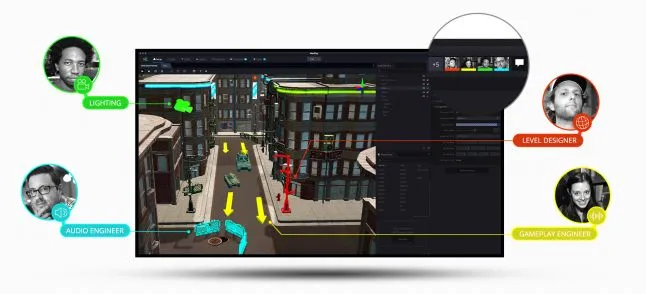 This also portends significant changes for the way you might work with contractors -- Bain says MaxPlay's GDS is designed so that "a contract artist in the Phillippines can edit an asset in Maya while the lead artist in London watches that object displayed, in real-time, on the intended shipping device," though for the moment MaxPlay's software can only build to iOS, Android and PC.
Bain says his team is planning to expand GDS' scope in the future to encompass other platforms, including AR and VR devices, and they haven't yet decided on how to price the toolset.