I sense a disturbing trend amongst some of the fresh graduates lately. A lot of kids are coming my way that fit a specific archetype: nice, smart, passionate, and utterly screwed by the false expectations fed to them by their educational institutions. They have spent at least four years and their reserve of educational funds following a producer track at a school that offers a producer track for the video games industry.
When they graduate, they will be fighting for positions that make up the smallest ratio of head count on a development team when compared to programmers, artists, designers, audio engineers, and QA. And within this ratio, they will be competing with an army of veteran experienced producers who are flooding the job market seeking to fill those low-ratio positions.
I feel for these kids who will be graduating this year with a "producer education", and I can't help but garner a growing disdain for the educational facilities that are empowering this mindset of entitlement to producer positions at some game company upon fresh graduation.
I would like to make the following potentially controversial assertion:
Getting a producer job upon graduation from college is currently an exception rather than the norm.
I am often approached by students asking for advice on getting their first job in the industry. I typically respond by asking them what their skillsets are. Sadly, I am finding more and more who would answer that their skillset lies in their management prowess as they proudly explain their past experiences managing group projects in the classroom.
I run into enough of these archetypes to the point where I am now developing a template response to those who ask me for advice on getting in. Aside from pointing them to the excellent IGDA Breakin' in link, I will also offer these words to them:



"Management is a skill that is best cultivated with another skill that involves implementation. We don't necessarily seek out people with no experience who's only purpose on the team is to tell others what to do without having any skills to do anything themselves.

So that is my advice to you: Your producer education in the classroom does not entitle you to a job as a producer in an actual game studio

Do NOT graduate with the intent to become an 'entry level producer'. Offer an implementation skill as your primary value to potential employers. Enter a game company as an entry-level artist, level builder, systems designer, QA, audio engineer, or programmer. Work in the trenches for a few years. When you gain enough EXP with at least two finished products, then you may be qualified to become a deployer of tasks able to empathize with those who are walking paths that you have already taken.

It is never too late to learn an implementation skill. The best way to get started is to pick up an existing tool set for making games (like UDK or Unity) and make a game all by yourself. It does not have to be a great game. It simply needs to be a thing that you made that involves bad art, bad scripting, and bad game design... the intent is not to make something great, it is simply to have the experience of making something that is YOURS."
You must become familiar with the skills from each of your cats if you are to lead them against the evil forces of Mumm-Raa.
Strength - Know more about animations/modeling than typical non-artists
Cunning - Know more about coding than typical non-coders
Illusion - Know more about level building/scripting/systems than typical non-designers
and Cheetah Speed! (understand the plight of QA, Audio, and Localization teams)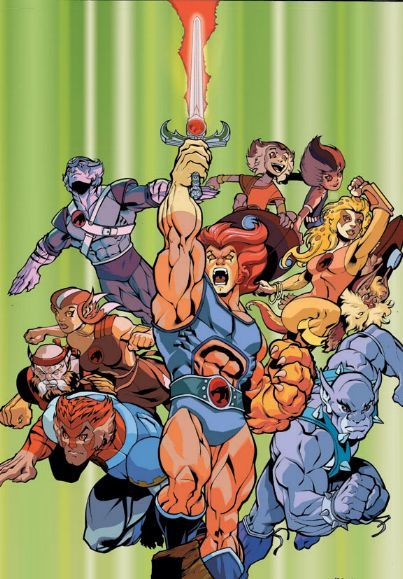 Master them all... to become Lion-O!