[This unedited press release is made available courtesy of Game Developer and its partnership with notable game PR-related resource Games Press]
C'est déjà la fête sur le Campus avec ce nouveau trailer :
Avec Two Point Campus, construisez le campus de vos rêves et façonnez la vie de vos élèves pour leur offrir la plus belle expérience de leur vie pleine de relations fortes, d'activités périscolaires amusantes sans oublier… une excellente éducation ! Après tout, des étudiants heureux avec de bonnes notes améliorent la réputation du Campus, qui peut alors attirer davantage d'étudiants, et incidemment gagner plus d'argent.
Au-delà des activités académiques classiques, les étudiants du Two Point County profitent de nombreux cours bizarres et merveilleux comme la Gastronomie, où l'on apprend à réaliser toutes sortes de délices culinaires surdimensionnés. Les passionnés de technologie suivront le cours de Robotique dans lequel la science, les professeurs et les élèves se mélangent pour créer des robots géants. Les étudiants bénéficient chacun de leurs propres traits de caractère, et il faudra répondre à tous leurs besoins uniques pour les aider à s'accomplir en tant qu'individus, et ainsi constituer l'héritage et la fierté de votre université.
Comme Two Point Hospital, Two Point Campus est un jeu de gestion charmant, accessible et profond. Pour la première fois, il sera possible de construire intégralement son Campus. Des dortoirs élégants, des allées soignées et des forêts ornementales embelliront votre espace en quelques clics, grâce à un nouvel outil de création accessible qui vous laissera pleinement exprimer votre créativité en toute sérénité.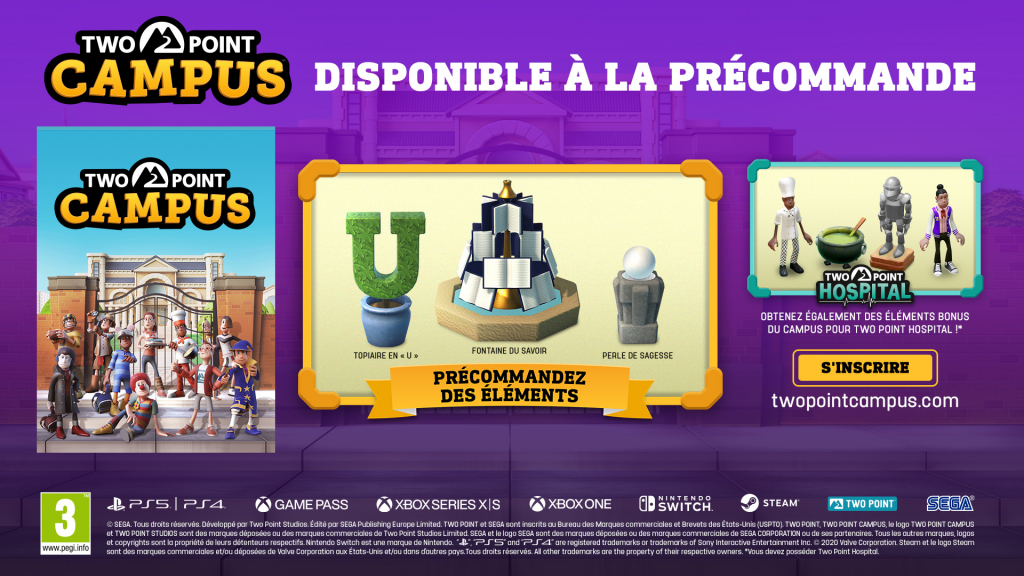 Des objets bonus pour Campus & Hospital
Préparez votre aventure universitaire dès maintenant en précommandant Two Point Campus, et mettez la main sur divers objets bonus exclusifs qui vont épicer votre université à la sortie du jeu. Égayez vos jardins façon Topiaire, étanchez votre soif d'apprendre avec la Fontaine de la Connaissance et disposez de votre propre Perle de Sagesse. Si vous possédez Two Point Hospital et que vous précommandez Two Point Campus, c'est votre jour de chance : vous recevrez* d'incroyables objets pour Two Point Hospital comme une Veste Universitaire et une armure. Si vous achetez l'édition physique de Two Point Campus, vous recevrez l'Enrolment Edition qui s'accompagne d'une superbe carte du Campus, d'un prospectus élégant pour l'Université et un packaging exclusif.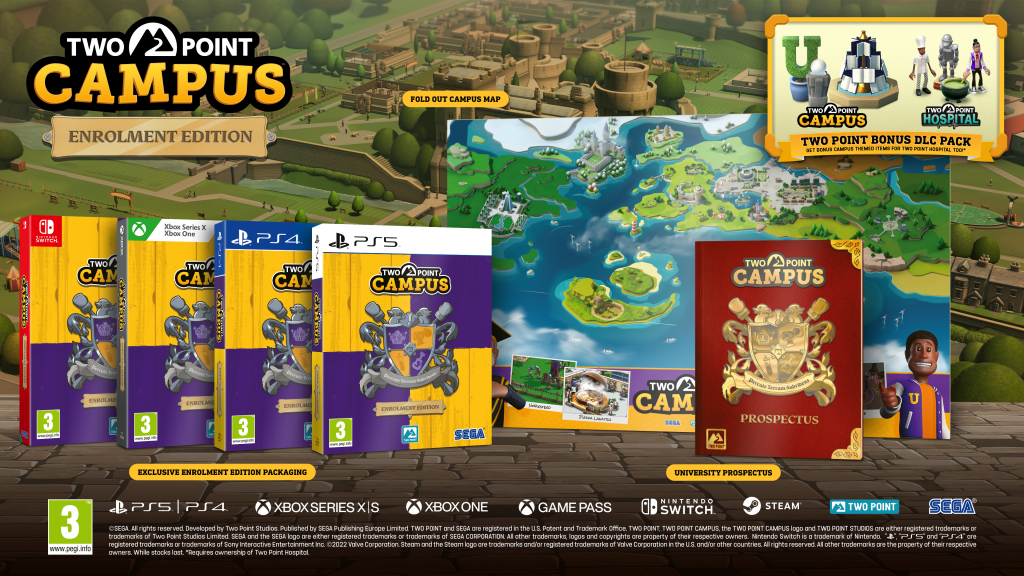 Toutes les informations sur Two Point Campus sont disponibles sur www.twopointcampus.com, où il vous est possible de vous inscrire au County Pass. Ce précieux sésame débloquera l'élément gratuit le plus recherché au lancement : les toilettes dorées ! Suivez le jeu sur Instagram, Facebook et Twitter. Pour tout savoir sur SEGA Europe, allez sur www.sega.co.uk et suivez nous sur Facebook, Instagram, YouTube et Twitter.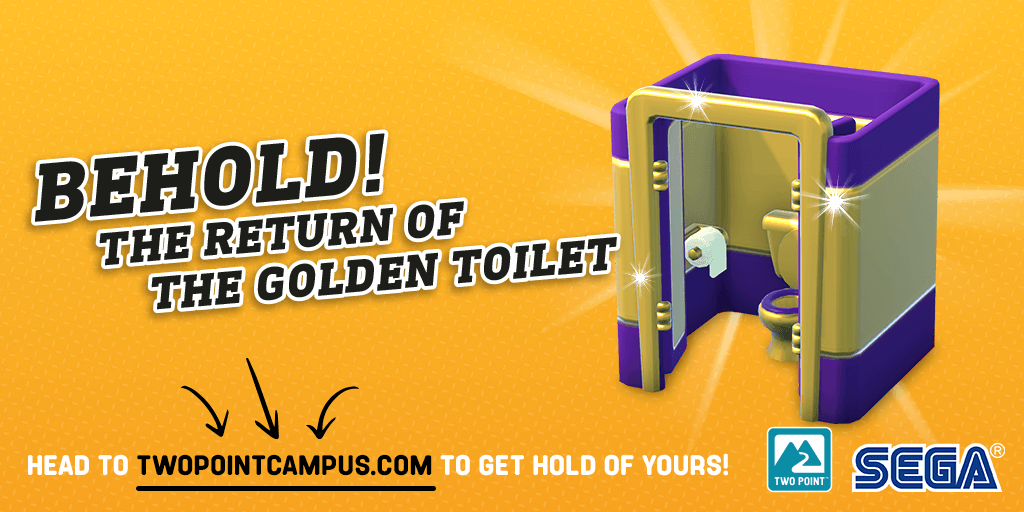 *Les possesseurs de Two Point Hospital qui précommandent une version physique de Two Point Campus recevront les objets de jeu gratuitement à la sortie de Two Point Campus le 17 mai 2022. Ils peuvent également pré-acheter Campus en version numérique sur Steam, Xbox ou PlayStation et récupérer leurs objets gratuits directement. Les joueurs qui possèdent Hospital sur Nintendo Switch pourront très bientôt pré-acheter Campus sur le Nintendo eShop, ce qui leur débloquera l'accès à ces objets gratuits au lancement.
---
A propos de Two Point Studios Ltd.
Two Point Studios Ltd. est un studio de développement indépendant basé à Farnham, dans le comté de Surrey au Royaume-Uni. Créé en 2016, il compte 16 employés passionnés et dévoués qui ont œuvré sur certains incontournables du jeu vidéo comme Fable et Black and White. Puisant dans cette inestimable expérience, Two Point Studios a sorti un nouveau jeu de gestion nommé Two Point Hospital, disponible sur PC depuis août 2018. Toutes les informations sont sur www.twopointstudios.com.
A propos de SEGA® Europe Ltd.
SEGA® Europe Ltd. est la filiale de distribution européenne de SEGA® Corporation, société leader dans le domaine du divertissement interactif, dont le siège est situé à Tokyo, au Japon. La société développe et distribue des produits de loisirs interactifs destinés à de nombreuses plateformes, dont le PC, les appareils sans fil et les systèmes produits par Nintendo, Microsoft et Sony Computer Entertainment Europe. Pour en savoir plus sur SEGA Europe, consultez la page www.sega.com.
---
---
---