[This unedited press release is made available courtesy of Game Developer and its partnership with notable game PR-related resource Games Press]
London, England - 4. August 2022 - Die Schulzeit steht vor der Tür und was gibt es da Besseres zu feiern -und zwar die wildeste Milchshake-Party in der Geschichte von Two Point County! Falls dir die Milchprodukte nicht zusagen, haben wir auch einen (laktosefreien!) Launch-Trailer, um die Veröffentlichung von Two Point Campus am 9. August schon heute zu feiern.


In Two Point Campus™ kannst du deine eigenen Partys veranstalten, komplett mit Laserlicht, randvollen roten Bechern und fetzigen Klängen, die deine Schüler garantiert bei Laune halten - oder zumindest ablenken. Und wenn dir eine typische Studentenparty nicht reicht, hast du als Verwalter deines eigenen Campus die Möglichkeit, Live-Auftritte von definitiv 100 % echten Bands wie Helium Baboon, Alchemical Friendship oder Boogie Knights zu organisieren. Und was wäre eine Uni-Party ohne klebrigen Boden? Richtig, nichts.
Vielleicht willst du es ein bisschen langsamer angehen? Hoffentlich nicht zu langsam, denn der örtliche Speed-Walking-Club sucht nach neuen Rekruten. Clubs sind der perfekte Weg, um nicht an das Studium zu denken - sei es beim Powerwalking über den Campus, beim Power-Napping-Club, um mitten in der Vorlesung ein paar Nickerchen zu machen, oder bei der Gartenarbeit im Nature Club. Spieler und Spielerinnen spüren die Erde unter ihren Füßen, die Sonne auf ihrem Gesicht und den Wind... wo auch immer man den Wind eben gerne spürt.
Two Point Campus ist ein charmanter Universitätsmanagement-Simulator, in dem du deine Träume von der Leitung deines eigenen Campus ausleben kannst - komplett mit wilden und verrückten Kursen wie zaubernder Zauberei, drachenschlachtender Ritterschule oder der streng geheimen Spionageschule.
Du kannst der College-Party-Champion sein, wenn Two Point Campus am 9. August für PC, PlayStation 4|5, Xbox One, Xbox Series X|S und Nintendo Switch veröffentlicht wird. Two Point Campus wird am ersten Tag auch im Xbox Game Pass für Konsolen und im PC Game Pass verfügbar sein. Wenn du ein physisches Exemplar haben möchtest, dann sieh dir unsere spezielle Enrolment Edition an, die eine tolle ausklappbare Campus-Karte, einen schicken Universitätsprospekt und eine exklusive Verpackung enthält. Die physische oder digitale Kopie des Spiels kann man natürlich auch vorbestellen und erhält dann einige fantastische In-Game-Gegenstände für Two Point Campus und Two Point Hospital™.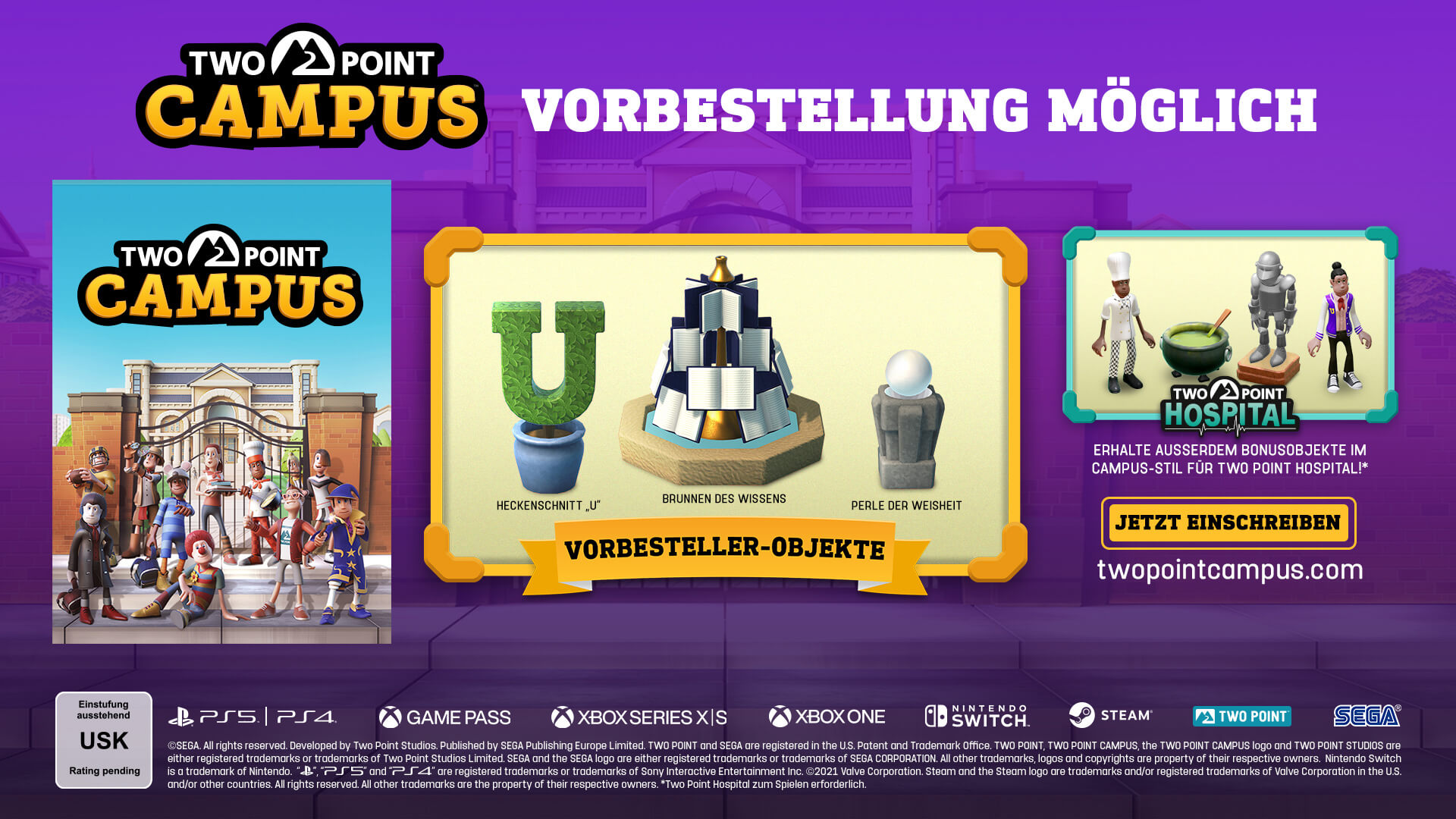 Weitere Informationen zu Two Point Campus gibt es auf www.twopointcampus.com.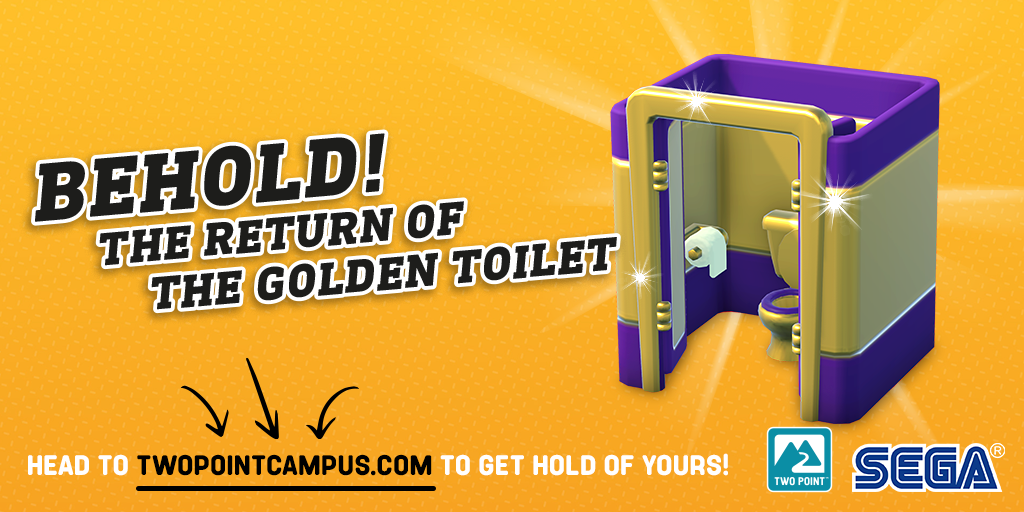 ---
About Two Point Studios Limited
Two Point Studios Limited is a British game developer, based in Farnham, Surrey (UK) and was founded in 2016. Two Point Studios' small, but dedicated and passionate team have worked on some of the most recognisable brands in gaming, including Fable and Black and White. Drawing on that experience, Two Point Studios released a brand-new IP in the sim genre called Two Point Hospital, which launched for PC in August 2018. For more information about Two Point Studios visit www.twopointstudios.com.
About SEGA Europe Limited
SEGA Europe Limited is the European Distribution arm of Tokyo, Japan-based SEGA CORPORATION, and a worldwide leader in interactive entertainment both inside and outside the home. The company develops and distributes interactive entertainment software products for a variety of hardware platforms including PC, wireless devices, and those manufactured by Nintendo, Microsoft and Sony Interactive Entertainment Europe. SEGA wholly owns the video game development studios Two Point Studios Limited., Creative Assembly, Relic Entertainment, Amplitude Studios, Sports Interactive and HARDlight. SEGA Europe's website is located at www.sega.co.uk




Press Kit:
Screenshots (PS5 & Xbox)
Screenshots (PC)
Key Art & Logo

Contact:
Für Presseanfragen oder Interviews kontaktiere bitte die Games-PR-Agentur Cosmocover per E-Mail oder Telefon: +49 (0) 170 965 2494