[This unedited press release is made available courtesy of Game Developer and its partnership with notable game PR-related resource Games Press]
Berlin et Séoul, le 10 novembre 2021 – La finale mondiale sera organisée et retransmise en ligne le 13 novembre à partir de 6 heures du matin (heure française). Les commentaires seront assurés en 15 langues différentes.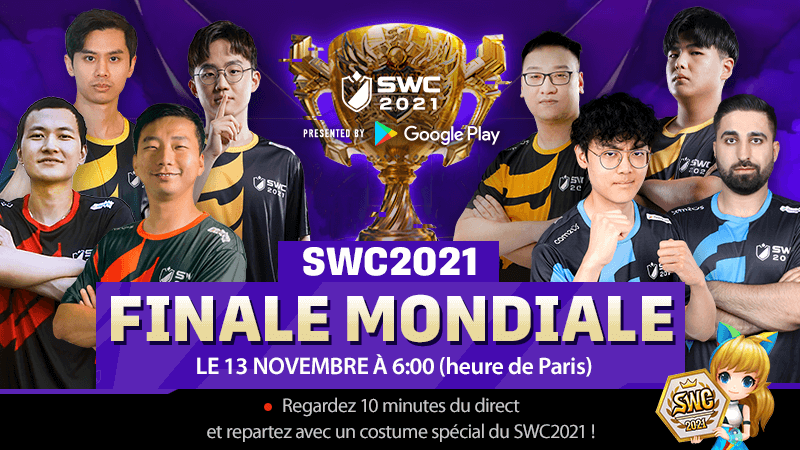 Le meilleur invocateur du monde sera couronné à l'issue de cette finale mondiale : le tournoi sera retransmis en 15 langues différentes sur la chaîne YouTube Officielle de Summoners War Esports mais aussi sur Twitch ou encore Afreeca TV, entre autres canaux. Les huit qualifiés, qui sont sortis des qualifications régionales préliminaires puis des coupes régionales organisées entre juillet et octobre, s'affronteront en BO5.
Le joueur coréen JACK-, 3ème qualifié de la Coupe Asie-Pacifique, ouvrira le bal face au grand gagnant de la Coupe Amériques, BIGV. Ce match sera suivi par un affrontement entre SECONDBABY, également venu de Corée du Sud et qualifié en 2ème position de la Coupe Asie-Pacifique, et le gagnant européen PINKROID. DILIGENT, qui a remporté la coupe Asie-Pacifique, affrontera ensuite le second qualifié, MADREAMDY, tandis que TARS, seul qualifié de la Coupe Chine, rencontrera ISMOO, qui a validé sa participation en grande finale avec une belle deuxième place lors de la Coupe d'Europe. Tous les matchs seront disputés en ligne.
Environ 100 fans, présélectionnés dans le monde entier, apporteront leur soutien aux joueurs à distance par le biais d'un écran installé sur la scène. Différents événements spéciaux et autres attractions seront également organisés pour les fans lors de la retransmission. En amont des quarts de finale, certains célèbres joueurs des SWC comme THOMPSIN, TRUEWHALE, MR.CHUNG, KROM'Z, VILLIPYTTY et ROSITH – qui ont malheureusement échoué à se qualifier pour la grande finale – prendront part à des affrontements en 2 contre 2, sur le nouveau mode Team Battle récemment ajouté. Enfin, différents objets seront offerts en fonction du nombre de spectateurs cumulés lors de la finale mondiale. Les joueurs et joueuses qui regarderont la retransmission pourront également mettre la main sur un costume spécial SWC2021 pour Ellia.
Toutes les informations sur le calendrier du tournoi et l'aspect esportif de Summoners War sont disponibles sur le site officiel de la finale des SWC2021.
---
À propos de Com2uS
Créée en 1998 en Corée du Sud, Com2uS opère sur le plan international avec des bureaux aux Etats-Unis, en Allemagne, au Japon, en Indonésie, à Taïwan, en Chine, en Thaïlande et au Vietnam. La société est devenue une filiale de GAMEVIL en 2013. Sa mission est simple : en tant que développeur et éditeur de jeux vidéo sur mobile, la société entend créer des expériences offrant un niveau de profondeur et d'engagement rarement vu sur les plateformes mobiles. Toutes les informations sur Com2uS et son catalogue fourni d'incroyables jeux mobiles sont disponibles sur www.com2us.com.

Press Kit : https://cosmocover.box.com/s/6ysgk0pvb0ppceig795oxrwex91qmofs

Contact presse
Pour toutes les demandes média, interviews, contactez Cosmocover par courriel ou téléphone : +33 (0) 184 200 104