[This unedited press release is made available courtesy of Game Developer and its partnership with notable game PR-related resource Games Press]
Irvine, Californie. Le 13 janvier 2022 – Dans Persona™ 4 Arena Ultimax, affrontez vos vieux camarades et ennemis lors du grand tournoi P-1 CLIMAX et poursuivez les aventures de Persona™ 4 Golden largement épicées à la sauce baston ! Persona™ 4 Arena Ultimax sortira le 17 mars sur Nintendo Switch™, PlayStation®4 et Steam®. Les précommandes sont ouvertes sur Steam !
La Midnight Channel est de retour, plus brutale que jamais. Découvrez ce nouveau Fight Trailer sur la chaîne officielle d'ATLUS West :
À Propos de Persona™ 4 Arena Ultimax
Les enjeux sont Ultimes, la tension est Maximale et le combat est ULTIMAX ! Découvrez le dernier arrivé de la série à succès Persona™ 4 avec une subtilité de taille : les héros affrontent les Shadows dans le grand tournoi P-1 CLIMAX !
Informations principales :
La version Ultimax inclut tous les contenus sortis à ce jour pour Persona™ 4 Arena, y compris son mode histoire.
Un casting XXL avec les combattants préférés des fans de Persona™ 3 et leurs versions "Shadow" offrant de nombreux styles de jeux différents.
Dual audio : choisissez entre les voix japonaises et américaines.
Toutes les informations sur Persona™ 4 Arena Ultimax sont sur https://atlus.com/p4au/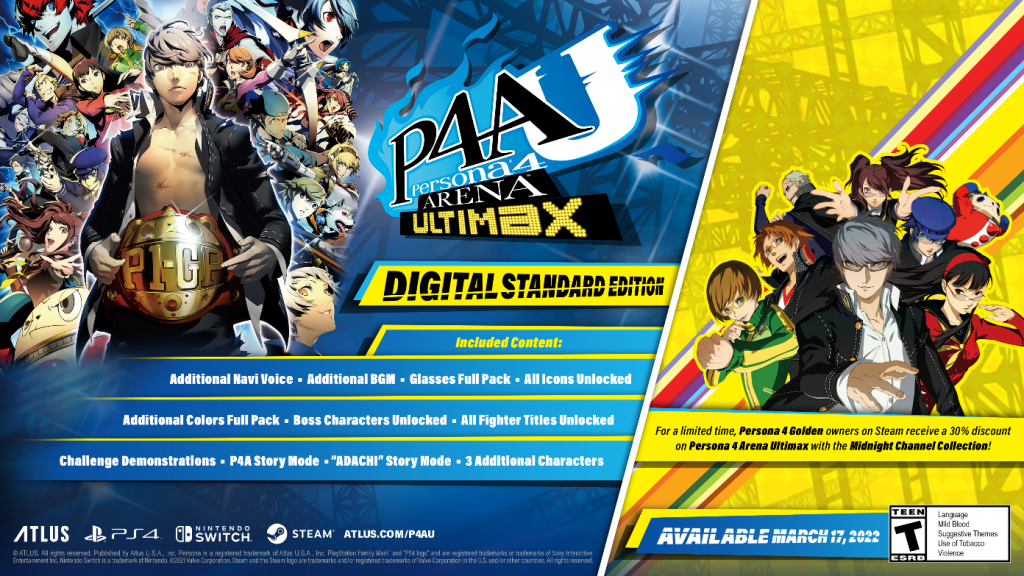 Retrouvez la Midnight Channel Collection sur Steam : elle regroupe Persona™ 4 Arena Ultimax et Persona™ 4 Golden. Ce bundle sera disponible temporairement avec 30% de réduction, tandis que les joueurs et joueuses qui possèdent déjà Persona™ 4 Golden sur Steam débloqueront la même réduction pour Persona™ 4 Arena Ultimax afin de compléter leur Midnight Channel Collection !
Une Midnight Channel Collection – Deluxe Edition est également disponible : elle inclut Persona™ 4 Arena Ultimax et Persona™ 4 Golden – Digital Deluxe Edition avec les mêmes réductions.
---
À Propos d'ATLUS
Avec son lot de titres récompensés, comme Persona® 5 Royal – nommé dans la catégorie « Meilleur RPG » aux Game Awards 2020 et DICE 2021 – ou encore la série légendaire Shin Megami Tensei® et le jeu de plateforme/puzzle/aventure étonnant Catherine™ (entre autres), ATLUS offre des expériences inoubliables au gameplay pointu poussé par des histoires passionnantes à destination des joueurs exigeants du monde entier. Pour tout savoir sur ATLUS : www.atlus.com.
A propos de SEGA® of America, Inc.
SEGA® of America, Inc. est la filiale de distribution américaine de SEGA® Corporation, société leader dans le domaine des divertissements interactifs, dont le siège est situé à Tokyo, au Japon. La société développe, édite et distribue des produits de loisirs interactifs destinés à de nombreuses plateformes, dont le PC, les appareils sans fil et les systèmes produits par Nintendo, Microsoft et Sony Computer Entertainment Inc. Pour en savoir plus sur SEGA of America, consultez la page www.sega.com.
---
---