[This unedited press release is made available courtesy of Game Developer and its partnership with notable game PR-related resource Games Press]
Vancouver, Canada – 29 novembre 2021 – La serie leggendaria è tornata con il suo connubio tra combattimenti al cardiopalmo e un approccio strategico ancora più raffinato, in un'ambientazione mediterranea mozzafiato. Relic Entertainment™ e SEGA® Europe Ltd. sono entusiaste di annunciare che i giocatori di tutto il mondo da domani avranno la possibilità di provare in anteprima il multigiocatore del nuovo Company of Heroes™ 3 in pre-alpha, in attesa dell'uscita del gioco nel 2022. Chi è interessato può visitare il sito CompanyOfHeroes.com per iscriversi al programma CoH-Development e pre-scaricare subito la versione pre-alpha del multigiocatore gratuitamente!
La versione pre-alpha del multigiocatore permetterà di giocare online e dare un primo sguardo alle battaglie contro gli altri utenti. Nella build saranno a disposizione quattro mappe ambientate in Italia e diverse modalità di gioco, comprese quella co-op contro nemici governati dall'IA, il PvP competitivo, la schermaglia contro l'IA, e sarà possibile ritrovare i grandi pilastri del gioco nonché provare alcune novità, come la pausa tattica in modalità schermaglia, i veicoli blindati, la verticalità delle mappe, i gruppi di battaglia e l'esperienza delle unità. Ritornano due fazioni classiche, le forze alleate americane e le Wehrmacht, ognuna delle quali arriva sul campo di battaglia caratterizzata dalle proprie abilità uniche in grado di cambiare il corso della guerra. In prossimità del lancio del gioco verranno svelate altre fazioni, e Company of Hereos 3 promette di offrire più contenuti che mai.
Grazie alla piattaforma collaborativa CoH-Development, la comunità di appassionati ha già fornito preziosissimi feedback dopo che Company of Heroes 3 è stato annunciato quest'estate insieme a un'anteprima in pre-alpha. Lo studio non vede l'ora di ascoltare il parere della community ancora una volta dopo l'imminente pre-alpha multigiocatore per garantire che, una volta raccolti tutti i feedback, il gioco possa offrire la migliore esperienza multigiocatore possibile al momento del lancio.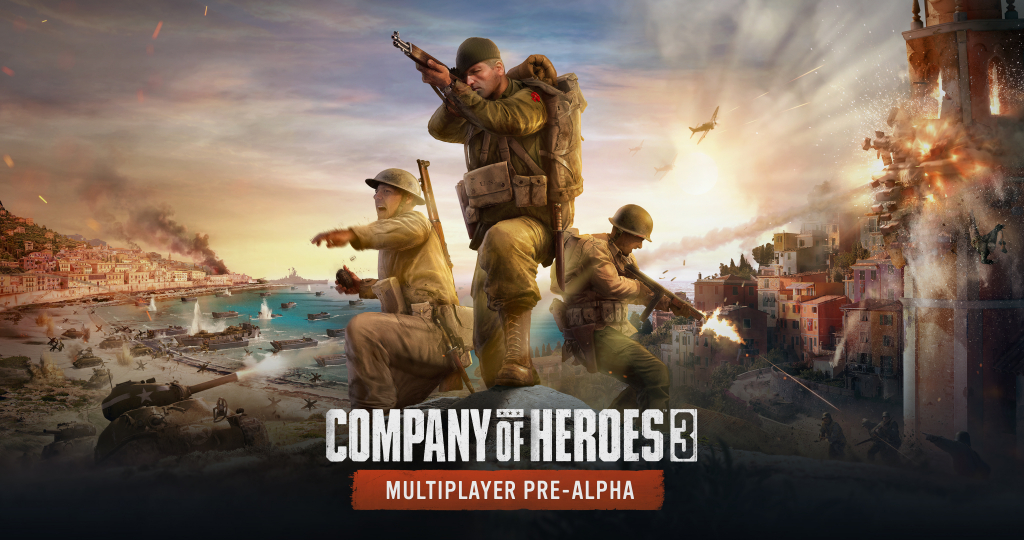 Come accedere alla pre-alpha di CoH3
La pre-alpha del multigiocatore di Company of heroes 3 è già disponibile per il pre-scaricamento da Steam, e potrà essere giocata dalle ore 18:00 CET di martedì 30 novembre alle 05:00 CET di martedì 7 dicembre. Tutti coloro che sono in possesso di un account CoH-Development e hanno già partecipato alla prima fase di pre-alpha possono pre-scaricare la build dalla propria libreria di Steam e giocare non appena sarà possibile. I nuovi giocatori, invece, possono iscriversi al programma CoH-Development gratuitamente a questo indirizzo e collegare il proprio account Steam per avere accesso al gioco da domani.
Per maggiori informazioni su Comapny of Heroes 3 visita il sito www.companyofheroes.com. Segui il gioco su YouTube, Twitter e Facebook. Per maggiori informazioni su SEGA Europe, visita il sito www.sega.co.uk e segui i profili Facebook, Instagram, YouTube e Twitter.
---
Relic Entertainment Inc.
Relic Entertainment™ è uno studio di sviluppo vincitore di premi autore di franchise molto apprezzati come Company of Heroes, Age of Empires IV; Warhammer 40.000: Dawn of War e tanti altri. Sin dalla sua fondazione nel 1997, Relic ha realizzato un portfolio di giochi che ha ridefinito il genere della strategia in tempo reale, e la spinta per l'innovazione continua anche oggi in veste di studio di proprietà di SEGA. Relic ha sede a Vancouver in Canada. Per maggiori informazioni visita il sito www.relic.com.
SEGA® Europe Ltd.
SEGA® Europe Ltd. è il ramo di distribuzione europeo di SEGA CORPORATION, leader mondiale dell'intrattenimento casalingo e non, con sede a Tokyo, in Giappone. La compagnia sviluppa e distribuisce software interattivi di intrattenimento per diverse piattaforme, inclusi i dispositivi wireless e il PC, e quelle prodotte da Nintendo, Microsoft e Sony Computer Entertainment Europe. SEGA è proprietaria degli studi di sviluppo Two Point Studios, Creative Assembly, Relic Entertainment, Amplitude Studios, Sports Interactive e HARDlight. Il sito di SEGA Europe è www.sega.co.uk.
---
---
---