[This unedited press release is made available courtesy of Game Developer and its partnership with notable game PR-related resource Games Press]
Le 5 mai 2022 - Partenaires depuis le mois d'août dernier, Com2uS et Devsisters sont heureux de partager aujourd'hui les premiers fruits de leur collaboration : le détonnant Cookie Run: Kingdom sort sur mobile (iOS et Android) dans pas moins de 24 pays européens, tout en bénéficiant d'une traduction intégrale en français et en allemand et d'une grosse mise à jour !
Cookie Run: Kingdom est un RPG qui vous invite à collectionner des Cookies et des petits gâteaux aussi mignons que redoutables. Il combine habilement aventure, combats, jeu de décoration et de gestion d'un royaume. Le jeu a déjà connu un immense succès en se plaçant en tête des charts au Japon, en Thaïlande, à Taïwan mais également en Corée du Sud, ainsi qu'à la deuxième et troisième place en termes de popularité et de ventes sur l'App Store aux États-Unis.


Pour sa sortie en Europe, Cookie Run: Kingdom bénéficie d'une importante mise à jour notamment centrée sur le premier chapitre de l'aventure, L'Odysée des Cookies. Un nouveau chapitre complet a été ajouté : il vous invite à découvrir l'histoire de Cookies Héroïques, rassemblés au Royaume Vanille Pure pour discuter de la paix dans le monde des Cookies. De nouveaux lieux et défis inédits verront également le jour avec les futurs chapitres de cette Odyssée des Cookies qui s'annonce pleine de rebondissements ! Nouveaux Cookies, amélioration du contenu JcJ de l'Arène du Royaume, ajout d'un système de titres, réorganisation des informations du Royaume : Cookie Run: Kingdom est plus accessible et fun que jamais pour sa sortie européenne !
L'Europe est évidemment un enjeu de taille pour ce projet haut en couleurs, et la France et l'Allemagne sont des territoires éminemment stratégiques : Com2uS entend faire profiter son partenaire de toute son expertise, notamment acquise avec son hit planétaire Summoners War. Fort de ses 40 millions de joueurs dans le monde, Cookie Run: Kingdom va bénéficier de la synergie entre les deux entreprises pour accroître sa popularité sur l'ensemble du continent européen. L'excellent savoir-faire local de Com2uS ne s'arrêtera évidemment pas aux frontières du Vieux Continent : bien plus qu'un simple partenariat commercial, l'alliance entre les deux entreprises ambitionne de rayonner au niveau international pour permettre à Cookie Run: Kingdom (iOS, Android) d'imposer son univers coloré et ses mécaniques étonnantes sur l'ensemble de la planète.
Cookie Run: Kingdom est désormais disponible sur l'App Store et Google Play. Pour ne rater aucune actualité, n'hésitez pas à suivre le jeu sur les réseaux sociaux : Twitter, Instagram, Facebook, et YouTube.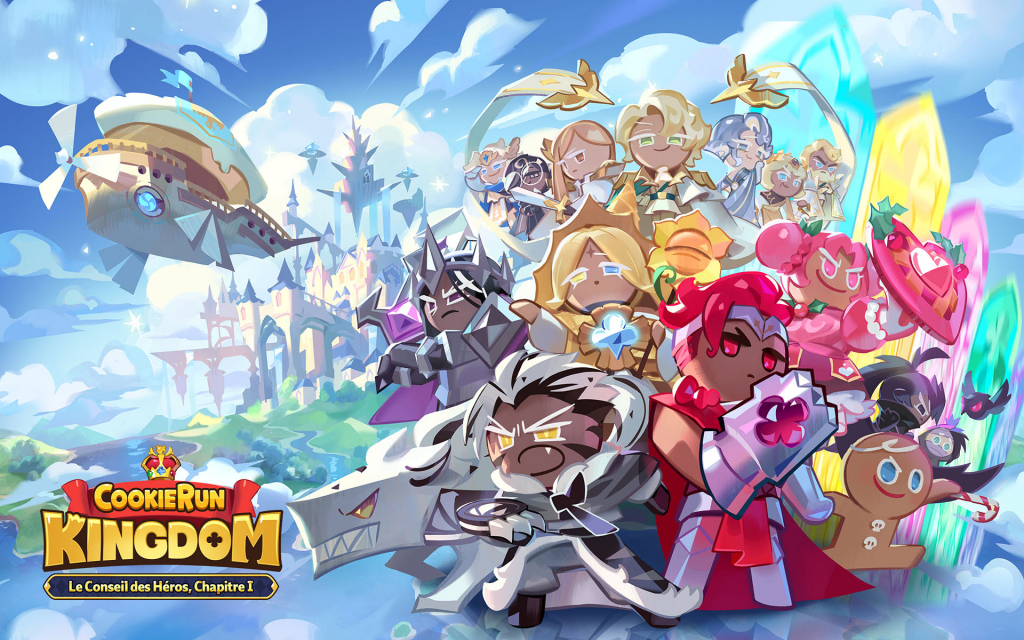 ---
À Propos de Com2uS Holdings :
Depuis sa création en 2000, Com2uS Holdings a édité de nombreux jeux optimisés pour mobile appréciés par plus de 115 millions de joueurs créés par plus de 70 studios majeurs du monde entier. Avec des bureaux à Los Angeles, Berlin, Tokyo, Pékin, Bangkok, Singapour, Taipei, Hanoi, Jakarta et un siège social à Séoul, Com2uS Holdings est parvenu à concevoir de nombreux jeux primés offrant des expériences diverses et variées grâce à son excellent connaissance de l'industrie dans chaque région. Récemment concentré sur la création d'un écosystème indépendant de blockchain, Com2uS Holdings continue de dominer le secteur en s'engageant à faire du jeu vidéo mobile un véritable mode de vie. Pour plus d'information, rendez-vous sur https://com2us.com/.


Press Kit:
https://cosmocover.box.com/s/7xbwk7npee8jf256snjl0a327iylhqiz
Contact:
Pour toutes les demandes média, interviews, contactez Cosmocover par courriel ou téléphone : +33 (0) 184 200 104