[This unedited press release is made available courtesy of Game Developer and its partnership with notable game PR-related resource Games Press]
Com2uS annonce aujourd'hui une collaboration exceptionnelle entre son RPG Cookie Run: Kingdom et le célèbre groupe de K-Pop BTS !
Cookie Run: Kingdom est un jeu de collection de personnages sur mobile (iOS et Android), développé par Studio Kingdom pour le compte de Devisters. Avec plus de 200 millions de joueuses et joueurs à travers le monde, le RPG s'est hissé en tête des classements aux quatre coins de la planète grâce à son mélange astucieux et équilibré d'aventure et de combats, mais aussi de décoration et gestion de Royaume. Les cookies mignons se classent même deuxième aux États-Unis sur l'App Store, et dans le top 20 européen sur iOS et Android !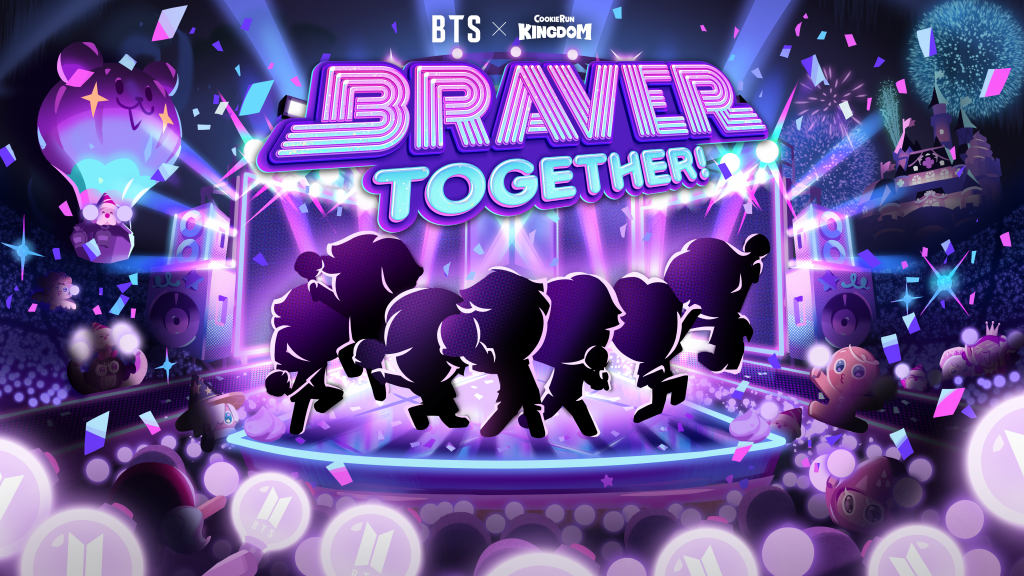 Le slogan de cette collaboration d'exception est « Braver Together », qui peut se traduire par « Nous sommes plus courageux ensemble ». Le courage est en effet au cœur de la franchise Cookie Run – son personnage principal est Cookie Téméraire ! – tandis que les valeurs de solidarité caractérisent particulièrement bien les fans de BTS.
Au-delà de cette rencontre entre des superstars mondiales de la chanson et Cookie Run: Kingdom, la collaboration a été pensée dès le départ comme une manière de faire communier les deux communautés, qui ont énormément de choses en commun. Le point d'orgue de ce partenariat verra le groupe BTS jouer un concert au sein du jeu !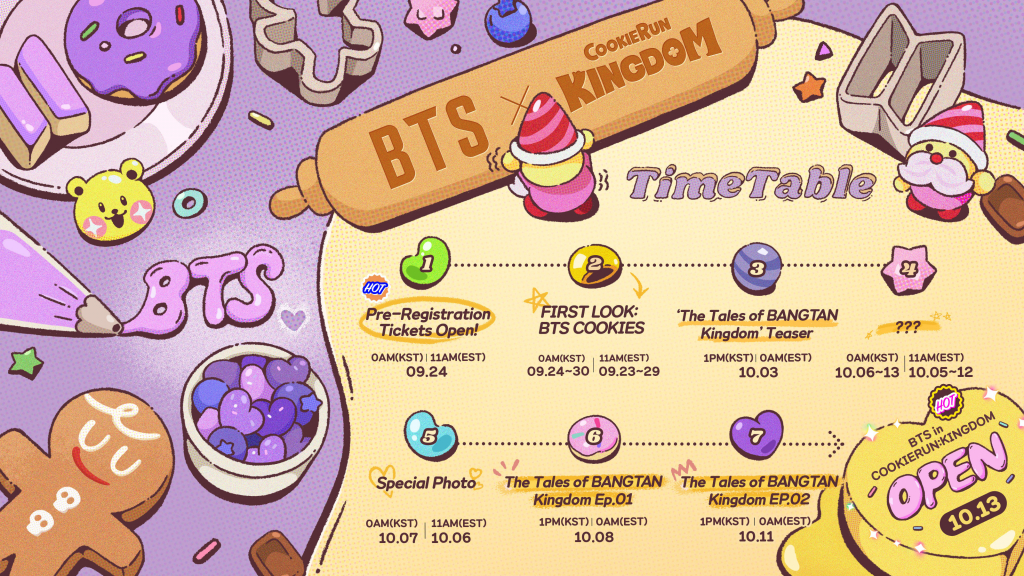 Pour cette performance, les préinscriptions se feront via un site dédié du 24 septembre au 3 octobre. Le processus d'inscription se veut similaire à une billetterie de concert, à une nuance près : si l'objectif le plus élevé de 3 millions de préinscrits est atteint, tous les participants recevront 7000 cristaux, 20 tirages de la collaboration BTS, une décoration en forme de panneau du concert Braver Together et une décoration pleine de ballons BTS en guise de récompense.
De plus, 300 participants seront également tirés au sort pour bénéficier d'un coupon d'échange de billets pour le concert « BTS <Yet To Come> in BUSAN ». Ces coupons seront remis aux heureux gagnants à la condition qu'ils aient participé aux préinscriptions et se soient inscrits au tirage au sort entre le 24 septembre et le 3 octobre.
■Le contenu exclusif de la collaboration sera dévoilé progressivement sur les réseaux sociaux officiels et un Cookie de la collab BTS sera révélé chaque jour !
Les teasers de chacun des 7 membres de BTS (RM, Jin, Suga, J-Hope, Jimin, V et Jungkook), qui sont au cœur de cette collaboration, seront publiés l'un après l'autre du 24 au 30 septembre. Vous pouvez retrouver des images et vidéos représentant chacun des membres du groupe, dont 7 cartes photos et 14 vidéos sur les réseaux sociaux officiels de Cookie Run: Kingdom. Chaque réseau social aura droit à son contenu spécifique : tout d'abord, les 7 cartes photos seront publiées sur les comptes Twitter, Facebook et Instagram officiels. Le compte TikTok officiel sera alimenté de GIF d'interaction entre les cookies et les membres du groupe, tandis qu'une courte vidéo des sessions de doublage organisées avec les rockstars de BTS sera publiée sur YouTube.
Tous les détails sont disponibles sur le compte Twitter officiel et la chaîne YouTube officielle.
---
À Propos de Com2uS Holdings :
Depuis sa création en 2000, Com2uS Holdings a édité de nombreux jeux optimisés pour mobile appréciés par plus de 115 millions de joueurs créés par plus de 70 studios majeurs du monde entier. Avec des bureaux à Los Angeles, Berlin, Tokyo, Pékin, Bangkok, Singapour, Taipei, Hanoi, Jakarta et un siège social à Séoul, Com2uS Holdings est parvenu à concevoir de nombreux jeux primés offrant des expériences diverses et variées grâce à son excellente connaissance de l'industrie dans chaque région. Récemment concentré sur la création d'un écosystème indépendant de blockchain, Com2uS Holdings continue de dominer le secteur en s'engageant à faire du jeu vidéo mobile un véritable mode de vie. Pour plus d'information, rendez-vous sur https://com2us.com/.

Press kit: https://cosmocover.box.com/s/8mt55fz0wcylzayxufvdqey4bx17qbk8

Contact presse
Pour toutes les demandes média, interviews, contactez Cosmocover par courriel ou téléphone : +33 (0) 184 200 104