About six weeks after Microsoft
altered the Xbox Live Indie Games
pricing structure and added a user rating feature, developers of several well-regarded games are reporting significant increases in sellthrough rates. Gamasutra sister site GamerBytes, which covers the console downloadable game space,
spoke with several game makers
and found that games including
Easy Golf
,
The Dishwasher: Dead Samurai
,
EZMuze+ Hamst3r Edition
,
Groov
, and
Johnny Platform's Biscuit Romp
have seen sales increases of more than 300% since the change -- with some seeing much more growth than that.
Johnny Platform
, by Craig Forrester, has seen the most dramatic improvement of those. Forrester says that from July to August, on a month-over-month basis, trial downloads and purchases both increased by more than a factor of ten, with sales shooting from 113 to 1,469. Its price declined from $2.50 to $1 in August. The ratings addition has benefited independent games on the standard Xbox Live Arcade service, too. James Silva's
The Dishwasher: Dead Samurai
, had seen about 500 sales per month prior to the change, but after ended up in the third-highest ratings slot, its sales have jumped significantly to more than five times that number. The following graph, supplied by developer Matt Davis of Barkers Crest Studios, starkly demonstrates the effect the price cut has had on many well-reviewed titles: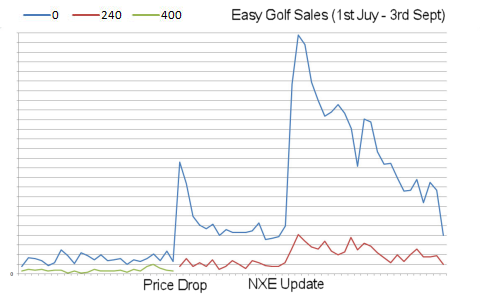 (Note that the blue curve tracks trial downloads, while the lower curves track purchases.) Like several other games included in the GamerBytes report,
Easy Golf
's sales increased more than three times over upon the addition of the rating system and its price decrease -- in this case, from $5 to $3 -- although sales have slows somewhat in the weeks since. Part of that can be pinned on the release of Barkers Crest's newest golf game,
Avatar Golf
. A secondary effect of the ratings change has been the introduction of a different kind of stability to the top sellers on Xbox Live Indie Games.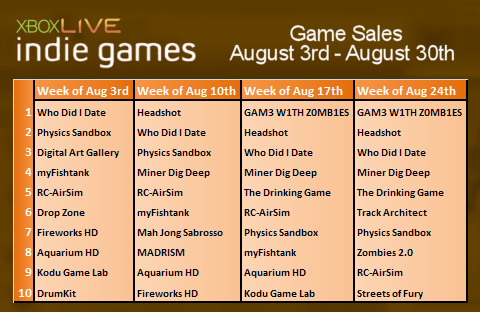 When the rating system was introduced, the top ten list changed significantly, but after a couple of weeks, it has settled down into a more traditional week-to-week pattern. As seen in the two most recent weeks in the above chart, the majority of games held their spot, and the first half of the list was completely unchanged. Of course, as pointed out by GamerBytes, the new features have not done much for older games that didn't have the luck to be released into a user-reviewable system.