Resale prices for pre-owned video games were down by 23.7 percent in 2008 compared to the previous year, likely due to current economic conditions and disappointing sales numbers for the general retail industry. Pricing data site Video Game Price Charts -- which tracks "gray market" sales, or games and consoles re-sold through unofficial, largely North American channels such as Amazon, Half.com, eBay, and JJGames --
provides the following chart
tracking the average game resale price throughout 2008: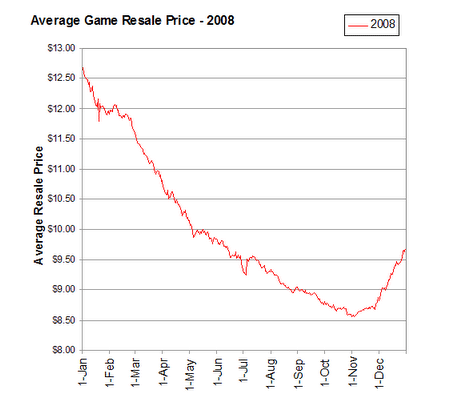 While preowned video game prices started the year at $12.69, that average dropped to $9.68 by December 31st, a 23.7 percent decrease. 2007 experienced a similar decrease from its starting to end-of-year price, but only by 11.8 percent. Video Game Price Charts also offers the following graph comparing changes in game resale prices throughout 2007 and 2008: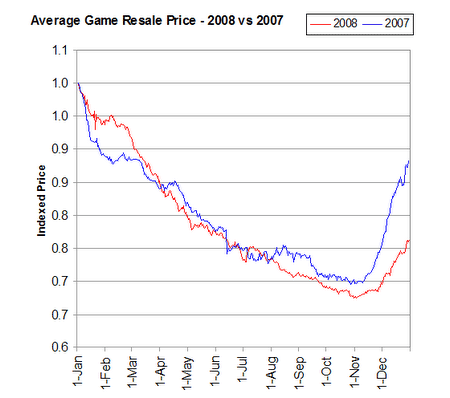 While 2008's used game pricing trends followed 2007's closely from January to July, the last five months of the year showed a significant decrease in average prices -- during the annual holiday spike, prices in 2008 increased by only 13 percent, whereas 2007 saw an increase of 26.6 percent in the same period. This year saw its lowest average game resale price on November 3rd at $8.57, compared to 2007's low of $9.49.