Ubisoft president and CEO Yves Guillemot told investors at a BMO Capital Markets conference that the video game software industry will see a "great year" in 2009. Using hardware growth and previous software sales trends as evidence, he notes that the home console installed base in the U.S. and Europe is expected to have increased by 121 percent to 70 million units by year end, with handheld consoles growing by 55 percent to 90 million units. According to the company, 2008's hardware sales imply a record year for game sales in 2009, despite any hints at a global economic slowdown. "If we look at this industry, one thing to consider is that when hardware sales are peaking, software sales are peaking 18 months later," says Guillemot. "You can expect that next year will also be a great year for this industry." He points out that 2007 saw a 40 percent increase in the hardware installed base for next generation console, resulting in a dramatic boost for software sales across all platforms in 2008.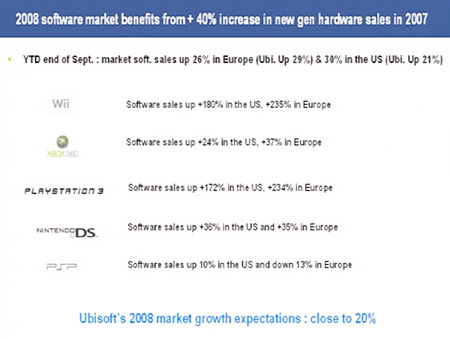 "If you look now at what's going to happen this year... we already have lots of machines sold in this market," says Guillemot. "We expect this market to grow by 76 percent this year. We expect home consoles to grow by 121 percent and handheld consoles by 55 percent. You can expect that next year will also be a great year for this industry. The CEO expects 2009 to be a positive year for Ubisoft, with Guillemot particularly highlighting the release of an
Avatar
MMORPG from the company some time during the year. Though Guillemot did not specify a release date, the game seems likely to debut alongside its source material, James Cameron's
Avatar feature film
, in which "a man tries to make his way as a miner by combining with an alien during an interplanetary war in which aliens can manifest themselves by possessing human bodies". The film is currently due on December 19th, 2009, and Guillemot was very positive about it, calling it "the best movie ever", and saying he expects it to be a box office hit. Guillemot also believes that
Tom Clancy's Splinter Cell: Conviction, Tom Clancy's H.A.W.X., I Am Alive
and other titles in Ubisoft's diversified portfolio for the 2008-2009 fiscal year will keep software sales growing. Says Guillemot, "We have lots of stuff for next year. Those products will help to push our value and our turnover next year." The company expects record revenues of €1.05 billion ($1.32 billion) for its 2008-2009 fiscal year. "We're well in line to achieve that," says the CEO. "The market is healthy. We have some provisions, so we're comfortable with that number." Guillemot doesn't see recent retailer troubles, such as Best Buy's reduced profit forecast for 2009 and Circuit City filing for bankruptcy protection, affecting Ubisoft's outlook. "[We see] that Walmart is increasing its sales in the us, we see Gamestop is doing extremely well, [and] we also see Toys R Us doing well also on the software side," he comments. "Those guys keep the traffic," Guillemot says. "Because they have the traffic, they actually sell lots of software. They are doing more than other players that probably have less traffic at the moment." He continues, "We have lots of hardware selling, and so, 2009 will be a very good year. Yes, these times are more difficult, but the video game industry is in a cycle that is very positive, so next year will also be a great year. There's more competition, but we will have lots of very high quality brands and products." Ubisoft CFO Alain Martinez adds, "We're not saying the economic environment has no impact at all. There is an impact. What we're saying is that the dynamic of the hardware logic is having more importance than that. Of course there is an impact, but we still have that gross coming."