With nearly a full year of of game releases ahead, Gamasutra is picking out noteworthy titles due in 2009 for each home and handheld platform, this time for PC. Again dismissing hackneyed predictions of its imminent death, gaming's longest-running platform enjoyed another strong year in 2008, with both multiplatform hits like
Fallout 3
and
Far Cry 2
, and significant PC exclusives such as
Sins of a Solar Empire
. A look at PC's 2009 slate reveals that major publishers plan to continue their support in 2009. We've collected the platform's most anticipated titles, previewing 14 in all, from real-time strategy games like
StarCraft II
to more casual titles like
The Sims 3
. Previously: 2009's anticipated
Xbox 360 games
,
PSP games
,
PS3 Games
,
Nintendo DS games
, and
Wii games
. (Following reader feedback, we're structuring the list by PC exclusives first, and then multi-platform titles, and will consider a new format for next year's charts entirely, thanks to the large amount of cross-platform games in today's market.)
2009's PC Exclusives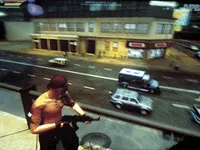 APB
Release Date: 2009 (No specific date announced) Developer: Realtime Worlds Publisher: Realtime Worlds Law enforcement and street gangs struggle for control of the city in this massively multiplayer online game from the studio behind 2007's action-packed sandbox game
Crackdown
. Players can either carry out crimes, like hijacking an armored bank truck, or work to stop criminals, with player-versus-player combat being the game's focus. In addition to providing a wide array of options for character and vehicle customization,
APB
(All Points Bulletin) offers editing tools for clothing, tattoos, and user emblems. Realtime Worlds promises that players' skill will determine character progression instead of the usual RPG grinding.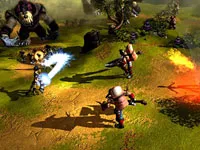 BattleForge
Release Date: 2009 (No specific date announced) Developer: EA Phenomic Publisher: Electronic Arts In this real-time strategy title, players "conquer massive online battlegrounds" with armies assembled from collectible trading cards. The cards represent four different powers themes (e.g. Shadow, Frost), each with their own strengths and weaknesses, and are used to conjure units, buildings and spells. Card decks are formed by winning, trading, or buying cards on
BattleForge
's online market place. Single-player maps are available, as are cooperative battles for up to twelve players, one-on-one duels, and various tournament modes.
BattleForge
will also include chat rooms, guilds, and other online community features.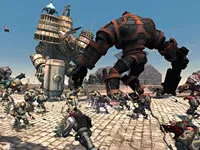 Demigod
Release Date: March Developer: Gas Powered Games Publisher: Stardock Taking inspiration from
WarCraft III
mod Defense of the Ancients,
Supreme Commander
developer Gas Powered Games's latest real-time strategy title also incorporates action and RPG elements. Players control powerful figures -- like Regulus, an angel whose wings were ripped off by a demon -- battling other demigods as they try to ascend to true godhood. Two different play styles, Assassin and General, are available -- Assassins operate as a one-man army with overpowering abilities, while Generals build and lead their armies, supporting their troops by healing them and bolstering their attacks.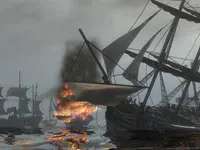 Empire: Total War
Release Date: March Developer: The Creative Assembly Publisher: Sega After exploring feudal Japan, medieval Europe, and the ancient Rome, Creative Assembly's
Total War
series tackles the American, French, and Industrial revolutions during the 18th and early 19th centuries. Players manage trade, diplomacy, colonies, warfare, and more for one of about 50 factions, which include France, Sweden, and other notable countries and states from that era. Along with its new graphics engine,
Empire
introduces 3D naval combat, which allows players to command ships and vast fleets -- but they'll have to mind water and weather conditions to ensure their vessels' safety. As with previous installments, the strategy game is primarily turn-based with real-time battles.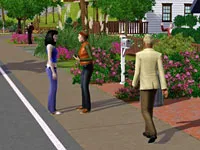 The Sims 3
Release Date: February 20th Developer: EA Redwood Shores Publisher: Electronic Arts Electronic Arts' immensely popular life simulation series returns with the first numbered release in four years and the promise of a "seamless, living neighborhood," in which players get to know and interact with the surrounding area and their neighbors.
The Sims 3
also adds more character creations options, a personality traits (e.g. artistic, clumsy) system, additional home customizations, and new careers and jobs.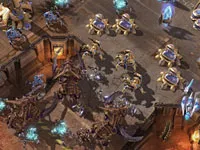 StarCraft II: Wings of Liberty
Release Date: 2009 (No specific date announced) Developer: Blizzard Entertainment Publisher: Blizzard Entertainment
StarCraft II
again pits the Protoss, Terran, and Zerg races against each other for what Blizzard describes as the "ultimate competitive real-time strategy game." The single-player campaign picks up where
StarCraft: Brood War
left off and follows the Terran Dominion's rebuilding efforts -- two forthcoming expansions will focus on the Zerg and Protoss. The sequel brings many new and upgraded units, the ability to record and view matches, a new graphics engine, full map-making and scripting tools, and new competitive features and matchmaking utilities through Blizzard's Battle.net online gaming service.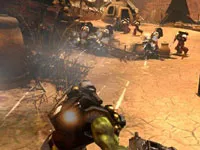 Warhammer 40,000: Dawn of War II
Release Date: February 23rd Developer: Relic Entertainment Publisher: THQ In
Dawn of War II
's single-player campaign -- which a friend can join to play cooperatively at any point -- players command small squads of Space Marines (other factions are available with the game's multiplayer mode) and take on opposing forces in both hand-to-hand and ranged combat. Designed to get players to the action as quickly as possible, the single-player campaign does not feature any base-building and provides few opportunities for reinforcements, but now allows for units to level, gain special abilities, and equip weapons and gear earned through mission rewards or found on the battlefield.
2009's Multiplatform Games Appearing On PC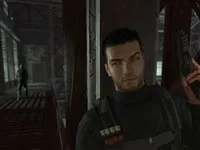 Alpha Protocol
(also coming to Xbox 360, PlayStation 3) Release Date: Summer Developer: Obsidian Entertainment Publisher: Sega Coming off
Star Wars: KOTOR II
and
Neverwinter Nights 2
, Obsidian takes on a more contemporary setting with its next action RPG.
Alpha Protocol
follows a rogue CIA agent as he goes undercover to investigate a government conspiracy, combining espionage elements and spy gadgets with modern RPG conventions. Players can advance their agent's skills to better fit their preferred play style, placing more emphasis on stealthy gadget use, hand-to-hand combat, or gunplay.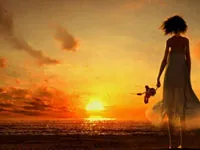 BioShock 2: Sea of Dreams
(also coming to Xbox 360, PlayStation 3) Release Date: Fall 2009 Developer: 2K Marin Publisher: 2K Games Not much is known about
BioShock 2
, the sequel to 2007's acclaimed first-person shooter, but the original game's designer Kevin Levine is reportedly working on the game -- though 2K Marin has taken over development from 2K Boston. A video preview was recently released with the PlayStation 3 version of
BioShock
, indicating that the follow-up would take place on the Atlantic Coast. The trailer also featured a young woman staring at an ocean coast, holding onto a doll of the game's Big Daddy characters while a small city made of sand ascended behind her.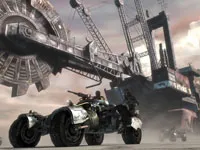 Borderlands
(also coming to Xbox 360, PlayStation 3) Release Date: 2009 Developer: Gearbox Software Publisher: 2K Games Inspired by the Mad Max films and Blizzard's
Diablo
games,
Borderlands
is a four-player cooperative first-person shooter with RPG elements. Three playable and customizable characters are available, each with their own skill trees, accessories, and back stories. Players ride in customizable vehicles and explore a lawless, desolate planet filled with randomly generated areas and items (500,000+ weapons, 500,000+ items and armor variations), in search of a vault promising alien technology and secrets.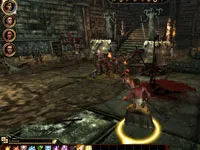 Dragon Age: Origins
(also coming to Xbox 360, PlayStation 3) Release Date: First quarter Developer: Bioware Publisher: Electronic Arts Players choose from one of several origins that will determine their characters' view of the world and shape the story that develops around them. The title is also designed in such a way that in-game actions and decisions can drastically affect the player's storylines and conversation options. Not too far off from BioWare's other RPGs,
Dragon Age: Origins
allows players to recruit and lead parties throughout their quests -- while in combat, they can pause the action and issue a series of commands, similar to the studio's
Baldur's Gate
games.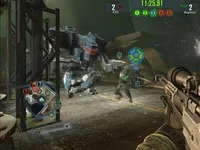 F.E.A.R. 2: Project Origin
(also coming to Xbox 360, PlayStation 3) Release Date: February 10th Developer: Monolith Productions Publisher: Warner Bros. Interactive Entertainment
F.E.A.R. 2
begins about thirty minutes before the original game's ending, again featuring Alma, a powerful and wrathful psychic who was tortured and experimented on by her father and government scientists. Players take on the role of a special forces agent who has the same superhuman reflexes seen in the first
F.E.A.R.
, fighting off Alma's paranormal manifestations and exploring the ruins of the city destroyed by the nuclear/paranormal blast at the end of the first game.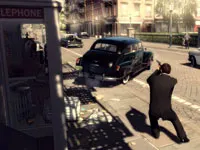 Mafia II
(also coming to Xbox 360, PlayStation 3) Release Date: Fall Developer: 2K Czech Publisher: 2K Games Set in the fictional city of Empire during the 1940s and '50s,
Mafia II
is a sandbox gangster game following Vito Scaletta after his return from World War II as he rises through the ranks of a crime family. The game has three factions to fight for or against -- the Falconi, Vinci, and Clemente families. In addition to carrying out mob executions, engaging in car-to-car gunfights, and more, players are treated to two hours worth of cutscenes that tell a tale of "survival, camaraderie and the pitfalls of pursuing the American Dream."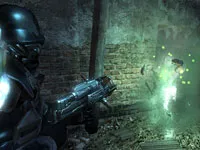 Wolfenstein
(also coming to Xbox 360, PlayStation 3) Release Date: 2009 (No specific date announced) Developer: Raven Software, Pi Studios, Endrant Studios, id Software Publisher: Activision Blizzard OSS agent BJ Blazkowicz returns to fight against combat troops and otherworldly enemies created by a supernatural Nazi force in this first-person shooter taking place in an alternate history World War II setting. Players investigate the powers of a dark parallel dimension, join with resistance forces, and make use of both conventional and unearthly weapons to take down the Nazi war machine.
Wolfenstein
's multiplayer features those same weapons in class-based team objective gameplay.