With nearly a full year of of game releases ahead, Gamasutra is picking out noteworthy titles due in 2009 for each home and handheld platform, this time for the Nintendo DS. Enjoying the same robust third-party support that the PlayStation 2 received in its twilight years -- but also bolstered by Nintendo's own releases -- the DS could easily fill our list of anticipated 2009 titles with its first quarter releases games. We've sifted through this year's lineup, reluctantly omitting second-tier RPGs and
Personal Trainer
software, and previewed 15 Nintendo DS games due this year, from first-party retail powerhouses like
Pokemon Platinum
to intriguing puzzle hybrids like
Henry Hatsworth
and
Galactrix
. Previously: 2009's anticipated
Xbox 360 games
,
PSP games
, and
Wii games
.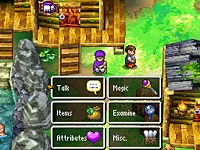 Dragon Quest V: Hand of the Heavenly Bride
Release Date: February 17th Developer: ArtePiazza, Cattle Call Publisher: Square Enix As popular as the
Dragon Quest
series is in Japan, there are still a few titles from the franchise that haven't yet left the country.
Dragon Quest V
, originally released for the Super Famicom in 1992, will finally come to the West in the form of a Nintendo DS remake, using the same 3D engine seen in
Dragon Quest IV
DS. This traditional Japanese RPG follows the protagonist over some 20 years, from his days as a young boy traveling the world with his father, to his adult life, taking on a wife (there are three to choose from in this version) and starting his own family.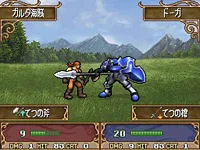 Fire Emblem: Shadow Dragon
Release Date: February 16th Developer: Intelligent Systems Publisher: Nintendo Another remake for a Japanese-exclusive game,
Fire Emblem: Shadow Dragon
smartens up the first
FE
game (released for the Famicom in 1990) and adds online battles and voice chat, both of which are new to the series. The turn-based strategy game stars blue-haired prince Marth, who should be familiar to
Smash Bros.
fans, and features 25 chapters, over 20 character classes, six difficulty modes, and touchscreen support for moving and commanding units.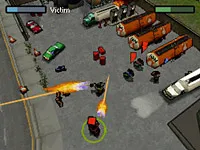 Grand Theft Auto: Chinatown Wars
Release Date: March 17th Developer: Rockstar Leeds, Rockstar North Publisher: Rockstar Games After shipping two
Grand Theft Auto
games for the PSP, Rockstar is turning its attention to the DS, keeping the controversial franchise's mature themes intact -- players can even take part in a drug dealing minigame, buying and selling narcotics around the city. Visually different from other recent
GTA
titles due to hardware limitations but still maintaining a stylized look,
Chinatown Wars
features a full 3D overhead view, its city and characters presented with cel-shaded polygons. The game also uses the touchscreen for activities like hotwiring cars, playing a tattoo minigame, and accessing a PDA for email and ordering firearms.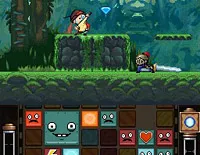 Henry Hatsworth in the Puzzling Adventure
Release Date: First quarter Developer: EA Tiburon Publisher: Electronic Arts In this light-hearted 2D platformer, players guide the eponymous British explorer through more than 30 levels in his search for scattered pieces of a Magical Golden Suit, each section granting Hatsworth special powers. The most interesting component in the game, however, is the
Bejeweled
-style puzzle game on the touchscreen -- defeated enemies from the platforming section appear in the puzzle field as blocks, threatening to rise as ghosts if players don't clear the enemy pieces. Power ups and extra lives are also available through the puzzle portion.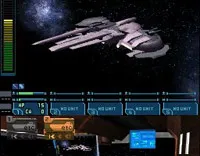 Infinite Space
Release Date: No date announced Developer: PlatinumGames Publisher: Sega Like Star Trek with a Japanese RPG twist,
Infinite Space
has players exploring two galaxies, customizing their spaceships with more than 150 design models, recruiting from a pool of over 200 crewmates, and fighting other crafts in real time and in 3D. The game's plot is inspired by Arthur C. Clarke's science fiction novel Childhood's End and follows a young crewman as he moves up the ranks to become a ship captain. Two-player online battles will also be available.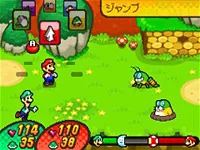 Mario & Luigi RPG 3
Release Date: April 1st Developer: AlphaDream Publisher: Nintendo Nintendo's blithesome, portable RPG series returns, along with the company's mustachioed plumber mascots and even Bowser, this time available as a playable character. Neither Alpha Dream or Nintendo have revealed much about the game, but initial trailers show that the timing-based combat system will reappear, and that Mario and Luigi will deal with a strange malady affecting the Mushroom Kingdom's inhabitants, causing them to balloon in size.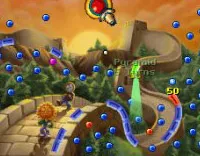 Peggle: Dual Shot
Release Date: March 3rd Developer: Q Entertainment Publisher: PopCap Games
Dual Shot
offers the most levels (100+) out of any previously released game in the series, collecting stages from both
Peggle
and
Peggle Nights
, and also packing in ten exclusive levels inspired by developer Q Entertainment's previous games (
Rez, Meteos, Lumines
). This DS version of the addictive casual puzzler moves all the nonessential elements, like the score and fever bar, to the top screen, leaving more space on the touchscreen for aiming ball shots and clearing pegs. Players can use the new Peggle Zoom feature to adjust their shots pixel by pixel.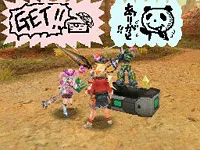 Phantasy Star Zero
Release Date: Fall Developer: Sonic Team Publisher: Sega Though
Phantasy Star Zero
's main draw, like other titles in the series, is its online multiplayer co-op adventures, solitary players can also enjoy the game with a full offline story mode. Those antisocial gamers, however, will miss out on not only hacking and slashing with their friends (or with random strangers), but on
PS0
's
PictoChat
-esque Visual Chat system, which enables players to sketch out messages or artwork to each other, their tidings appearing over their customizable character's head in a word balloon.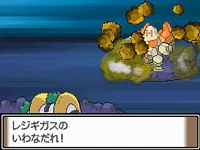 Pokemon Platinum
Release Date: March 22nd Developer: Game Freak Publisher: Nintendo, The Pokemon Company Hardly showing any signs of diminishing popularity,
Pokemon Platinum
sold 2.12 million units in Japan since its September release, while the previous editions,
Pokemon Diamond
and
Pearl
, moved over 14.75 million copies worldwide. This enhanced remake of
Diamond
and
Pearl
includes an expanded storyline, 59 new Pokemon, a notification system that alerts players of completed online Pokemon trades, a Battle Recorder that allows players to share replays of previous matches, a Pokemon battling facility, and much more.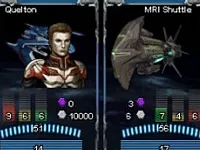 Puzzle Quest: Galactrix
(Also coming to Xbox 360, PC) Release Date: March 22nd Developer: Infinite Interactive Publisher: D3 Publisher Much like its addictive predecessor
Puzzle Quest: Challenge of the Warlords
,
Galactrix
is a puzzle/RPG/strategy hybrid, except set in space. Players pilot and customize different ships, conquering the galaxy and fighting other crafts through
Hexic
-styled puzzle battles. The DS release likely won't be considered the definitive version, as it lacks the downloadable content and online multiplayer planned for the XBLA and PC games, but it does have one significant advantage over the other releases -- portability!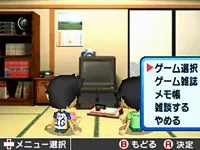 Retro Game Challenge
Release Date: February 10th Developer: Bandai Namco Publisher: Xseed Games Even those unfamiliar with the Japanese show this title is based on, Game Center CX, or its host Arino, can still enjoy this release. Set in the 80s,
Retro Game Challenge
invites players to complete different challenges for eight different games that look and play like classic NES titles. The games range from shooters to platformers, and there's even a full
Dragon Quest
-style RPG! Half of
RGC
's charm, though, comes from outside of the games, such as young Arino's encouraging cheers as he watches you play, the illustrated manuals that come with each title, and the fake gaming magazines that you can look through for cheats, previews, and commentary from familiar games journalists.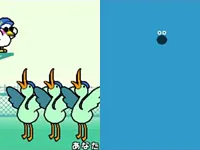 Rhythm Heaven
Release Date: Second quarter Developer: Nintendo R&D1, TNX Publisher: Nintendo
Rhythm Heaven
combines the talents of
WarioWare
creator R&D1 and prolific Japanese music producer Tsunku to offer a collection of unconventional rhythm-based minigames with catchy soundtracks and colorful, albeit sometimes odd accompanying visuals. Players tap, flick, hold, and slide their stylus on the touchscreen along with the music to punch tossed objects, pull hair from a garlic bulb's chin, clap with disco cats, and more.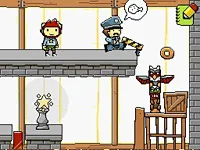 Scribblenauts
Release Date: Fall Developer: 5th Cell Publisher: To be announced Continuing to produce some of the most creative games available for the DS,
Drawn to Life
developer 5th Cell encourages
Scribblenauts
players to write out nouns and summon objects -- such as a ladder to reach high places -- that they can somehow use to collect scattered Starites. The studio ambitiously wants to allow readers to conjure virtually any object they can think of (e.g. chainsaws, pancake mix, dinosaurs, etc.), so long as they're not proper nouns, licensed products, or vulgar in any way.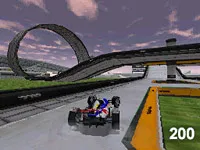 TrackMania DS
Release Date: March 17th Developer: Firebrand Games Publisher: Atlus Firebrand (
Race Driver: Create and Race
), known for its surprisingly accurate feeling DS racers with robust feature sets, is bringing Nadeo's revered stunt-driving and track-building series to a non-PC platform for the first time.
TrackMania DS
includes over 90 tracks, but it's main attraction is its track editor, which offers over 300 construction blocks for players to experiment with, using the DS's touchscreen to lay out courses filled with loops and ramps.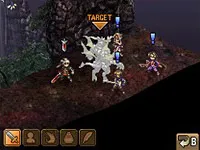 Valkyrie Profile: Covenant of the Plume
Release Date: March 17th Developer: tri-Ace Publisher: Square Enix Tying into Norse Mythology,
Covenant of the Plume
follows a young man hoping to distinguish himself as a warrior and seeking revenge against a particular valkyrie -- a winged female warrior named Lenneth Valkyrie, who starred and appeared in previous
VP
games -- for his hardship-filled life. As a strategy RPG, the game's combat plays out similarly to Square Enix's
Final Fantasy Tactics Advance
series, and also uses an Active Formation system that can aid characters when they are positioned in specific formations for attacks and defense.