[Following last week's release of NPD's July North American sales figures, EEDAR's director of analytical services Jesse Divnich presents his exclusive Gamasutra study of June's hardware and software trends. In this analysis, Divnich comments on how Xbox 360 hardware performed below expectations with some of "the most disappointing results of the year", despite its discounted Pro model.]
For the recently released July NPD North American numbers, industry software sales were right in-line with market expectations by posting another double-digit comp over last year. I do not foresee software sales slowing down for the rest of 2008, and I maintain my guidance that software sales will exceed 20 percent over last year.

However, I do expect year-over-year comps to weaken as we run into the anniversaries of some of last year's biggest titles -- including
Halo 3, Guitar Hero III, Rock Band
, and
Call of Duty 4
. Individual unit sales were also in-line with market expectations, with very few surprises.
Guitar Hero: On Tour
for the Nintendo DS definitely posted better-than-expected results, and it continues to beat all of our expectations. The biggest story this month is clearly in the hardware category, with all the major consoles posting lower than expected results. For today, we will specifically analyze the Xbox 360, as it posted one of the most disappointing results of the year.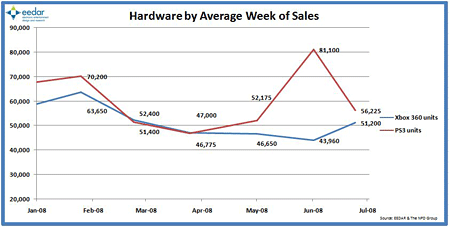 Since emerging from a successful holiday season, the Xbox 360 has exhibited a declining trend in hardware sales going into July. Thus, Microsoft's decision to
introduce a new Pro model while discounting the old
-- revealed on July 4th -- was an excellent strategy to boost short-term sales. So, why all the fuss about July's performance? Because analysts like myself expected a lot more. Our reasoning behind it was — at the time — logical. Price cuts typically increase sales 20-30 percent in the short-term, but we reasoned that because this was a "temporary" offer, consumers would rush to retailers to get an Xbox 360 before inventory ran dry. This is exactly what happened, but, in hindsight, we forgot to take into consideration a few crucial factors. First, this was a clearance sale on only the Pro model, which means that consumers who planned to purchase the Elite model would not likely be enticed by this offer. Those who had planned to buy an Arcade model in July, however, were likely attracted by the offer. But keep in mind that this does not add more Xbox 360 sales -- it only shifts market share between the models. We were right when we speculated a 20-30 percent increase in short-term sales; however, we applied that to overall sales when we should have just applied it to the Pro model market share. Working it out, mathematically, adds a little more clarity. Assume that 55 percent of all Xbox 360s sold are the Pro model (the percentage is close enough to the real one to be relevant).
June:
Pro Model
= ~24,178 units/week
Others
= ~19,782 units/week
July:
Pro Model in June + 30%
= ~31,431 units/week
Others
= ~18,500 units/week (factoring in a slowdown in sales due to no major exclusive titles being released.)
July Projected Sales
= 49,931 units/week There are a few missing elements in that equation (I wanted to keep it simple), but either way, the results are relatively the same and still much closer to the actual results than what others anticipated. I should note that one analyst did point out a flaw in my logic. Consumers are not as educated on the different models; in fact, most consumers are only aware of the Pro model. Factoring that into the equation, the well-advertised price cut should have increased sales well above the 51,000 a week mark. That being true, it would indicate that the Xbox 360 failed to perform to expectations in July. Nonetheless, with
Too Human, Fable 2
, and
Gears of War 2
right around the corner, the Xbox 360 is shaping up for better numbers in the second half of 2008.
[Jesse Divnich currently serves as the director of analytical services at Electronic Entertainment Design and Research (EEDAR). The preceding is the views and opinions of one person and not of EEDAR, The simExchange, GamerMetrics, or Gametrailers.]