[Throughout this week, ex-simExchange analyst Jesse Divnich is presenting exclusive Gamasutra analysis of March's hardware and software trends, using data from The simExchange, NPD, IGN GamerMetrics and GameTrailers. Our third installment uses GamerMetrics data to compare selling points and decide which system will like claim victory with Grand Theft Auto IV's multi-platform release. Previously in this series: the end of FPS sales cannibalization and April predictions for Mario Kart Wii and GTA IV.]
I will preface the following by stating that the data within this article is analyzed based on a worldwide perspective, as GamerMetrics boasts a large European user base. Sony and Microsoft have long argued that their system offers the best overall
Grand Thef Auto IV
experience. Microsoft points to their exclusive downloadable content deal with Take-Two and their strong multiplayer community. On the other hand, Sony is banking off its "superior" graphics and large PlayStation 2 installed base (keeping in mind that
GTA's
first claim to mass-market fame was on the PS2). To shed some light on this dispute, we will look closely at GamerMetrics data to help analyze which system will likely claim victory.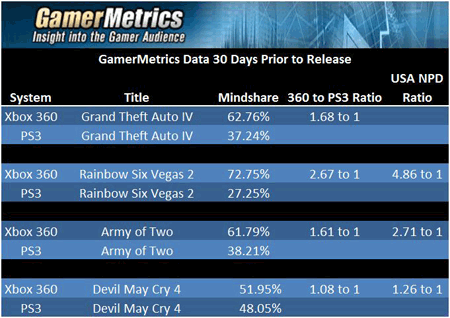 Grand Theft Auto IV
has numerous key selling points including: downloadable content, mass-marketing, multiplayer, graphics, sandbox game play, strong install base, and a slew of other features that define what a "mass-market" game should have. Unfortunately, listing every game that has similar key selling points would be far too massive and inexact for this type of analysis. Instead, we can extract data from three recently released multi-platform titles that each has their own key selling feature that they share with
GTA IV
. Those features are:
strong multiplayer support, a superior marketing campaign, and a loyal PS2 install base.
Based off the GamerMetrics data for
Rainbow Six Vegas 2
, we can assume that a multi-platform game with strong multiplayer support tends to favor the Xbox 360. Data on
Army of Two
shows that a game that targets the mainstream audience and has a superior marketing campaign tend to fall in-line with current ratio trends. Last and most obviously, the data on
Devil May Cry 4
indicates that IP with a strong PlayStation 2 fan base tends to favor the PlayStation 3. (I will be revisiting these individual subjects in a few months as our proprietary research tools at EEDAR can, trendwise, better show the different correlations between features and sales).
Conclusion: Ratio Estimates
If there is a correlation between the GamerMetrics data and the U.S. NPD data (and there somewhat is), I estimate that we are going to see a
GTA IV
sales ratio of anywhere between 2.2 to 2.7 in favor of the Xbox 360 - which is also in the same ballpark of the current Xbox 360 to PS3 lifetime-to-date hardware sales ratio of 2.4. Given the above data and current trends, the conflict between those two consoles is surprisingly even. And the hardware battle between the PS3 and the Xbox 360 will continue long after the release of
GTA IV
, of course. Consequently, this will likely lead both Sony and Microsoft back to the drawing board to rethink their current first party release schedule, hardware pricing, and promotion strategy. For reference, The simExchange is expecting a 1.65 to 1 Xbox 360 to PS3 sales ratio for
Grand Theft Auto IV
, which, if true, would indicate a PS3 'victory', at least in terms of percentage of total installed base purchasing the game.
[NOTE: "This month's Divnich Tapes were prepared during my ending term as the Analyst at the SimExchange. Next month, I look forward to a new format and expanded analytics with the utilization of the extensive data available to me as the new Director of Analytical Services at Electronic Entertainment Design and Research (EEDAR). The following is the views and opinions of one person and not of EEDAR, The simExchange, GamerMetrics, or Gametrailers."-- Jesse Divnich.]