[Following last week's release of NPD's June North American sales figures, EEDAR's director of analytical services Jesse Divnich presents his exclusive Gamasutra study of June's hardware and software trends, using data from Electronic Entertainment Design and Research (EEDAR) and NPD. In this analysis, Divnich comments on Microsoft's disappointing Xbox 360 hardware results, as well as continued software shortages for key Wii games such as Mario Kart.]
For June, hardware turned in some impressive results. Nintendo — as always —
dominated both
home and portable hardware categories. Sony, for once, had a
remarkable month
, as not only did its hardware units surpass market expectations, but, for the first time, a PS3 title (
Metal Gear Solid 4
) took the number one spot in retail sales.

Microsoft, however, failed to meet market expectations on both hardware and software fronts. This marks the first time in 12 months that an Xbox 360 title did not make it into the top two positions on the software sales chart - and the first time this year that the Xbox 360 placed last among all the consoles. While many believe that the leaked price drop affected June's Xbox 360 sales, I believe it had little to do with Microsoft's poor performance this month. For me, it seems as if anyone who follows the industry close enough to care about rumors likely already owns an Xbox 360 or is uninterested with the system, regardless of price. Microsoft's performance in June is nothing more than a predictable result from the continued trend visible in the last couple of months, as indicated in the graph below.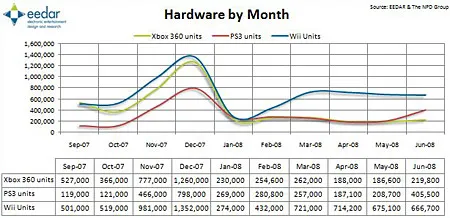 Individual software sales played out as expected, and the only two titles that under-performed were
Wii Fit
and
Wii Mario Kart
, but both are experiencing supply issues. Data from pricing data site videogamepricecharts.com backs up this assumption, as gray prices (eBay/Amazon prices) are well above MSRP; our
Wii Fit
chart shows a similar trend. I find it interesting that Nintendo continues to struggle with supply — I can understand Wii hardware shortages and maybe even
Wii Fit
, but I see no logical explanation behind the limited
Mario Kart
supply. One could blame it on the wheel hardware, but several retail channel checks indicate no short supply of the individual Wii Wheel.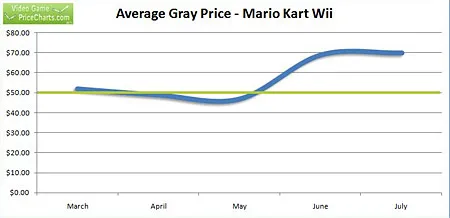 I am always interested in comments from the Gamasutra community that could help explain this shortage. Could it simply be that demand is that strong? Or perhaps Nintendo is diverting shipments to other areas?