[Throughout this week, simExchange analyst Jesse Divnich is presenting exclusive Gamasutra analysis of January's hardware and software trends, using data from The simExchange, NPD, IGN GamerMetrics and GameTrailers. Our third installment compares last month's sales predictions and results for Super Mario Galaxy and Call of Duty 4. Previously in this series: comparing PlayStation 3 to Xbox 360 sales, and how new releases fared & game sales trends.]
After going toe-to-toe with
Call of Duty 4
(Xbox 360) in November and December,
Super Mario Galaxy
disappointed the market by ringing in only 172,000 units in January, compared to
Call of Duty 4's
330,900 units. In fact,
Super Mario Galaxy
was neither the first or second highest-selling Wii title for the month of January 2008. Both
Wii Play
at 298,100 and
Guitar Hero III: Legends of Rock
(Wii) at 239,600 grabbed the spots right under
Call of Duty 4
on the
NPD's Software Sales charts
.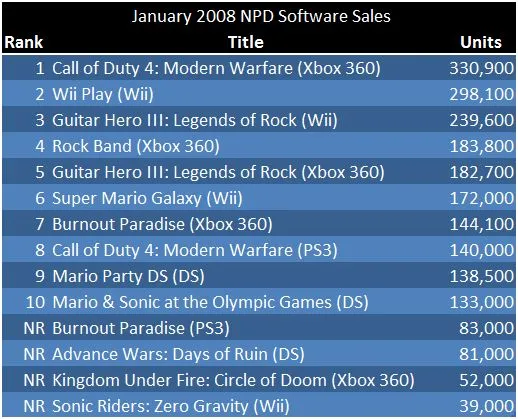 These results also do not correlate with IGN GamerMetrics' data which ranked Super Mario Galaxy #1 in Mindshare (a good indicator of purchase intent) for all titles released since 2007. Call of Duty 4's Mindshare, despite being less than two-tenths of a percent lower than Super Mario Galaxy's, was much more in line with its actual sales. Also, Super Mario Galaxy did not meet The simExchange prediction market's original expectation of 391,800 units.

Given that data and coupled with the low Wii hardware sales, we can assume that (unless Super Mario Galaxy itself was undershipped to retailers in January) there is a strong correlation between the sales of Wii hardware and Super Mario Galaxy. This essentially means that while Super Mario Galaxy is among the first titles purchased by consumers with a Wii hardware unit, given the hardware's slower performance, this likely played a hindering role to Super Mario Galaxy's sales. [Jesse Divnich is the analyst for the simExchange, a prediction market that allows users to buy and sell fake video game stocks in attempts to predict Global Lifetime Sales (GLS), monthly sales based on NPD data(called "future"), and Metacritic scores. The Divnich Tapes concludes tomorrow with The simExchange's predictions on February's hardware and software sales.]