[Throughout this week, simExchange analyst Jesse Divnich is presenting exclusive Gamasutra analysis of February's hardware and software trends, using data from The simExchange, NPD, IGN GamerMetrics and GameTrailers. Previously in this series: hardwale sales compared for the PlayStation 3 and the Xbox 360, why the video game industry is outperforming expectations despite our slowing economy, and software predictions for March]
The video game industry has been watching the recent Take-Two/Electronic Arts takeover battle closely, with some observers expressing surprise when Take-Two's board of directors
rejected
Electronic Arts' (EA) $26 per share offer. It's difficult to tell if that refusal is ultimately a good decision - and I will give Take-Two's recent
upper-management change
the benefit of the doubt - as not enough time has passed to accurately gauge their success. But it is still clear within the data that EA is the king of game release execution, and we'll take a look at
Army Of Two
's release this month to see why a strong and pervasive marketing campaign can even overwhelm lukewarm reviews and lead to success.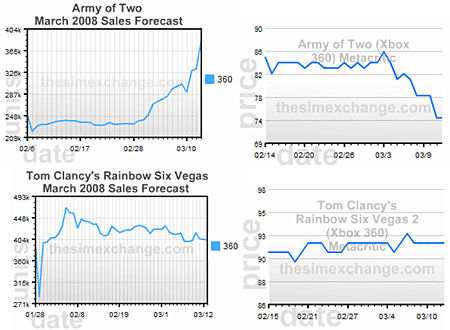 Looking at The simExchange sales graph, Army of Two's sales expectations gradually increased throughout the month, a strong indicator of a "sleeper hit." While most sleeper hits earn their respect by delivering superior game quality above market expectations, Army of Two did not take that route. Referring to The simExchange's Army of Two Metacritic stock (which tracks predicted review average from simExchange members), we can see the title departing in the opposite direction of its sales expectations, settling at its current 75 Metacritic score. This is a very unique phenomenon for a game to under-deliver on quality (or at least, Metacritic score for a 'hardcore', non-casual game) by such a margin, but still over-deliver on sales. Since the two primary forces behind a game's sales is quality and marketing — some call it "brand awareness" — we can theorize that EA's marketing muscle propelled Army of Two to these levels - probably correctly, given the massive amount of TV advertising noted for Army Of Two in recent weeks.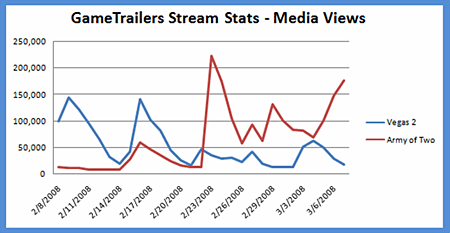 GameTrailers Stream Stats support the theory by providing their Media Views data, the number of times a publisher-produced or GameTrailers-produced video has been viewed. Because of that, a strong correlation exists between Media Views and the effectiveness of a game's marketing campaign. Comparing the Army of Two and Media Views graph, we can see similarities in the trend lines with the sales expectations lagging a few days behind the spikes in Media Views. This is a strong indication that EA's marketing campaign was the catalyst for driving unit sales higher - as the prediction market's expectations likely reacted to Army of Two's marketing campaign. To further show the magnitude of EA's marketing reach, Nintendo's Super Smash Bros. Brawl (SSBB) is expected to outsell Army of Two by over 1.6 million units in March, but in terms of marketing, Army of Two was able to surpass SSBB in Media Views. Admittedly, GameTrailers' content tends to favor older audiences and the PS3/Xbox 360 platforms, but I still consider this to be a stunning accomplishment for EA and Army of Two.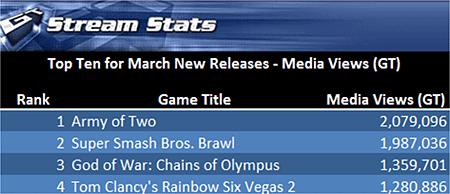 To recap, Army of Two was not only handicapped by mediocre review scores and its status as a new intellectual property with no establishment in the industry, but the shooter was also released against several AAA established titles in the same month. Electronic Arts was able to apparently overcome all of those obstacles with an excellent release execution and a dazzling marketing campaign, and this is something that Take-Two execs should perhaps take note of. In terms of morale, nothing hurts more than pouring your heart and soul into a project, only to have it sell 19,000 units in its first month of release — for example, the Wii's Manhunt 2 (November 2007). Would that game have fared better if the company was under EA, and it had spent their marketing dollars on promoting the game to the best of their abilities? It's an interesting conundrum, one that will only be solved by events. *For reference, Tom Clancy's Rainbow Six: Vegas 2 was only used in these graphs to show the magnitude of the metrics for Army of Two; it does not insinuate that Ubisoft's marketing campaign for Vegas 2 is sub-par. [Jesse Divnich is the analyst for the simExchange, a prediction market that allows users to buy and sell fake video game stocks in attempts to predict Global Lifetime Sales (GLS), monthly sales based on NPD data (called "future"), and Metacritic scores.]