[Throughout this week, EEDAR's director of analytical services Jesse Divnich is presenting exclusive Gamasutra analysis of April's hardware and software trends, using data from Electronic Entertainment Design and Research (EEDAR), The simExchange, NPD, IGN GamerMetrics, and GameTrailers. Today's chart analysis examines year-over-year data to argue against price cuts for the Xbox 360 and PlayStation 3. Previously: the implications of April's underperforming software sales and Microsoft and Sony's GTA IV victories.]
Every month, we include a year-to-date sales graph for the hardware units so that we can get a big picture view of the current hardware situation. This month (and likely going forward), I will include a year-over-year hardware graph so that we may not only reflect the current hardware situation, but also distinguish how they are doing compared to last year. To no surprise, Nintendo dominated another month; it even outsold the combined sum of the other two home consoles. Both the PS3 and the 360 came in under 200,000 units sold, a first for 2008. This has led many to question the effectiveness of their current pricing and promotional strategies, but there are many who are against a change in their strategy and point to the year-over-year increases in hardware units.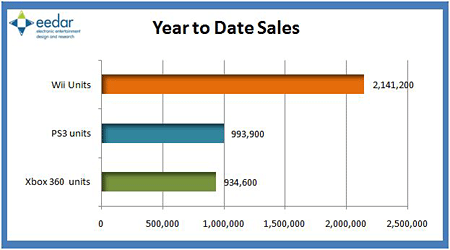 Those critics against a price cut are actually right, the PS3 and the 360 are both on track to sell more units than last year, and I agree that both systems could achieve positive year-over-year sales without a price cut in 2008. Unfortunately, it is simply too hard to ignore the 800-pound Donkey Kong in the room. The Wii's success and market share is so massive, it is hard for me to consider that there is anything the PS3 or the 360 could do to pilfer some potential Wii buyers over to their side. It is almost as if both console manufacturers have given up and already conceded unit-based victory to the Wii.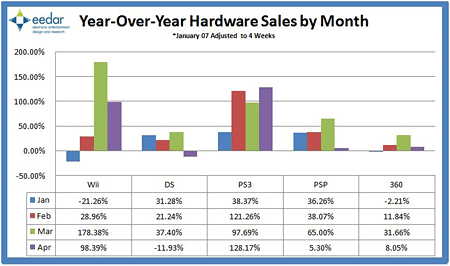 Another interesting note on the hardware side is the decrease in year-over-year hardware sales for the Nintendo DS, the first in over a year. What likely happened is that Nintendo front-loaded many of its sales in March with the release of new hardware SKUs that sported new colors. This is not likely a trend that will continue, and even if it was, Nintendo has plenty of price-cutting room to keep units above the 50K-a-week threshold until its next handheld is set to release. I always encourage comments on my articles, and for this particular one, I would love to hear the different opinions on whether or not the PS3 or the Xbox 360 should drop its price. Keep in mind this one aspect -- if the PS3 or the Xbox 360 drop in price, they would no longer make a profit on each system sold and would solely rest on the increase in royalty revenue from extra software sold.
[Jesse Divnich currently serves as the director of analytical services at Electronic Entertainment Design and Research (EEDAR). The following is the views and opinions of one person and not of EEDAR, The simExchange, GamerMetrics, or Gametrailers.]