[Throughout this week, ex-simExchange analyst Jesse Divnich is presenting exclusive Gamasutra analysis of March's hardware and software trends, using data from The simExchange, NPD, IGN GamerMetrics and GameTrailers. In this installment, Divnich looks at the month's hardware sales, and wonders if the market has matured to the point where it can sustain multiple AAA first person shooters without cannibalizing respective sales.
] The industry surprised us — again — with another month of record-breaking sales, beating most analysts' projections by a large margin. On the hardware side, unit expectations were mostly in-line - and although the Xbox 360 finally outsold the PlayStation 3 (after a 2 month losing streak), it is far from a victory. In fact, given for the smallest of margin of error, neither Sony or Microsoft can claim victory over the other in the U.S.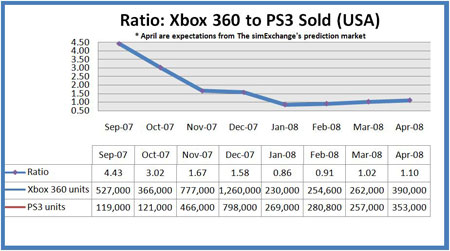 This is not insinuating that both manufacturers are doing a meager job on execution - because in reality the opposite holds true, as their current pricing and promotion strategies have driven year-over-year hardware sales percentage gains significantly. One just can't help to wonder that, given the Wii's tremendous success — outselling both the PS3 and Xbox 360 — if there aren't more opportunities for Sony or Microsoft to leverage a different pricing and/or promotion strategy, that could siphon some potential Wii customers over to their "true" next-generation system.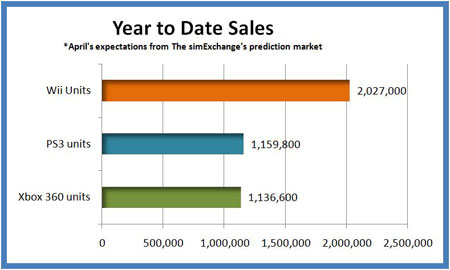 For individual software units, last month we theorized that the next-generation systems have matured enough that it might be possible for 2 AAA "shooters" to be released in one month on the PS3/Xbox 360, with little hindrance on each others sales. The results were better than expected, as
Vegas 2
sold a combined 907,000 units and
Army of Two
sold 831,000 units across SKUs, for an impressive total of 1,738,000 units for both games. This is leaps and bounds ahead of where we were just seven months ago, as titles like
BioShock
and
Half-Life: Orange Box
were quickly cannibalized by
Halo 3
and
Call of Duty 4
.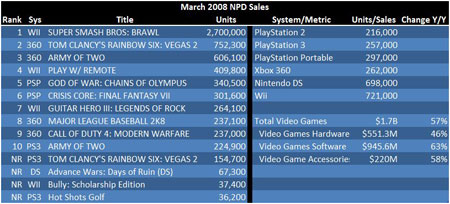 On further inspection, we can theorize that it is not just market maturity that led to their achievement, but also that both titles were targeting two different sub-markets who are attracted to these "shooters" or "action" titles. In my NPD analysis last week, I stated that, based on March's results,
publishers and developers need not worry
about their release schedule. This is because the next-generation market has matured enough to where several AAA releases can be launched in a given month without much hindrance on each others sales. Unfortunately, that blanket statement needs further analysis (yes, you heard it from an analyst, we can be wrong!). March's sales likely did not see much cannibalization, as the three big AAA releases (
Vegas 2, Army of Two, SSBB
) were targeting a wide range of sub-market demographics within our industry. First, the obvious:
Super Smash Bros: Brawl
(
SSBB
) was a Wii title that targeted the mainstream Wii market and covered all the major sub-markets including (but limited to), hardcore, casual, social, and the sub-13 year old market. However, a different and deeper analysis is needed for
Vegas 2
and
Army of Two
as they share the similar shooter/action genre. Because
Vegas 2
and
Army of Two
have a large discrepancy gap among their Xbox 360 to PS3 sales ratio (
Vegas 2
- 4.86 to 1;
Army of Two
— 2.71 to 1), can hypothesize that there were likely two different sub-markets at play in driving each other's sales. Based on
Vegas 2
's large ratio gap, we can make the assumption that it targeted a more hardcore gaming demographic, which favors games with a strong online component (the most recent Xbox Live rankings put
Vegas 2
at #3 in online play and
Army of Two
at #10). On the other hand,
Army of Two
's ratio gap is more in-line with current trends, and given that GameTrailers.com data from last month indicated a bigger and more successful marketing campaign than its competitors. So, we might assume that it was more receptive among the mainstream and mass-market audience. Of course, there are likely many different markets and sub-market demographics that overlap between the two titles as some people likely bought both
Vegas 2
and
Army of Two
; it wouldn't even be a fair assumption that some bought all three (
SSBB
). But this short analysis gives us a good reference point in the future when analyzing two titles that fall under the same genre. This is a topic that we will likely revisit in the near future - as EEDAR's proprietary research tools can provide a lot of insight and mathematical analysis on this phenomenon and explain a little bit deeper how cannibalization, target markets, and market maturity play a role in driving sales.
[NOTE: "This month's Divnich Tapes were prepared during my ending term as the Analyst at the SimExchange. Next month, I look forward to a new format and expanded analytics with the utilization of the extensive data available to me as the new Director of Analytical Services at Electronic Entertainment Design and Research (EEDAR). The following is the views and opinions of one person and not of EEDAR, The simExchange, GamerMetrics, or Gametrailers."-- Jesse Divnich.]