[Following last week's release of NPD's October North American sales figures, EEDAR's director of analytical services Jesse Divnich presents his Gamasutra-exclusive study of October's hardware and software trends. In this analysis, explains how Sony's consoles could be the more affected by current economic conditions than Microsoft or Nintendo's systems.]
While the results were typical -- Nintendo's Wii crushed its competition, the Xbox 360 outsold the PlayStation 3, and both Sony systems coming in last place -- October still produced some interesting results for us to analyze.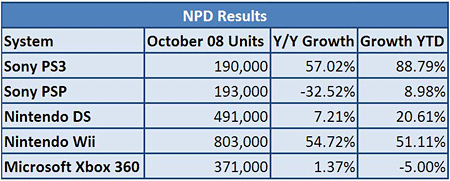 First, the Xbox 360 destroyed all of the market's expectations by growing 1 percent over last year and 33 percent over weekly sales from September. Considering that Xbox 360 hardware sales are increasing year on year, following
Halo 3
's debut in 2007, these results are impressive. Comparing the Xbox's 360 year-over-year growth for October to the PS3's year-to-date growth, we can come up with a few theories. Notably, the Xbox 360 is ahead of its year-to-date growth and the PS3 year-to-date growth is ahead of its year-on-year growth. We can perhaps theorize that the recent Xbox 360 price reduction and the current economic downturn have acted as a catalyst for driving Xbox 360 sales. For the PS3, however, we believe that its higher price point has hindered sales. For Sony, the troubles do not end there. The PlayStation Portable saw a significant year-over-year decline, which is well below its year-to-date growth percentage. Just like the PS3, the PSP is the highest priced hardware item in its category (handheld systems). I am not suggesting that the Xbox 360 and the Nintendo DS are stealing away potential PS3 and PSP owners. What I am suggesting, however, is that the current economic climate is likely playing a bigger role in hindering hardware sales for Sony than it is for Microsoft and Nintendo.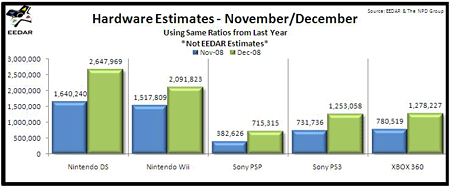 The above graph is a
theoretical representation
of how the holiday season would play out if each console received a similar sales boost in the November and December month as it did last year. This should serve as a good guideline, when we review holiday season sales to determine which consoles performed above or below last year's trend. We believe that when the results come in, Sony PSP's and PS3 will perform significantly below these markers, again, indicating that the current economic climate is having a negative impact on the most expensive hardware units in our industry. We note that last year, the PS3 saw a gain of 285 percent from October to November, which was bigger than any other console.
[Jesse Divnich currently serves as the director of analytical services at Electronic Entertainment Design and Research (EEDAR). The preceding is the views and opinions of one person and not of EEDAR, The simExchange, GamerMetrics, or Gametrailers.]