[Continuing his Gamasutra-exclusive NPD analysis following the release of August's game sales figures EEDAR's director of analytical services Jesse Divnich presents a year-over-year comparison of average review scores for each home console's games, noticing a significant rise for Wii titles. Previously: Games industry healthy despite slowed August growth, and this holiday season to decide Microsoft's Xbox 360 pricing strategy and the start of the next console cycle.]
As we progress through any console cycle, we should always see a continued improvement in game quality, especially as developers become more comfortable and experienced in unlocking the unique powers of each console. With over 2 years in the current console cycle, I think we can all agree that we have seen a steady progression in improvements in all the major features that make up game's quality -- graphics, multiplayer, content, unique controls, replay value, etc.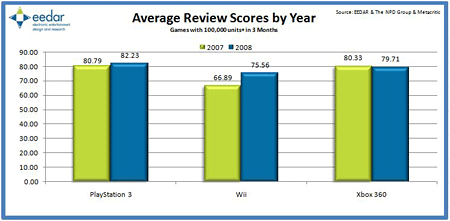 Graphing the average scores for PS3 and Xbox 360 games over the last 2 years indicates that though we have seen steady improvements in our games, their quality scores have remained unchanged. Fortunately, this is an indication that our review system is doing its job by continuing to raise its own quality standards at the same pace of actual improvements in game quality. What should be alarming is the 9 percent jump in Wii review scores over the last year (going from 66% to 75%). This is definitely an indication of two situations. Either the quality of Wii games have seen a significant improvement over last year, or reviewers have succumbed to the pressure from industry critics that Wii games should be reviewed "differently" than PS3/Xbox 360 games. Furthermore, we should keep an eye on the average review scores for the Xbox 360. While quality scores saw only a slight decrease, it could be an early indicator that game quality is not keeping up with the industry's standards and/or that developers are beginning to reach the Xbox 360's limit. What are your thoughts? Should we be concerned with this significant increase in Wii review scores? In addition, is the slightly distinguishable data from 2007 to 2008 for the PS3/Xbox 360 any indication that future Xbox 360 titles will have trouble keeping up to quality standards when compared to PS3 games?
[Jesse Divnich currently serves as the director of analytical services at Electronic Entertainment Design and Research (EEDAR). The preceding is the views and opinions of one person and not of EEDAR, The simExchange, GamerMetrics, or Gametrailers.]