[Following last week's release of NPD's May North American sales figures, EEDAR's director of analytical services Jesse Divnich presenting his exclusive Gamasutra study of May's hardware and software trends, using data from Electronic Entertainment Design and Research (EEDAR) and NPD. In this analysis, Divnich notes that GTA IV's failure to significantly increase console sales could force Microsoft and Sony to lower their hardware prices.]
Software sales came in at the lowest year-over-year increase since January, but given that it was still 41% above last year's sales, you will not hear any complaints. This will likely continue throughout the summer months as we can expect a strong tailwind from titles like
Grand Theft Auto 4
,
Wii Fit
,
Guitar Hero 3
, and
Wii Play
, as well as newcomers
Metal Gear Solid 4
and
Soulcalibur IV
.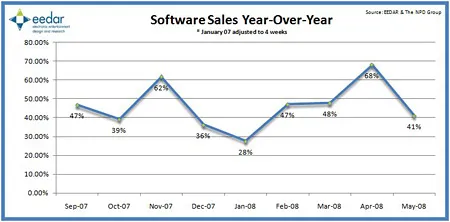 Of course, the good times will not last for the rest of the year, as 2008 will face its first big challenge come September as it goes against last year's biggest exclusive release,
Halo 3
. Luckily, September 2008 will produce one blockbuster seller,
Star Wars: The Force Unleashed
, and although it is unlikely that it will sell over a million units, it should help soften the blow.

For individual software titles in May, everything appeared in-line with market expectations.
GTA IV
saw a large 57% decrease in prior month sales, which disappointed some. Being one of the most anticipated titles of the year, however, it should be expected that a lot of its sales were front loaded into the first week. Others have pointed out disappointing results for
Wii Fit
, which did not sell over a million units, something the industry had been expecting for months. However, the supply shortage was greater than what anyone anticipated, and backing up that assumption is data from videogamepricecharts.com, which showed that the title has been selling at a 65% mark-up above the $89.99 MSRP on sites like eBay and Amazon. For reference, the Nintendo Wii is currently only being sold with only a 15% mark-up. Given the large mark-up price, indicating strong demand,
Wii Fit
could have likely sold close to or over a million units in May. We can likely expect another strong showing for the title in June and July.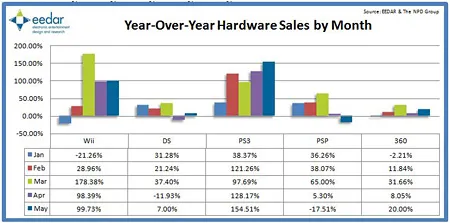 For May's hardware results, there was no plot change in the current story, as the Wii continues to dominate the other home consoles by a significant margin, while the PS3 and the Xbox 360 fight for a distant second. With E3 around the corner, it is likely that one of the two camps -- Sony and Microsoft -- will make some type of announcement regarding price cuts or the introduction of a new hardware SKU. Of course, that is somewhat like a San Diego weatherman predicting sunny days. After all, even the biggest title of 2008,
GTA IV
, failed to drive hardware sales in either side's favor, which does not leave them with many options in terms of how to increase their current month-to-month hardware sales. Of course, one can point to a healthy year-over-year increase on both sides and conclude that the PS3 and Xbox 360 are in a very copacetic state. Essentially, those critics would be right as any type of yearly increase should be looked at in a positive light. However, when comparing hardware sales from January to May for the fourth year into the PS2 cycle and third year for the Xbox cycle, they were producing monthly sales at about 500,000 units combined. The PS3 and the Xbox 360 are only seeing 460,000 units combined per month on average.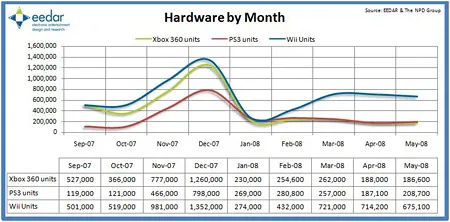 Aside from the conventional hardware month, May's results raise an interesting closing question -- was
GTA IV
's inability to drive hardware a failure or something we should have all expected?
[Jesse Divnich currently serves as the director of analytical services at Electronic Entertainment Design and Research (EEDAR). The following is the views and opinions of one person and not of EEDAR, The simExchange, GamerMetrics, or Gametrailers.]