[Following last week's release of NPD's October North American sales figures, EEDAR's director of analytical services Jesse Divnich presents his Gamasutra-exclusive study of October's hardware and software trends. In this analysis, Divnich speculates that the music and rhythm game "fad" has already reached its peak, as the number of genre titles balloon and Guitar Hero World Tour sales show a 60 percent drop over the previous main game in the series. Previously: Predictions on November's top-selling software titles, October still crowded with top releases, and how Sony's consoles could be more affected by current economic conditions than Microsoft or Nintendo's systems.]
It is safe to assume that
Guitar Hero World Tour
failed to meet the market's expectation, by producing a series-over-series decline in sales of nearly 60 percent. Today we will examine why this occurred. First, using data from VideoGamePriceCharts.com, a data outlet that tracks reseller prices on video games, we can see that the Band Kit version of the SKU experienced significant shortages across retailers. This drove the average reseller price well above the retail MSRP. According to unnamed retail sources, Activision did not produce enough of the Band Kit SKU to meet retail demand. A similar problem that occurred in the previous holiday season with
Rock Band
and MTV Games, who knew manufacturing plastic instruments was such a complex and difficult process.

Nonetheless, the competitive landscape of the music & rhythm genre has significantly changed since last year. Most analysts felt that these intruders in the music & rhythm genre would not significantly affect sales of
Guitar Hero World Tour
. The actual results, however, indicate a different trend. The music & rhythm genre was down by almost 40 percent year-over-year in units, which is notable since this October had triple the amount of music & rhythm SKUs. Even if supply was sufficient, my estimate is that
Guitar Hero: World Tour
would have still likely been down by close to 40 percent year-over-year in units, which is equal to the decline of the entire genre.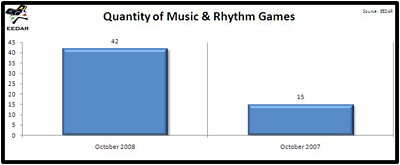 This data suggests that the music & rhythm genre in its entirety has decreased in popularity over last year. This could indicate that the
congested October AAA release schedule
played a hindering role in music & rhythm sales. However, I feel other factors likely played a role; posisbly, the huge amount of sales the genre generated last year was simply a part of a nationwide fad. Understand, however, that "fad" is not necessarily a negative term. Fads can last for several years, and while they seem short-lived in comparison to the time we spend on this planet, they are considerably lengthy by video game standards.
Dance Dance Revolution
is a good example, as it has been around for over 10 years, and it still remains somewhat popular today. However, it is not nearly as popular as it was five to seven years ago. I believe that instrument/singing games are following a similar course, but on a bigger scale. That being said, I do believe the music & rhythm category is definitely here to stay, and it will always have a large and loyal market base. I believe, however, we may have seen a peak in sales from the category -- at least, until, the next big craze sweeps America, whatever that may be. We will be sure to do a follow-up article in January to re-examine this scenario, once November and December sales are in.
[Jesse Divnich currently serves as the director of analytical services at Electronic Entertainment Design and Research (EEDAR). The preceding is the views and opinions of one person and not of EEDAR, The simExchange, GamerMetrics, or Gametrailers.]